Student Chapter Handbook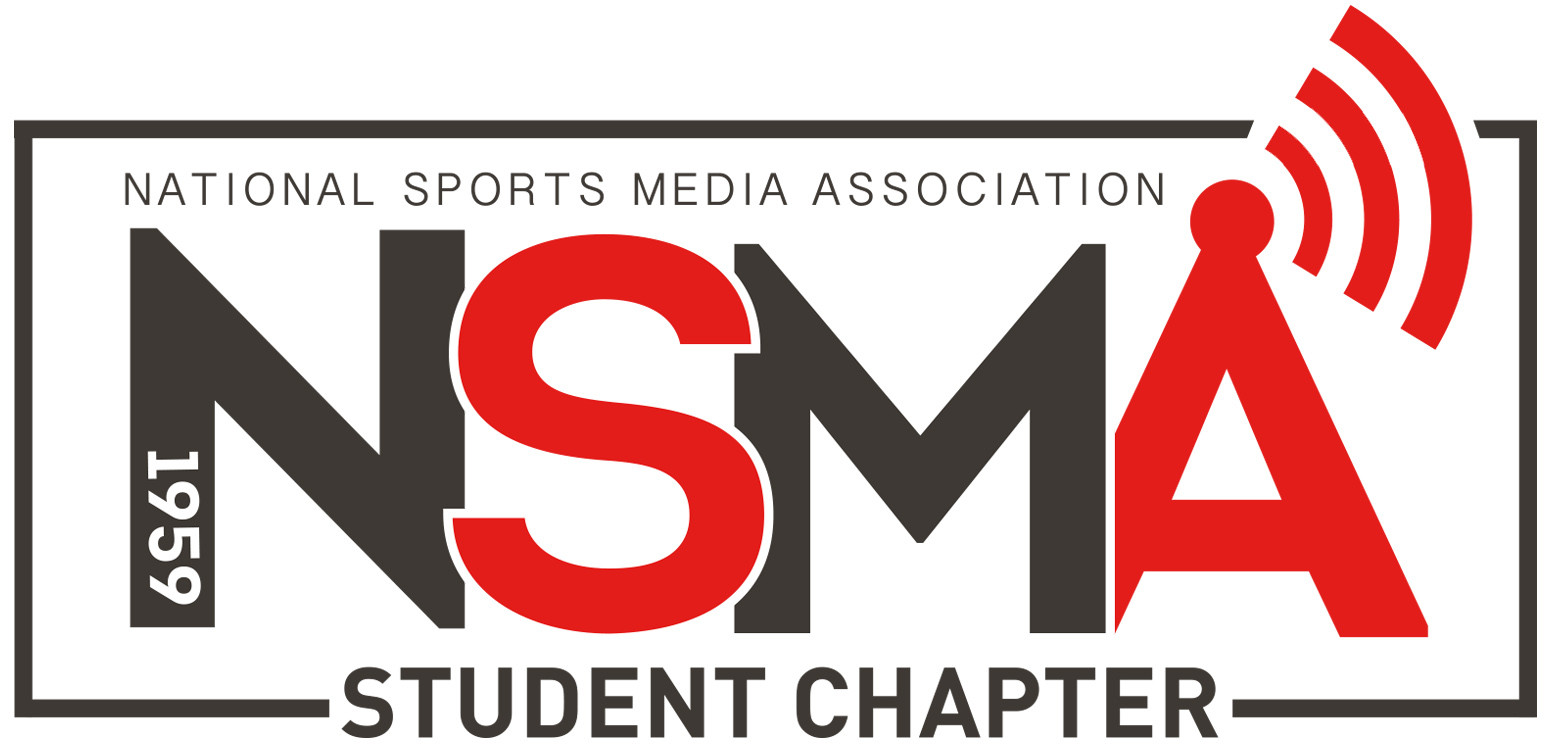 NSMA Statement of Purpose

In 2011, more than 50 years after its own establishment, the National Sports Media Association (NSMA), then known as the National Sportscasters and Sportswriters Association (NSSA) created its first Student Chapters. The declared purpose of the NSMA Student Chapters is to cultivate a favorable and mutually advantageous relationship between students of sports media and professional sports media practitioners. The Student Chapters aim to foster the following:
● Understanding of current theories and procedures of the profession
● Encouraging the highest ideals and principles
● Instilling a professional attitude
● Encouraging NSMA membership
The NSMA Executive Director and Board of Directors are responsible for accepting new NSMA charters and serve as the NSMA Student Chapters' primary governing body.
NSMA Student Chapter Mission Statement
● To serve its members by enhancing their knowledge of media and sports media and by providing access to professional development opportunities.
● To serve the sports media profession by helping to develop highly qualified, well-prepared professionals.
● To provide exceptional service to our members by enhancing their education, broadening their professional network and helping to launch their careers after graduation.
● NSMA aspires to advance the sports media profession by developing ethically responsible pre-professionals who champion diversity, strive for an outstanding education and advocate for the profession.
NSMA Student Chapter Origins
The creation of the NSMA's Student Chapters was proposed by executive director Dave Goren to the NSMA Board in 2010. Syracuse University's S. I. Newhouse School of Public Communications was the first Student Chapter, chartered in February of 2011. The Syracuse Student Chapter elected female co-Presidents, Priyanka Vohra and Brenna Wilson, both of whom attended the 2011 NSMA Awards Weekend in Salisbury, NC.
Appalachian State University (Boone, NC) became NSMA's second Student Chapter, chartered in September 2012.
Three months later, High Point University's Nido R. Qubein School of Communications became the third Student Chapter chartered.
Austin Peay State University in Clarksville, TN became the fourth chapter, chartered in September 2015. Austin Peay faculty advisor Barry Gresham accompanies three-to-five students to the NSMA Awards Weekend each year.
The University of South Carolina was chartered in the Fall of 2017, while Sam Houston State University was chartered in the Spring of 2019.
Student Chapter Standards
Establishing NSMA Student Chapters
An NSMA Student Chapter may be established and maintained only at a college or university that offers baccalaureate degrees, offers a sequence of at least five courses in journalism/media/communications and is supplemented by courses allied to this field of study. The five core courses recommended by the NSMA are:
• Introduction to Media
• Writing for Broadcast, Print or Digital
• Reporting for Broadcast, Print or Digital
• Multimedia storytelling
• Broadcast performance
Other requirements for NSMA charters include:
● A minimum of 10 potential members. A minimum of eight of the students must be at or below the junior level.
● Students petitioning for an NSMA charter must elect a teacher of at least one journalism/media/communications course at their college or university as their proposed Faculty Advisor.
● The NSMA executive director and one member of the NSMA Board must endorse applications.
NSMA Minimum Chapter Standards
Many of the benefits of NSMA membership exist at the Chapter level. It is imperative that each Chapter provides the maximum possible support and opportunities for each member. The NSMA has established the following minimum standards for Chapters:
● Each Chapter shall meet at least once during each month that school is in session. To promote attendance, NSMA suggests a consistent date is set for each meeting. A written summary of the meeting's activities shall be put in the Chapter's permanent files and passed on to the succeeding Chapter leadership.
● Each Chapter's group of officers shall meet at least four times annually. Written minutes of all board meetings shall be kept in the Chapter's permanent files and shall be passed on to the succeeding Chapter leadership.
● Each Chapter shall conduct annual development activities for the benefit of its members. Suggestions include résumé/portfolio critiques, internship panels and interviewing seminars.
● Each Chapter shall process annual dues promptly and correctly and forward the payment and dues forms to NSMA Headquarters before the deadlines.
● Each Chapter shall review its bylaws at least once every three years to make certain that they meet the requirements of changing circumstances and that they conform with all of the rules, regulations and NSMA Bylaws, Policies and Procedures.
● In order to provide for the orderly transfer of leadership responsibilities, records, membership rolls and bank accounts, each Chapter shall elect its new officers before April 15. Prior to the beginning of the new Chapter year, outgoing officers shall transfer to incoming officers all records, membership rolls, bank accounts and necessary orientation information.
● No Chapter may have local-only memberships; all Chapter members must be members of NSMA, as stated in the NSMA Bylaws, Policies and Procedures.
Member and Chapter services are top priorities of NSMA. The NSMA will withdraw the charter of any Chapter that consistently fails to meet minimum standards.
If you feel that your Chapter is deficient in any of these categories, contact NSMA Headquarters to correct the situation.
Naming NSMA Chapters
Each NSMA Student Chapter shall be named, The NSMA (college or university name) Student Chapter.
Chapter Board and Advisor Job Descriptions
The NSMA recommends a Chapter executive board include, at minimum, a Chapter president, vice president, secretary, treasurer, membership director and public relations director. The secretary and treasurer responsibilities may be shared by one person. A Chapter may create other positions or committees, such as a historian, to suit its needs. Chapter officers' duties are outlined below:
Chapter President
● Motivate executive board and members through enthusiastic attitude toward NSMA.
● Preside at all membership and executive board meetings.
● Appoint committees and advise chairs; advise members about Chapter activities.
● Delegate responsibilities of officers and committees.
● Direct overall Chapter operations.
● Recommend and establish goals and objectives for the Chapter with the approval of the membership, Faculty and Professional Advisors.
● Assist the treasurer in collecting dues and provide an accurate dues form to NSMA Headquarters by Nov. 1 and March 1.
● Stay in contact with the NSMA National Committee.
Vice President
● Motivate members through his or her enthusiastic attitude toward NSMA.
● Perform presidential duties if the president is absent or unable to perform them.
● Help the president coordinate and direct committee activities and Chapter operations.
● Perform duties as delegated by the president.
● Counsel the president by recommending goals, objectives, plans and programs.
Secretary
● Motivate members through his or her enthusiastic attitude toward NSMA.
● Prepare agendas with assistance by the president; handle Chapter correspondence.
● Record and distribute the minutes of all executive board and membership meetings.
● Maintain a record of Chapter members with school and permanent home addresses and email addresses.
● Keep the Chapter's charter, other permanent documents and Chapter Handbook.
● Notify NSMA Headquarters of changes in Chapter leaders via email to: dgoren@nationalsportsmedia.org.
Treasurer
● Motivate members through his or her enthusiastic attitude toward NSMA.
● Work with the president in preparing the annual budget.
● Collect Chapter and national dues, with the assistance of the president, and completely and accurately prepare the NSMA dues form.
● Provide financial reports periodically to the Chapter membership.
● Collect fees for any Chapter special events and fundraisers.
● Disburse Chapter funds with proper approval.
● Provide safekeeping for all Chapter funds and keep accurate financial records.
Membership/Public Relations Director
● Motivate members through his or her enthusiastic attitude toward NSMA.
● Produce the Chapter newsletter on a regular basis throughout the school year.
● Produce or oversee the Chapter website.
● Produce or oversee Chapter News on the national website, https://nationalsportsmedia.org.
● Post announcements for Chapter meetings throughout campus.
● Coordinate Chapter press releases, feature articles, advertising and brochures.
● Handle all campus and area press issues.
● Promote recruitment and retention with e-blasts, brochures, fliers and other tactics.
Historian
● Motivate members through his or her enthusiastic attitude toward NSMA.
● Maintain and record history of Chapter for accurate record keeping from year to year.
● Collect and archive photographs, press releases and any other important documents for the Chapter.
Faculty Advisor
The Faculty Advisor is the official link between the student Chapter, the college or university and the sponsoring NSMA Chapter. The Faculty Advisor must be the following:
● A full-time teacher of at least one of the public relations courses offered.
● Recognized as the official faculty representative to the NSMA Chapter.
Elected annually by Chapter members, the Faculty Advisor carries out several vital functions for the success of the NSMA Chapter. Some responsibilities include:
● Set a tone of professionalism for the Chapter, its officers and members.
● Motivate members through example and counsel to be active members of NSMA.
● Provide the resources, support and mentoring to members that enhance their leadership development.
● Stress that NSMA is a national organization; it is the affiliate of NSMA, the country's oldest organization of sports media professionals.
● Stress that a NSMA Chapter is not a "club."
● Represent the Chapter in the sponsoring academic department.
● Explain the objectives of NSMA to other faculty members.
● Obtain the support of faculty and other college or university officials in decision-making positions on behalf of NSMA and of sports media as a "teachable" profession.
● Communicate department messages to Chapter member.
● Meet with the NSMA Student Chapter president early in the academic year to establish objectives for the NSMA /Student Chapter relationship.