Become a Sponsor
Become a Sponsor
Events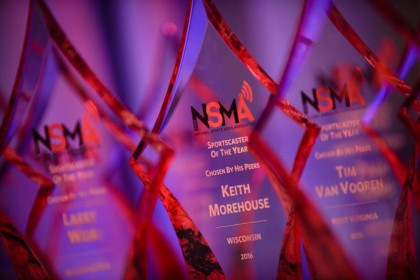 06.25.2017
*** DEADLINE TO PURCHASE TICKETS IS SUNDAY, JUNE 18 ***
The National Sports Media Association is pleased to announce our 58th Annual Awards Weekend will be held in Winston-Salem, NC, for the first time. The Awards Weekend kicks off with Registration at Noon on Sunday, June 25th at the Marriott Winston-Salem, our headquarters hotel.
A Welcome Reception for our award winners, their guests and local hosts will be held in the lobby of IMG College from 3:30-5:30pm. And from there, buses will take us to Bridger Field House at Wake Forest University's BB&T Field for Legacy Night, as we honor The Players' Tribune with the Roone Arledge Award for innovation. The Players' Tribune president, Jaymee Messler will be on hand to accept the Areldge Award. Following the presentation, Messler will be joined on a panel by Portland Trail Blazers star guard C.J. McCollum, a frequent contributor to The Players' Tribune, to discuss The Players' Tribune's effect on sports media coverage. Following the Legacy Night program, our winners and guests are invited to an After Party at Foothills Brewpub, 638 West 4th Street, Winston-Salem.
For those interested in a career in sports media, the NSMA will host the Sports Media Convergence seminar in the Big House Gaines Room of the Embassy Suites hotel (across the street from the Marriott). Registration begins at 8:30am, the seminar being promptly at 9:30am. Among the confirmed presenters are: Mike Lupica, Linda Cohn, Bob Rathbun, Bob Ryan and Tom Verducci.
From 11am-12:30pm, a panel for our winners will be held in the Big House Gaines Room of the Embassy Suites hotel (across the street from the Marriott). . ACC Supervisor of Basketball Officials Bryan Kersey and three ACC officials -- Bill Covington, Mike Eades and Tim Nestor -- will discuss what the media need to know about college basketball officiating and will take questions from our winners.

For those interested in seeing Winston-Salem, a tour will leave from in front of the Marriott at 11am.
Winners will get to relax for a little while, then get ready for the 58th NSMA Awards Reception (5-6:30pm) and Banquet (Dinner at 6:45pm, ceremony at 7:45pm). NSMA Hall of Famer Rick Reilly will serve as Master of Ceremonies. In addition to honoring our Hall of Fame inductees, national and state winners, the NSMA will also honor the Big House Gaines Award winners for NCAA Division I and II, as well as the Jim Nantz Award winner as College Sportscaster of the Year, as voted by a panel selected by the Sportscasters Talent Agency of America (STAA).
Following the Awards Banquet, we'll gather at Graze in the Marriott for a final chance to trade stories and well wishes, before our winners and their guests head home on Tuesday.
Click on Read More for Table Sponsorships, Ticketing and the Sports Media Convergence seminar. Please be advised that you will be assigned a Name Badge as your ticket. If you are registering others, you must email the names of everyone in your party to Dave Goren at dgoren@nationalsportsmedia.org. Name badges may be picked up at the following locations and times:
Sunday, June 25th - Marriott Winston-Salem lobby, Noon-5:30; Bridger Field House/BB&T Field, 6-6:30pm; Marriott Winston-Salem lobby 9-11pm
Monday, June 26th - Marriott Winston-Salem lobby, 8am-3:30pm; Millennium Center, 4:45-7:30pm
Read More

Become a Sponsor
Become a Sponsor