Events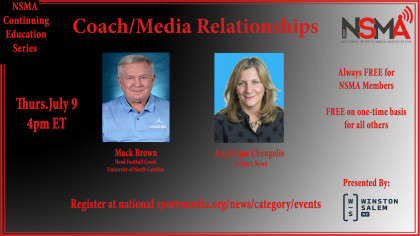 07.09.2020
Join our panel for an hour-long discussion of the relationships between coaches and the media, how they've evolved, how each side can be better about trusting each other, and how they might be affected by COVID-19.
Our panel includes:
NCAA FB Championship-winning coach Mack Brown of the University of North Carolina, who is a former ESPN commentator as well;
2019 NSMA Michigan Sportswriter of the Year, Angelique Chengelis, University of Michigan beat writer for the Detroit News.
All Continuing Education Series seminars are FREE to NSMA members. Anyone else can join FREE on a one-time only basis.
Read More

Become a Sponsor