2005 – Sally Jenkins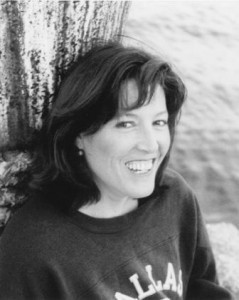 Born in Fort Worth, Texas, on October 22, 1960, award winning sportswriter Sally Jenkins has written for a variety of newspapers and magazines during her more than 26 year career. After graduating from Stanford University in 1982, Jenkins had short stints at The San Francisco Chronicle, the San Francisco Examiner, and the Los Angeles Herald Examiner before moving to the east coast as a staff writer for the Washington Post, in 1984. Over the next six years she covered a variety of sports for the Post including football, basketball, tennis, golf, and the Olympics. In 1990, Jenkins left the Post and took a senior writers position at Sports Illustrated. Then in 1996 she left Sports Illustrated to help launch the first sports magazine for women, "Women's Sports and Fitness." She returned to the Post in 2000, as a columnist.
For her work as a columnist, Jenkins has received many accolades. She is a four-time Associated Press Sports Columnist of the Year Award winner (2001, 2003, 2010, 2011) and has also won the award for Best Columnist from the Society of Professional Journalists three times (2001, 2008, 2011). Her work has been collected in the Best American Sports Writing Anthologies of 1990, 1995, 2007 and 2011. Jenkins has also worked as a radio and television correspondent appearing on CNBC, FOX, ESPN, and NPR's "All Things Considered." Her other magazine work has appeared in such diverse publications as Smithsonian, GQ and Parade.
In addition to her print and correspondent career, Jenkins is the author of 12 books, the most recent and notable of which was the No.1 New York Times bestseller "Sum It Up" with the legendary coach Pat Summitt, published shortly after Summitt was diagnosed with Alzheimer's Disease. Among the work she is proudest of is "The Real Americans," the true story of how the Carlisle Indian School took on the Ivy League powers in college football at the turn of the century, and won, pioneering trick plays and the forward pass.
In recognition of her outstanding career, Jenkins was enshrined in the National Sportscasters and Sportswriters Hall of Fame on May 2, 2005. She joined her father, who was inducted into the Hall of Fame in 1996. Jenkins resides in Sag Harbor, NY.