2011 – Bob Ryan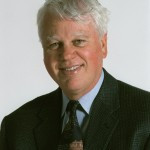 He may be a New Jersey native, but after 41 years at the Boston Globe, Bob Ryan is as much Boston as clam chowder. The Boston College graduate started at the Globe as a summer intern in 1968. Aside from a year and a-half stint as a sports reporter at WCVB-TV in the 80s, he's been at the Globe ever since.
Ryan made his reputation covering the Boston Celtics beat – a total of 13 and a-half years over three stints. His full-page Sunday NBA notes column set a trend that has been widely copied. He also covered the Red Sox for all of the 1977 season. Now a general columnist, Ryan has covered 23 NBA Finals, 30 Final Fours and the last 10 Olympics (five summer, five winter); 11 World Series and innumerable baseball playoff series; 10 Super Bowls, five BCS championship games, eight US Open championships, six British Opens, four Ryder Cups, three Masters, two PGAs , the World Basketball Championships in Toronto, Athens, Indianapolis and Tokyo and numerous major college football bowl games.
The author of 11 books, Bob and his wife Elaine live in Hingham, MA. They are the parents of Keith, who served as US attaché to Pakistan before his untimely death at age 37, and Jessica (25), and are the grandparents of triplets Jack, Conor and Amelia.