2012 - Bob Costas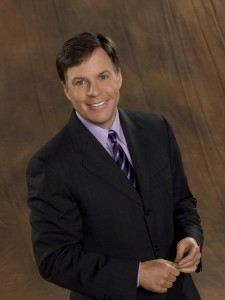 Bob Costas, a 22-time Emmy Award winner, and one of the most respected and honored broadcasters of his generation, has been closely associated with NBC Sports for more than 30 years, since joining the network in 1980. He has handled a wide array of assignments, including play-by-play, studio hosting and reporting and currently serves as the host of Football Night in America and also hosted NBC's Super Bowl XLIII pregame coverage.
The 2012 London Olympic Games will be Costas' 10th for NBC Sports and his ninth as primetime host, more than any other Olympic host. After serving as late night host in 1988 from Seoul, Costas has won acclaim and Emmy Awards each year for his work as primetime host from Barcelona, Atlanta, Sydney, Salt Lake City, Athens, Beijing and Vancouver.
In 2005, Costas was named host of NBC's Football Night in America, an exclusive and complete look at each Sunday in the NFL. Football Night in America encompasses more than four hours of NFL coverage, including a primetime pre-game show and the premier primetime game of the week Sunday Night Football. Costas also co-hosts NBC's coverage of the U.S. Open, THE PLAYERS Championship, Ryder Cup, Kentucky Derby, Preakness Stakes, Belmont Stakes, NHL Winter Classic and the Stanley Cup Final.
Costas is also a studio host for MLB Network, serving as host for Studio 42 with Bob Costas, lead play-by-play announcer on Thursday Night Baseball and appears on MLB Tonight, Hot Stove and breaking news coverage.
Costas first worked on NBC's coverage of Major League Baseball, the NFL and college basketball. He also hosted NBC's NFL pre-game show, NFL on NBC and has hosted the pre-game shows for Super Bowls XX, XXIII, XXVII and XLVI. Costas also served as the host of "NBA Showtime," NBC Sports' pro basketball pre-game show, as well as play-by-play for NBA on NBC game telecasts. Costas' call of Michael Jordan's game-winning shot at the buzzer in the deciding Game Six of the 1998 NBA Finals between Chicago and Utah was one of sportscasting's most memorable calls of the modern era.
Costas also originated the popular Costas Coast-to-Coast nationally syndicated Sunday night sports radio talk show, and has hosted several other tv interview and magazine shows, including Later with Bob Costas, On The Record, CostasNOW, and Costas Tonight, which currently airs on the NBC Sports Network.
After attending Syracuse University, Costas began his broadcasting career in 1974 at WSYR-TV and Radio in Syracuse, N.Y. He later joined KMOX Radio in St. Louis, working as play-by-play voice of the ABA Spirits of St. Louis. He also called play-by-play for one season of Chicago Bulls road-game telecasts. He then went on to handle regional NFL and NBA assignments for CBS Sports while acting as the radio voice of University of Missouri basketball from 1976 to 1981.
Costas has won NSSA's National Sportscaster of the Year award a record eight times. He won first in 1985, when at 33 years-old he became the youngest person to win the award. He also won in 1987, 1988, 1991, 1992, 1995, 1997 and 2000.