2013 - Dick Vitale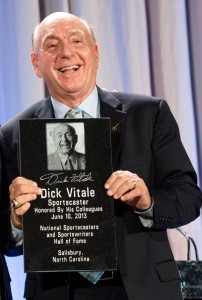 Dick Vitale, college basketball's top analyst and ambassador, joined ESPN during the 1979-80 season – just after the network's September 1979 launch – following a successful college and pro coaching career. In 2008, Vitale received the sport's ultimate honor when he was selected as an inductee into the Naismith Memorial Basketball Hall of Fame (after being named a finalist in 2004, 2006 and 2007) as a contributor.
His thorough knowledge of the game is brought forth in an enthusiastic, passionate, sometimes controversial – but never boring – style.
Vitale called ESPN's first major NCAA basketball game – Wisconsin at DePaul on Dec. 5, 1979. Since then, he's called close to a thousand games, including NBA contests for ESPN during the 1983 and '84 seasons.
Vitale is also a columnist for Basketball Times, has served as a guest columnist for USA Today since 1991, and has been a featured guest on virtually every sports radio station across the nation.
And while his knowledge, preparation and enthusiasm are unparalleled, his "Vitale-isms" have unwittingly taken on a life of their own. Just a few of his many household phrases: "Awesome, Baby!," "Get a TO, Baby!" (call a timeout), "PTP'er" (prime-time player), "M & M'er" (a mismatch), "Rolls Roycer" (a flat out superstar), "diaper dandy" (freshman star), "All-Windex Performer" (ferocious rebounder) and "Maalox time" (the final minutes of a close game). Vitale credits Hall of Fame broadcaster Jim Simpson, who he teamed with in the early 80's, in helping him develop his broadcast style.
But Vitale's roots are in teaching the game he's loved since a child. Following college, he got a job teaching at Mark Twain Elementary School (Garfield, N.J.) and coaching junior high school football and basketball. He began coaching at the high school level at Garfield High School, where he coached for one season (1963-64). He then earned four state sectional championships, two consecutive state championships, and 35 consecutive victories during his seven years at his alma mater — East Rutherford, N. J., High School (1964-70). He joined Rutgers University for two years (1970-72) as an assistant coach, helping to recruit Phil Sellers and Mike Dabney, two cornerstones on an eventual NCAA Final Four team (1976).
Vitale then coached at the University of Detroit (1973-77), compiling a winning percentage of .722 (78-30), which included a 21-game winning streak during the 1976-77 season when the team participated in the NCAA Championship. Included in the streak was a victory in Milwaukee over Al McGuire's eventual national champion Marquette team. In April 1977, Vitale was named Athletic Director at Detroit and later that year was named the United Fund's Detroit Man of the Year. In May 1978, he was named head coach of the NBA's Detroit Pistons, which he coached during the 1978-79 season prior to joining ESPN.
Vitale is also quite the philanthropist. He's on the Board of Directors of The V Foundation, a non-profit organization dedicated to finding a cure for cancer and founded in 1993 by ESPN and the late Jim Valvano (and an organization with has since raised millions of dollars). He has co-chaired with Mike Krzyzewski and John Saunders the annual V Foundation Golf Classic and hosts an annual V Foundation Gala in Florida which gathers numerous celebrities to raise money and honor individuals such as Krzyzewski, Bob Knight, Roy Williams, Billy Donovan and Pat Summitt.
Vitale's also authored 10 books, including the 2012 release of Getting a W in the Game of Lifeand one children's title, Dickie V's ABC's and 1-2-3's (2010). Dick Vitale's Fabulous 50 Players and Moments in College Basketball (2008) and 2003's Living a Dream (Reflections on 25 Years Sitting in the Best Seat in the House) were both co-authored by Dick Weiss. In 1988, Simon & Schuster published Vitale, an autobiography with Curry Kirkpatrick, which was issued in paperback in 1989. In 1991, Time Out Baby!, his second book was published. The book, written with Weiss, chronicled the 1990-91 season. In 1993 his third book, Tourney Time, was published. In 1994, Dickie V's Top 40, his fourth book, was published. In September 1995, he co-wrote a fifth book, also written with Weiss, called Holding Court: Reflections on the Game I Love. His sixth book, also with Weiss, was released in 1999 – Campus Chaos: Why the Game I Love is Breaking My Heart. He also had popular home videos distributed by ESPN Video — Time Out Baby! Dick Vitale's All‑Time College Hoops Superstars and Dick Vitale's Dreamtime, Baby.
In addition, he's been selected for 12 halls of fame, adding the Little League Museum Hall of Excellence and National Sportscasters and Sportswriters Association Awards (NSSA) Hall of Fame in 2012. Other halls of fame: National Italian Sports Hall of Fame, the Elmwood Park, N.J., Hall of Fame (his hometown), the Sarasota Boys and Girls Club Hall of Fame (inducted in inaugural class of 2001), the Five-Star Basketball Camp Hall of Fame (2003), the University of Detroit Hall of Fame, the Florida Sports Hall of Fame in 1996 (he's a resident of the state) and the East Rutherford, N.J., Hall of Fame (1985), the National Collegiate Basketball Hall of Fame (2008), the Naismith Memorial Basketball Hall of Fame (2008), Sarasota Community Archives Hall of Fame (2009),
Born June 9, 1939, in East Rutherford, N.J., Vitale and his wife, Lorraine, have two daughters, Terri and Sherri, who both attended Notre Dame on tennis scholarships, and who both graduated with MBAs. The Vitale's proud involvement with Notre Dame includes the endowment of the Dick Vitale Family Scholarship, presented annually to an Irish undergraduate who participates in Notre Dame sports or activities and does not receive financial aid. Recipients have included the school's Leprechaun mascot, cheerleaders and band members.