2014 - Marv Albert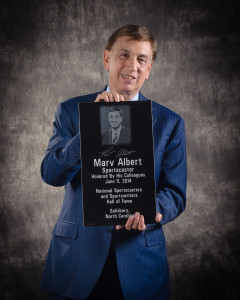 2014 NSSA Hall of Fame inductee Marv Albert is widely-regarded as one of the most-versatile and best play-by-play announcers in American television sports. A protégé of another NSSA Hall of Famer, Marty Glickman, the New York City native made his name as the play-by-play voice of the New York Rangers (radio/tv: 1965-1995), the New York Knicks (radio/tv: 1967-2004), and New York Giants (radio: 1973-1976).
He just finished his 15th season as a basketball play-by-play announcer for TNT's Thursday night NBA coverage, as well as his fourth season of coverage of the NCAA Basketball Tournament for Turner Sports and CBS.
Since 2011, Albert has called play-by-play for the NFL on CBS, after eight years as the voice of Monday Night Football on Westwood One. He was the New Jersey Nets' play-by-play announcer on the YES Network from 2005-2011.
Albert worked for NBC Sports from 1977-97, serving as the primary play-by-play voice for the NBA on NBC, and announced college basketball, boxing, NFL football, NHL All-Star Games, baseball studio and pre-game shows. He rejoined NBC from 2000-02 for their NBA coverage.
Among the many other roles Albert has served in his career: sports director, WHN Radio, New York (1967-1973); sports director, WNBC-TV, New York (1975-1987); Wimbledon coverage on TNT (2000-2002). He is a frequent on Late Night with David Letterman, narrating his Albert Achievement Awards for sports bloopers and outstanding plays. And he's appeared in cameos, in such shows as The Simpsons, Everybody Loves Raymond, Frasier, and Sesame Street. Albert calls it, "some of my finest work."
In 1997, Albert was awarded the "Curt Gowdy Media Award" by the Naismith Memorial Basketball Hall of Fame, one of the Hall's highest honors given to a journalist. He has also won six CableACE Awards (1989, 1991, 1992, 1993, 1994 and 1995) as "Outstanding Play-By-Play Announcer."
A 19-time NSSA New York State Sportscaster of the Year, Albert has also won three New York Emmy® Awards in the "Outstanding On-Camera" category and was part of the team that won four National Emmy® Awards for his NBA and boxing coverage.
Sportscasting is a family affair for Marv. His brothers Al and Steve have also had long tv sports play-by-play careers. Al has been the play-by-play voice of the Denver Nuggets and Indiana Pacers. Steve is the television voice of the Phoenix Suns. And Marv's son, Kenny Albert, is one of MSG's voices for the New York Rangers' games on radio as well as a play-by-play for Fox's NFL and MLB coverage.
Albert's other son, Brian, is an internet entrepreneur. Daughter Denise is co-founder of the Moms and the City blog and appears regularly on radio and television. And daughter Jackie is a pastry chef. Albert also has eight grandchildren.
Albert attended Syracuse University from 1960-63 and he graduated from New York University in 1965. He and his wife Heather, an Emmy Award-wining producer, live in New York City.