2015 - Dick Schaap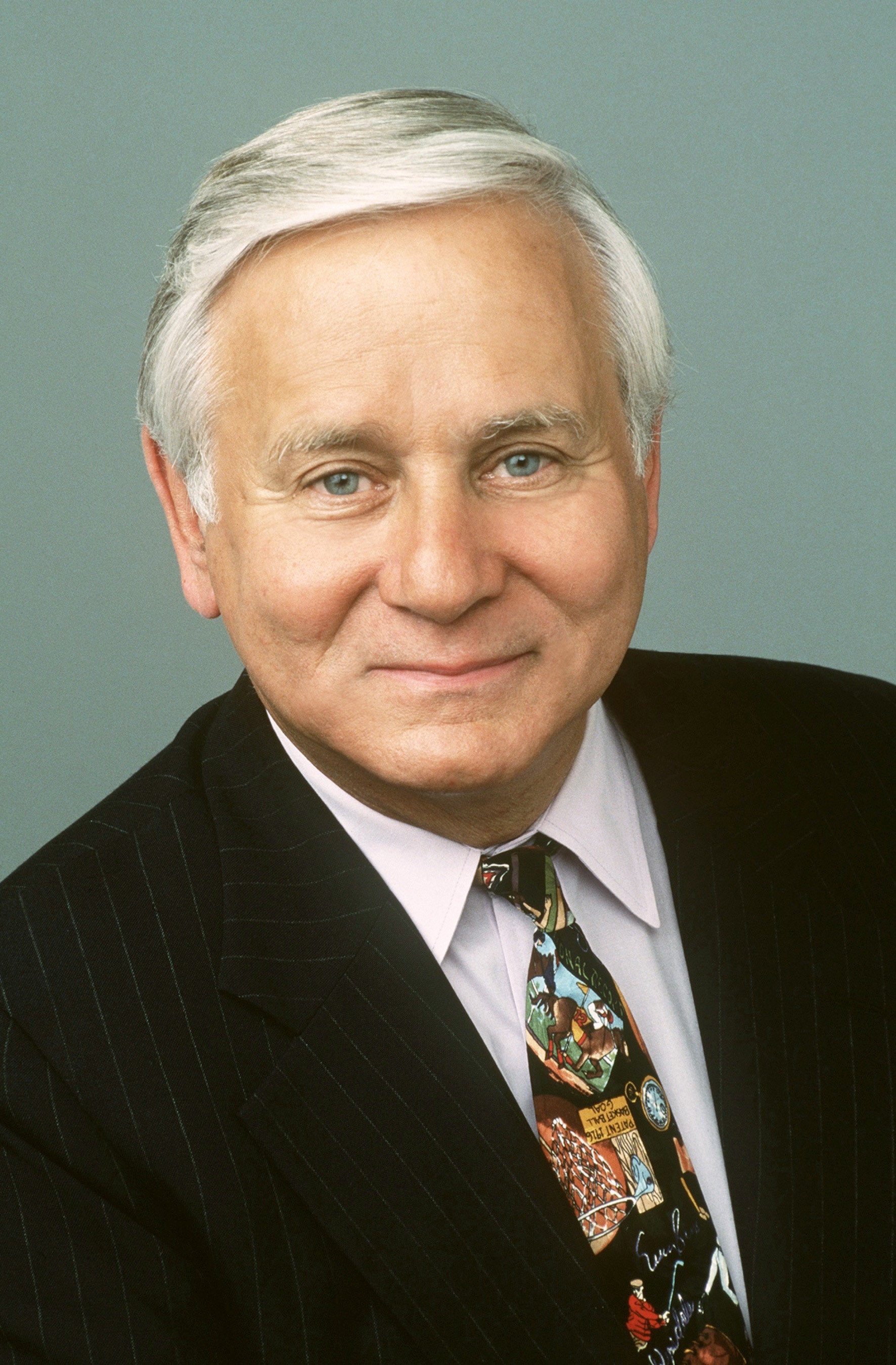 (This story was written by Richard Urban for ESPN.com in 2001 after Schaap's death. With contributions from AP)
Dick Schaap, whose humorous, often brutally honest approach to sports made him one of the most beloved, respected and honored journalists of the past half century, died Friday (December 21, 2001) from post-operative complications after hip replacement surgery. He was 67.
Schaap had most recently been the host of "ESPN Magazine's Sports Reporters" on television and "The Sporting Life" on ESPN Radio with his son, Jeremy -- one of his six children. His career in journalism began more than 50 years ago and included work in television, radio, newspapers, magazines and books.
While sports journalism, aided and abetted by talk radio, has become louder, harsher and more judgmental over the years, Schaap stuck to the basics: a pointed quip, a poignant quote, an amusing anecdote to give his audience a special insight into the people he knew. He was a master storyteller who changed the way we thought about sports and the people who entertain us in stadiums and arenas.
Schaap had a politician's knack for remembering people, and he could drop more names in one sentence than someone reading from Who's Who in America. Richard Sandomir of the New York Times actually counted how many names that Schaap dropped in his best-selling autobiography, "Flashing Before My Eyes: 50 Years of Headlines, Deadlines & Punchlines." The final count: 531.
If names were home runs, that would rank him 11th on the all-time list.
But Schaap didn't drop names to impress anyone. He often said his favorite sport was collecting people. He was equally at ease in the trendy East Harlem restaurant Rao's breaking bread with the beautiful people or sitting in some silver-sided, small-town diner chatting with the locals who would instantly become friends.
Mitch Albom, himself a best-selling author, probably summed it up best in his introduction to Schaap's autobiography: "He has walked with kings, ridden shotgun with legends, dined with the power elite and gotten drunk with some of the biggest sports stars of our time. And what he comes away with is not a swelled head, an inflated sense of his own importance, or a need to lecture the world with an opinion much richer than ours. What he comes away with are stories."
Schaap was born in Brooklyn and grew up in Freeport, Long Island, a "clam-diggers" town as he described it. As a kid he bled Dodger blue. He hated Bobby Thompson for hitting the home run in 1951 that sent the Giants to the World Series, and he hated Ralph Branca for throwing the pitch. Years later, he would call them both friends, sharing meals and golf games and appearing at events to help them raise money for charity.
That's just the way it was with Schaap.
"I have gotten to know the heroes of my youth, and the villains, and I have learned how thin the line is between them," he wrote in his autobiography.
Yet, even in writing about Dick Schaap (As Told To Dick Schaap), the stories weren't so much about him as they were about the people he met, "athletes and actresses, cops and comedians, politicians and playwrights, the eclectic mix that has made almost every day of my life seem like a fantasy to me."
The fantasy began with a weekly sports column, "Scanning the Sports Scene," in the Freeport Leader. Schaap was just a junior in high school. "I think I was paid five dollars a column. I was overpaid," he wrote.
While in high school he also worked at the Nassau Daily Review-Star for Jimmy Breslin, who later would become a Pulitzer Prize-winning columnist and one of Schaap's dearest friends. The two also worked together at the Long Island Press, the New York Herald Tribune, where Schaap was city editor, and the World Journal Tribune. As a syndicated columnist in the 1960s, Schaap coined the term "Fun City" for New York.
Schaap, who is survived by his wife Trish, also was a senior editor for Newsweek, editor of Sport magazine, which ceased publishing in 2000, and was sports editor for Parade magazine.
His transition from print to broadcast journalism was as graceful as his writing style. His profiles of comedian Sid Caesar and Olympian Tom Waddell for ABC's "20/20" earned him Emmys in 1983 and 1988. He won another Emmy for sports reporting in 1986 for a series of four features that aired on ABC's "World News Tonight." In '91 and '94 he won two more Emmys for his writing. And he earned a CableACE Award as best commentator/analyst for his work at ESPN.
He hosted ESPN's Sunday morning show, "The Sports Reporters," ESPN Classic's "Schaap One on One," and ESPN Radio's "The Sporting Life with Dick Schaap," which aired Saturday mornings. His biography became a two-hour television special for ESPN.
But it wasn't always about sports. He was a correspondent for the "NBC Nightly News" in the 1970s, and was a theater critic for ABC. In fact, he was the only person to vote for both the Tony and Heisman awards.
In the 1960s, he was in Mississippi covering the murders of three civil rights workers, and later found himself in Los Angeles covering the 1968 riots in Watts. He also covered the funeral of Malcolm X.
He has interviewed a vast cross-section of cultural icons from Bobby Kennedy and George Bush to Bobby Fischer and Lenny Bruce, Jackie Robinson and Spike Lee to Yogi Berra and Brigitt Bardot, Muhammad Ali and Sugar Ray Robinson to Norman Mailer and Tom Wolfe. He played lacrosse with Jim Brown, tennis with Hank Greenberg and Johnny Carson and touch football with Olympic sprinter Meredith "Flash" Gourdine.
"What I will remember most about Dick is that he had a good spirit and a good heart," Ali said in a statement. "Like me, Dick appreciated the child in all of us. Dick and I forged a special bond over the course of our 41-year friendship."
He has reported on major sporting events from Super Bowls to Olympic Games, earning acclaim from his peers and his audiences.
More importantly, his subjects often became his friends, a phenomenon that just doesn't happen today among scandal-seeking reporters and distrustful, self-centered athletes whose scripted post-game interviews pass for insightful journalism. "There was an access [in the 1950s and '60s] that doesn't exist today," Schaap said. Schaap has been called "the Leonardo da Vinci of multimedia journalism" and "the Van Gogh of anecdotes, except he didn't have to lose an ear."
And it was what he did with his ears that set him apart. He listened and let others tell their stories. Many of those stories became books. He wrote 33 of them, a dozen of them autobiographies "as told to Dick Schaap." There's Billy Crystal and Dave DeBusschere, Tom Seaver and Hank Aaron, Phil Simms, Frank Beard, Tom Waddell, a Bo and two Joes - Jackson, Namath and Montana. "Bo Knows Bo," was the best-selling sports autobiography ever.
"I am devastated at the loss of my great friend Dick Schaap," Crystal said in a statement. "The world has lost a rare man. A journalist who loved his subjects, who treated them with humor and dignity, never malice. He could analyze baseball and Broadway, he could speak with ballplayers and presidents, jockeys and Giants. He loved people, and words, and literature, and fairness."
The one that got the biographies all started was "Instant Replay," the 1968 best-seller written with Green Bay Packer Jerry Kramer. It set a new standard for sports biographies by changing the way readers heard their heroes. The prose wasn't flowery or particularly intellectual. Instead, it was in the tough locker-room style of a real and often profane human being who like all of us had faults.
"The words may not be exactly theirs, but the thoughts and the voice are," Schaap once said.
"Dick Schaap was synonymous with Lombardi, Kramer and Packers football," NFL commissioner Paul Tagliabue told The Associated Press.
"`Instant Replay' created a genre that is part of Dick's tremendous literary legacy. He was always a gentleman and will be missed by all those in the sports community."
Crystal credits him with giving his career a big start.
"He put me on television for the first time in 1974, where he introduced me to Ali, and the three of us maintained a great relationship until today," Crystal said. "I will miss his friendship, his laughter and humor, and the special insight he had for people. I loved Dick and my family and I will miss him terribly."
He took on more serious topics, too. He wrote a biography on Robert F. Kennedy titled simply "RFK." With Breslin, he co-authored ".44" about Son of Sam serial killer David Berkowicz, and "Turned On," a book about upper middle-class drug abuse.
Some of the best of those stories, however, were the ones he saved for his autobiography published in 2001. Two of the most frequently cited are these:
"Not long after the New York Jets won Super Bowl III, in the rebel days at the height of his career, Joe Namath came to my house for dinner one night, lay down on the floor of my living room, cadged a joint, puffed and blew the smoke into the mouth of my dog, a collie named Max. As far as I know, neither the quarterback nor the collie inhaled."
While posing for a photograph with Wilt Chamberlain, Bob Cousy and George Mikan during a 1992 reception unveiling Madison Square Garden's Walk of Fame, "a crowd gathered, drawn by the three stars, and I couldn't resist turning to our audience and saying, 'Do you realize that among the four of us, we've had twenty thousand and 10 women?' Everyone laughed, except the three guys I was standing with. Mikan and Cousy informed me that they had had only one each. But Wilt was more upset. 'Hey, Dick,' he said, 'that book is two years old.'"
Always good with a quip ("The guy who ought to be commissioner of baseball is Fidel Castro, because he speaks Spanish, he's had a lot of dealings with Washington, and he played the game."), he would rather talk about others rather than himself. "My wife would like me to be more introspective, but it's not my strong suit," he once said. "I'm afraid I'd dig deep down and find I'm shallow."
We all know better. Dick Schaap brought us a different, richly rewarding view of the world through the magic of his story-telling. And although he is gone now, he left behind a legacy at which we can continue to marvel just by reading his books or watching rebroadcasts of his many interviews.