2015 - Bill Raftery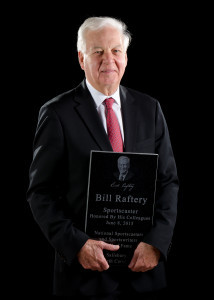 Bill Raftery has spent 33 years as an analyst for CBS Sports' college basketball coverage and the NCAA Division I Men's Basketball Championship. He, along with Grant Hill, joins the broadcast team of Jim Nantz and Tracy Wolfson to call the 2015 NCAA Division I Men's Basketball Tournament, including the Final Four and National Championship. This year marks the first time Raftery will call the NCAA Final Four and National Championship on television. He also is an analyst for college basketball on Fox.
Raftery previously served as an analyst for Westwood One Radio Sports coverage of the NCAA Men's Final Four for the past 23 years. He also served as an analyst for the NBA's New Jersey Nets. Since 1981, Raftery has announced several events, including the Big Ten Championship, the ACC Championship, the Big East Championship, the SEC Championship, the McDonald's High School All-Star game and the NIT pre-season and championship games.
Raftery co-hosted THE BASKETBALL SHOW with Pat O'Brien and called NBA ON CBS action. He served as course commentator for the First of America Senior PGA TOUR event in Grand Rapids, Mich., as well as other Senior TOUR events. Raftery was the studio host for ESPN's coverage of the NCAA Tournament in 1980.
Prior to his broadcasting career, Raftery was head coach at Seton Hall University with a 154-141 record from 1970-82. Prior to that he coached basketball and golf at Fairleigh Dickinson for five years, while also serving as associate athletic director. During his 16-year collegiate coaching career he gained three NIT and four ECAC Tournament berths and was named Coach of the Year in 1979 by the New Jersey Basketball Writers Association.
Raftery played three seasons at LaSalle University under legendary coach Donald "Dudey" Moore. He set a freshman scoring mark with 370 points. The next year, he led the varsity team with 17.8 points per game and in his senior year, he co-captained the Explorers to the National Invitational Tournament.
Following his senior year at LaSalle, he was drafted by the New York Knicks. A New Jersey school-boy legend, prior to attending LaSalle, Raftery was an All-State selection in basketball, soccer and baseball at St. Cecilia High School in Kearny, N.J. He posted a New Jersey state record scoring 827 points in his senior year, leading the team to the New Jersey State Championship. He ended his high school career with 2,192 points, which at the time also was a state record.
In 2015, Raftery was elected into the National Sportscasters and Sportswriters Association Hall of Fame. He was honored in May 2012 at the University of Scranton's Carlesimo Award Dinner, held in honor of the late Peter A. Carlesimo, for his contributions to athletics and Catholic education. In 2004 Raftery received a special Victor Sports Award, and the "Walter Payton 'Sweetness' Award," in recognition of his outstanding work in the community throughout his lifetime. He received the Curt Gowdy Media Award from the Naismith Memorial Basketball Hall of Fame in 2006 and also won a New York Sports Emmy for SINGLE EVENT COVERAGE for Game 5 of the New Jersey Nets-Indiana Pacers series during the 2002 NBA Playoffs.
Raftery earned a degree in history from LaSalle and master's degree in education from Seton Hall. He received an Honorary Doctorate from LaSalle University in 2001 and an Honorary Doctorate from Seton Hall University in 2009.
Raftery was born April 19 and currently serves as President of W.J. Raftery Associates, an events/marketing firm. Raftery lives in Florham Park, N.J., with his wife, Joan, and has four children and five grandchildren.