2017 - Linda Cohn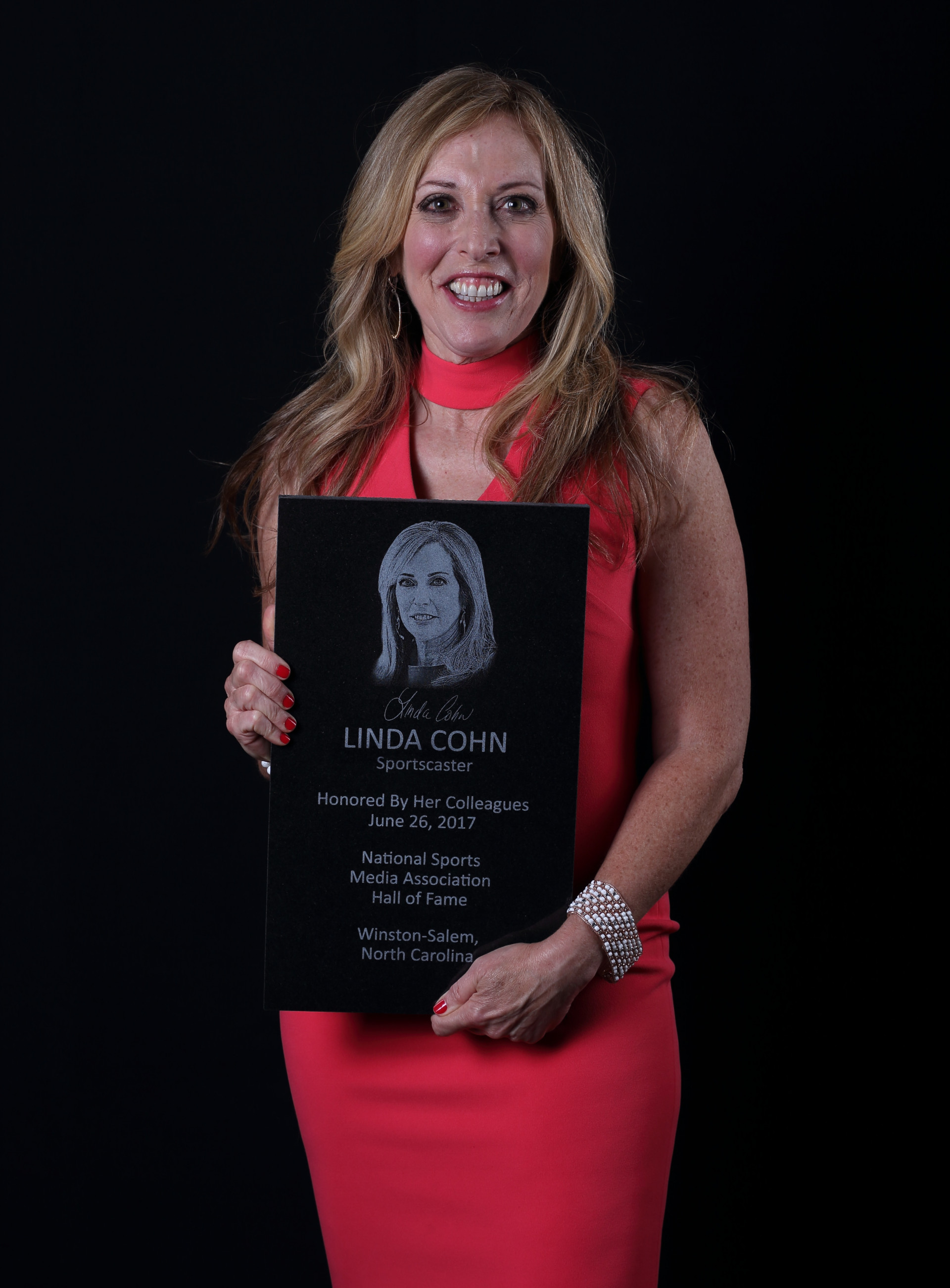 A fixture on SportsCenter for nearly a quarter of a century, Linda Cohn reached a milestone with ESPN's signature news and information program, appearing on her 5000th show, on Feb 2016. Cohn, who has hosted more editions of SportsCenter than anyone in the 36-year history of the program is very humbled for being recognized.

Linda is a master at her craft. She can relate to the true sports fan because she IS a true sports fan. She is a brilliant storyteller who uses her wit, imagination and passion for sports to make the stories she delivers come alive. She connects with her viewers, because she is the real deal.
In 2008, Linda authored a memoir entitled "Cohn-Head, a No-Holds-Barred Account of Breaking into the Boy's Club." Her story allows us to see her both personally and professionally; her dreams, victories, disappointments, obstacles and her gut determination to win.
One of the highlights of her many groundbreaking achievements came early as a senior in high school when she made the boy's high school ice hockey team as the backup goalie. "It sure beat the senior prom," said Cohn.
Linda is living proof that she not only works in a man's world but also continues to succeed in it. She is a pioneer and role model and continues to pave the way for many women who want to follow her footsteps into sports broadcasting.
Her straightforward style, natural sense of humor and passionate fanaticism for the teams she grew up with and continues to root for, connects with viewers. Linda is active on social media and enjoys interacting with her fan base.
During her career at ESPN, the versatile Cohn has hosted, reported, commentated, interviewed, written and called play-by-play. She also has appeared in many of ESPN's iconic"This Is SportsCenter" commercials. Among the events, sports and assignments Cohn has covered for ESPN in addition to anchoring 5,000 SportsCenters:
Baseball Tonight
NFL Draft
WNBA Draft
MLB Playoffs
National Hockey Night
Sunday NFL Countdown
nhl2night
Men's Final Four
rpm2night
NHL Stanley Cup Playoffs
ESPN Radio
NFL Sunday
NHL All-Star Game
SportsCenter at NBA All-Star Game
NHL Winter Classic
NASCAR Chase on ESPNEWS
X Games
Winter X Games
ESPN NY 98.7 New York Rangers broadcasts
Play-by-Play Assignments
ESPN the Magazine column
WNBA Games
LPGA golf Misc.
ESPN Radio commentaries
Podcast
Sirius XM Radio Host
Sirius XM Radio Inc.
Mad Dog Radio, Channel 82
New York Rangers Radio Host
MSG Radio Network
(Bio Courtesy of: LindaCohn.net)