2018 - Thomas 'Tom' Boswell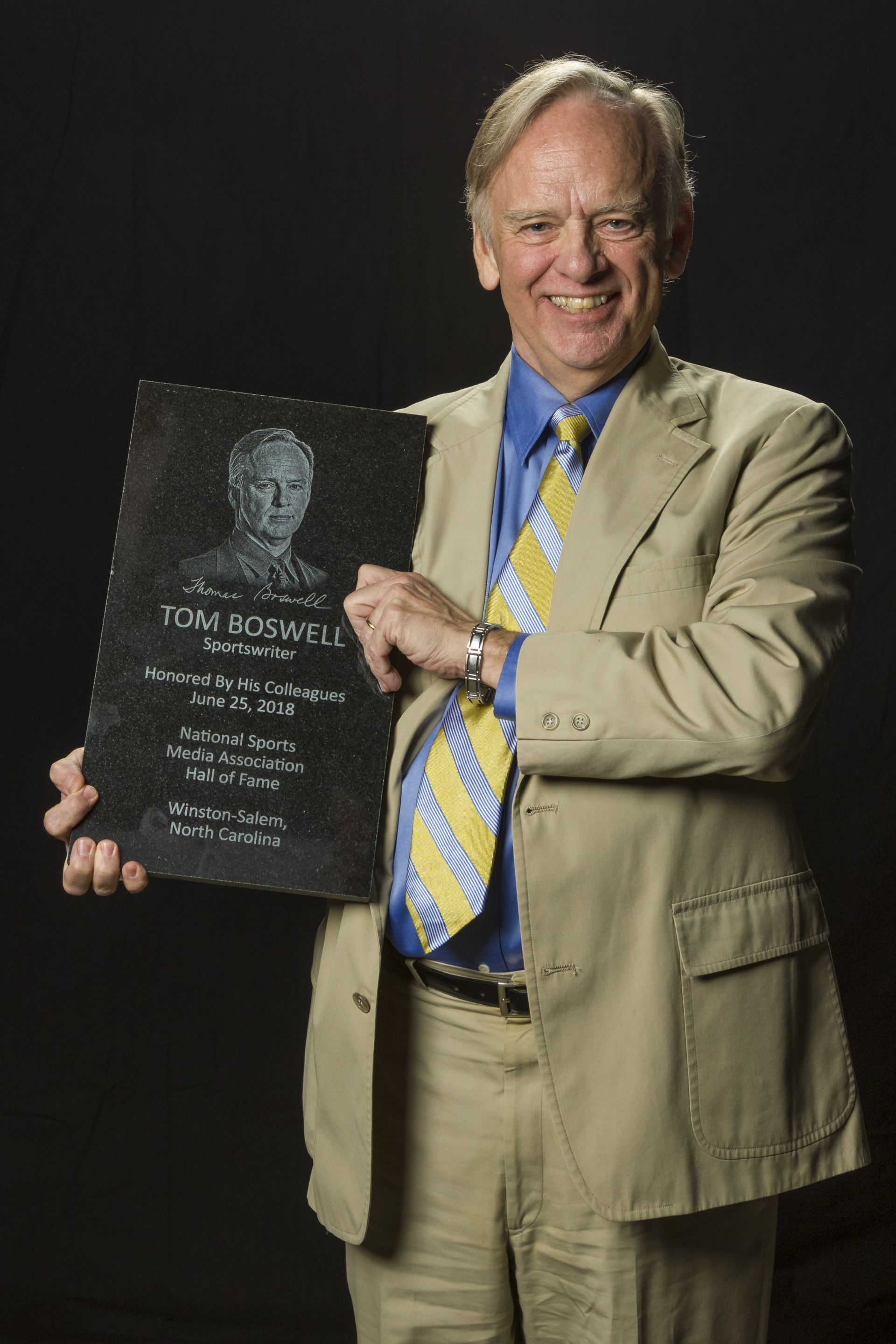 Shortly after graduating as an English literature major from Amherst College in 1969, Thomas Boswell joined the Washington Post and hasn't left. Boswell began his career at The Post as a copy aide, then moved on to become a general assignment reporter for 12 years, covering such sports as baseball, golf, college basketball, tennis, boxing and local high school sports. In 1981, he was honored with a Best Sports Journalism award by the American Society of Newspaper Editors.
In 1984, Boswell moved into a columnist role, and in the 34 years since then, he has become one of the country's most-respected sports columnists. In that first year as a columnist, his peers voted him the NSMA's DC Sportswriter of the Year.
Since then, many of Boswell's columns have been included in Best American Sports Writing, for which he was the editor in 1994. Two of his pieces on boxing were included in The Best American Sports Writing of the Century (edited by David Halberstam).
Nominated several times by The Washington Post for a Pulitzer Prize, Boswell was presented with the Eugene Meyer Award in 2007, which recognizes The Post's highest career achievement.
In addition to writing for the Post, Boswell has also written for several magazines, including Esquire, GQ, Playboy and Inside Sports. Boswell was credited with the creation of Total Average statistic in baseball, which Boswell used to show over-rated vs under-rated players in his regular Inside Sports features.
Twice named the best sports writer in America by American Journalism Review, Boswell had two of his columns chosen for inclusion in 2011's Deadline Artists:America's Greatest Newspaper Columns, a compilation of columns on war, politics, crime, humor, etc.
Boswell has written many books, including How Life Imitates the World Series (1982), Why Time Begins on Opening Day (1984), Strokes of Genius (1987), The Heart of the Order(1989),Game Day: Sports Writings 1970-1990 (1990), Cracking the Show (1994), and Diamond Dreams (with Walter Iooss) (1996).
He has also been featured prominently in Ken Burns' two PBS television series, "Baseball" and "Tenth Inning."
In 2013, Boswell was inducted into the DC Professional chapter of the Society of Professional Journalists Hall of Fame. He is one of only two sports writers – along with 2017 NSMA Hall of Fame inductee Sam Lacy – among the 214 members from the last 100-plus years of
And in 2015, he was inducted into the Washington, DC Sports Hall of Fame, one of only seven sports writers among the 140 members, who include Walter Johnson, Red Auerbach, Bones McKinney, and NSMA Hall of Famers Shirley Povich and Bob Wolff.
Boswell was born in Washington, D.C., and went to St. Stephen's School in Alexandria, Va. He resides in Crownsville, MD with his wife Wendy and 16-year-old rescue dog, Mac. They are the parents of one son, Russell, 31.
###