2019 - Mike "Doc" Emrick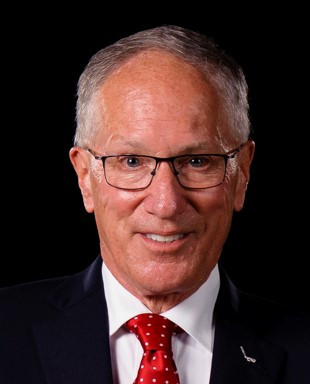 In his 25th year of NHL play-by-play announcing, Mike Emrick joins the NHL on NBC as lead play-by-play commentator.
Emrick is widely considered to be the best hockey play-by-play voice on television. He has been the voice of the New Jersey Devils since 1993, and has announced NHL games for all of the major television networks. Emrick is the recipient of several awards, including the 1997 National CableACE Award for best play-by-play, the 1997 and 2004 New York Emmy Awards for his Devils telecasts, and the 2004 Lester Patrick Trophy. Emrick will also serve as lead play-by-play commentator for OLN's telecasts of NHL coverage.

Emrick called water polo in Athens for his first Summer Games assignment and his first Olympics with NBC. Emrick handled hockey play-by-play duties for CBS at Albertville in 1992 and on CBS and TNT at Lillehammer in 1994 and Nagano in 1998.

The Washington Post rated the team of Emrick and Joe Micheletti as one of the top three Nagano announce teams during a review of the CBS/TNT coverage in 1998. Emrick counts the gold medal game at the 1994 Winter Olympics -- won by Sweden in a shootout over Canada -- among his most memorable broadcasting assignments.

Emrick was the lead play-by-play voice of NHL games on Fox (1995-99) and ESPN (1986-88). In recent years, Emrick has gained new fans as the voice of the popular "NHL Face-off" PlayStation games. In 1999, he released "Off Mike," a CD of audio essays on hockey gathered during his 12 years as writer/commentator of a daily radio series.

Emrick began his broadcasting career in 1973 with the IHL's Port Huron Flags, where he also served as the team's public relations director. He called more than 100 New York Rangers games on WNBC/WFAN Radio from 1983-88. He was the TV voice of the Philadelphia Flyers from 1988-93 and went on to broadcast NFL games (1992-93), the World Luge Championships (1993), the FootLocker International Track Series (1994) and the NCAA Men's Basketball Tournament (1995) for CBS Sports.

A member of the NHL Hockey Hall of Fame selection committee, Emrick has served as Vice President of the NHL Broadcaster's Association since 1985 and editor of the NHL Pronunciation Guide since 1982. He earned his bachelor's degree in speech from Manchester College in 1968, a master's degree in radio/television from Miami University in Ohio in 1969, and a Doctorate in radio/television/film from Bowling Green State University in 1976, which earned him the nickname "Doc," as he's known to many of his fans.

"Doc" and his wife, Joyce Ann, reside in St. Clair, Mich.