2021-Jim Nantz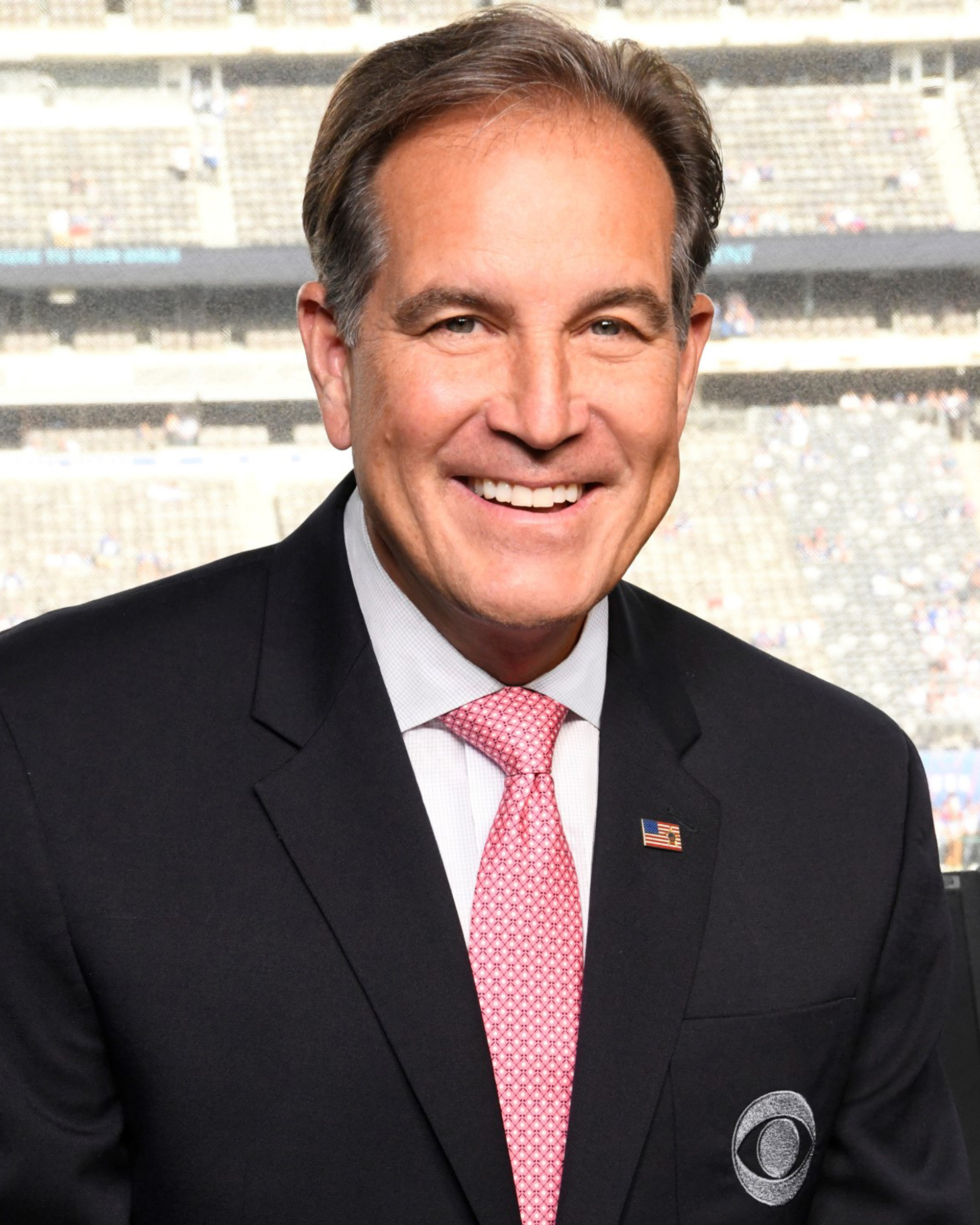 Jim Nantz, a member of the Sports Broadcasting Hall of Fame and the youngest to be inducted into both the Pro Football and Naismith Memorial Basketball Hall of Fames, is a three time Emmy Award-winner and five time National Sportscaster the Year since joining CBS in 1985.
Nantz has been the lead play-by-play voice for THE NFL ON CBS since 2004. In 2021, Nan
tz called his sixth Super Bowl--Super Bowl LV from Tampa, Fla. In addition, from 2014–18, Nantz called the NFL Thursday Night Football games and from 1998–2003, he anchored the Network's NFL pre-game show, THE NFL TODAY.
This year marked Nantz's 36th covering NCAA Division I Men's Basketball. Nantz has called play-by-play on more network broadcasts of the Final Four and Championship game than any other announcer in the tournament's history. From 1986-90, he served as host of CBS's coverage of the NCAA Tournament and Final Four. He took over as lead play-by-play announcer for college basketball in 1990.
In addition to being the lead play-by-play announcer for the Network's NFL and college basketball games,accomplished Nantz anchors CBS's golf coverage. He joined the CBS Sports golf team in 1986. Nantz became the anchor of the Network's golf coverage in April 1994 and has hosted broadcasts of the Masters since 1988 and the PGA Championship since 1991, and served as anchor of the biennial Presidents Cup in 1994 and 1996.
In 2007 Nantz became the first commentator in history to complete the rare broadcasting three-feat – calling the Super Bowl, the NCAA Men's Final Four and the Masters all in a span of 63 days. Nantz once again repeated this trifecta in 2010, 2013 and 2016. In 2019 and 2021, Nantz accomplished an even rarer quintet, calling the AFC Championship, Super Bowl, Final Four, Masters, and PGA Championship in a span of 120 days.
In 2005 Nantz established his own production company, Jim Nantz Productions. As executive producer, Nantz's company annually produces a Masters Sunday special. The 1960 MASTERS special made television history by showcasing a sporting event that originally aired live in black and white and was re-broadcast in color. This special was nominated for a 2007 George Wensel Technical Achievement Sports Emmy Award.
In August 2011 Nantz became the youngest recipient of the Pro Football Hall of Fame Pete Rozelle Radio-Television Award. Nantz also was honored in 2002 by the Naismith Memorial Basketball Hall of Fame as its youngest recipient of the Curt Gowdy Media Award. Nantz joins Dick Enberg and Curt Gowdy as the only broadcasters to receive both Pro Football and Naismith Memorial Basketball Hall of Fame honors.
In June 2013 he received the Court of Honor Award from the National Association of Basketball Coaches Foundation for distinguishing himself in his profession and exhibiting the highest standards of leadership. In November 2013, Nantz received the Metropolitan Golf Association's Distinguished Service Award, and in September 2016, he was recognized with the Golf Course Association of America Lifetime Achievement Award. In June 2018, Nantz was honored by the College Sports Information Directors of America (CoSIDA) as the Jake Wade Award winner in recognition of his collegiate and professional achievements and work with CoSIDA.
Nantz was the 2018 recipient of the Ambassador of Golf Award, presented annually by Northern Ohio Golf Charities and PGA TOUR. In December 2018, Nantz was inducted into the Sports Broadcasting Hall of Fame. Nantz was honored in 2019 with the Arnie Award, presented to Golfers Who Give Back and reflect the values and generosity of Arnold Palmer by the AT&T Pebble Beach Pro-Am, the Monterey Peninsula Foundation and Golf Digest. In February 2020, he was named the Naismith Outstanding Contributor to Men's Basketball by the Atlanta Tipoff Club. Nantz will be inducted into the National Sports Media Association Hall of Fame in December 2021.
In 2009 and 2010, Nantz won consecutive Emmy Awards for Outstanding Sports Personality – Play-By-Play. He also won an Emmy Award for his role in the Army-Navy documentary, "Game of Honor" in 2012. In addition, Nantz was honored five times by the National Sports Media Association as its National Sportscaster of the Year.
Nantz's myriad assignments for CBS Sports also include play-by-play at the U.S. Open Tennis Championships for nine years overall, primetime host of CBS Sports' coverage of the 1998 Olympic Winter Games and co-hosting the weekend daytime coverage of the 1992 and 1994 Olympic Winter Games. He also has covered of NCAA track and field, skiing, speed skating, baseball, swimming and diving, gymnastics, the U.S. Olympic Festival and Pan American Games. In addition, he had a prominent role in Kevin Costner's 1996 hit movie, Tin Cup.
On January 19, 2011, Nantz returned to his adopted hometown of Houston to team with Houston Methodist Hospital to create the Nantz National Alzheimer Center (NNAC). The NNAC has become a world-renowned research center dedicated to funding innovative diagnostic discoveries for early and accurate detection of Alzheimer's disease and other dementing illnesses (www.nantzfriends.org). Nantz's father, Jim Nantz Jr., himself a former college football player and lifelong inspiration to his broadcaster son, suffered from the ravages of Alzheimer's disease for 13 years. Jim Nantz and vineyard vines began collaborating in Spring 2017 to create the "Forget-Me-Knot" custom-designed collection that benefits research at the Nantz National Alzheimer Center.
Nantz graduated from the University of Houston in 1981 with a degree in radio/television, where he was recruited as a member of the golf team. He received an honorary doctorate of humane letters from his alma mater in May 2001 in recognition of his contributions to his profession and to the university.
While a student at Houston, he held a variety of broadcasting jobs, which led to positions at the city's CBS stations KHOU-TV and KTRH Radio. Before joining CBS Sports, Nantz was an anchor at KSL-TV in Salt Lake City, then a CBS affiliate. W
Nantz was born May 17, 1959, in Charlotte, North Carolina. He lives in Pebble Beach, California with his wife, Courtney. He has two daughters, Caroline and Finley, and a son, Jameson.
-30-