NSMA Member Fein Has Book Published
07.04.2021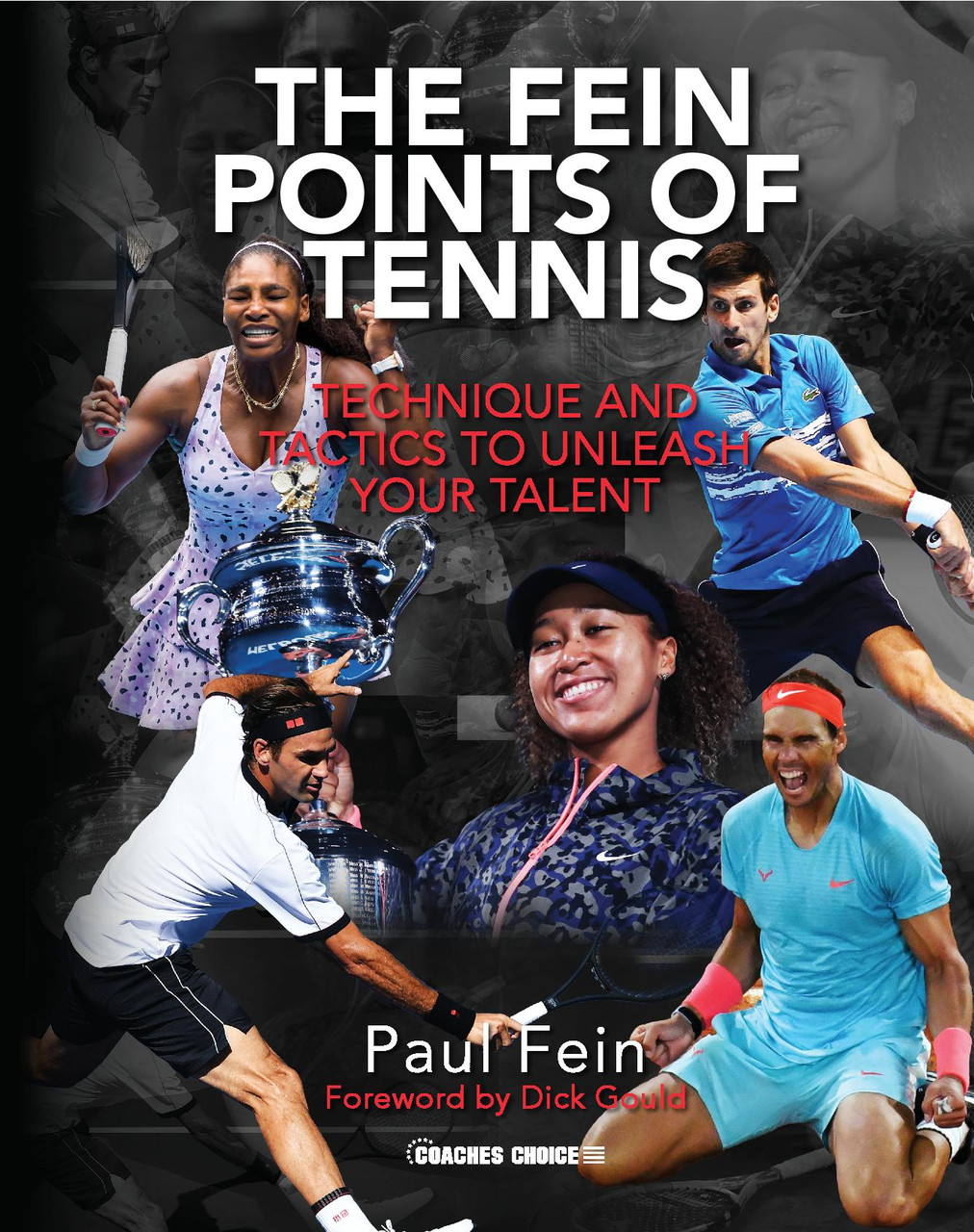 FOR THE LOVE OF THE GAME—TENNIS FOR PLAYERS AND COACHES
Imprint: Coaches Choice
On sale: July 13, 2021
Price: $34.95
Pages: 511
ISBN: 9781606795477
CONTACT:
Aaron Huffman
831-521-3434
ahuffman@coacheschoice.com
ABOUT THE BOOK
What makes The Fein Points of Tennis different from all other tennis instruction books?
This easy-to-read, authoritative collection of Paul Fein's most incisive articles features topics seldom written about, such as the "modern forehand," the "strike zone," grip firmness, the critical importance of balance, and the geometry of tennis. It also provides an in-depth analysis of several underemphasized topics, such as playing in the wind, the half volley, match momentum, running speed, the subtleties of touch shots, and the arts of anticipation, lobbing, and wrong-footing.
The games of Roger Federer, Rafael Nadal, Novak Djokovic, Serena Williams, and other stars are dissected so you can learn—and copy—the secrets of their greatness. Thought-provoking topics are comprehensively covered, including the two-handed vs. the one-handed backhand, how analytics changed tennis, what videography reveals, how America can produce tennis champions again, and whether Djokovic has the perfect game. How you can play better defense and close out tight matches, whether you should elect to start a match serving or receiving, and why and how you should use sidespin are among the many fine points you'll discover in this unique instruction book. In addition, more than 90 action photos, with detailed captions, demonstrate the technique discussed in the text.
In a first for instructional books, Fein interviews some of the world's leading coaches and teaching pros. Former Wimbledon champion Pat Cash covers every aspect of the volley with unparalleled expertise. Renowned teaching pro Rick Macci, who guided Serena and Venus Williams, Jennifer Capriati, and Sofia Kenin during their formative years, imparts his vast knowledge about the forehand and backhand. Patrick Mouratoglou, Gene Mayer, Toni Nadal, David Macpherson, and Nick Bollettieri, the latter having coached ten world No. 1 players, also share their wisdom. The insights and advice of these experts about technique and tactics will help improve your game, whether you're a beginner, intermediate, or advanced player, or even a successful tournament competitor.
Fein is a longtime tennis writer whose articles have received more than 40 writing awards and have been published in more than 30 countries. Two other vantage points inform his instruction writing: his career as an award-winning USPTA teaching pro with an Elite rating and his experience as an accomplished tournament player, ranking No. 5 nationally among seniors. Reading tennis, like playing it, should be fun. Accordingly, Fein's book treats you to fascinating facts and stats, humorous and revealing quotes, and memorable anecdotes—all of which enliven the content.
The Fein Points of Tennis will appeal to and inspire the millions of recreational and tournament players, club and municipal teaching pros, in addition to high school, college, tennis academy, and pro coaches. The eclectic nature of this book will also engross tennis lovers of all kinds, athletes and coaches in other sports, tennis journalists and historians, and the merely curious.
WHAT THE PROS ARE SAYING
This is a great book! Fein is uncompromising in his search for what makes great players truly great. He eschews—and at times demolishes—commonly accepted maxims about technique and tactics, while revealing the often-hidden complexity and beauty of the sport. – Tim Mayotte, former world No. 7, and currently head of the Tim Mayotte Tennis Academy. Mayotte was chosen by Tennis magazine as one of the "Heroes of the Game" for his dedication to coaching education.
The Fein Points of Tennis is a very thoughtful and impressive analysis of the tennis game. It utilizes the experience and expertise of tennis greats and presents a sound technical and scientific basis for its conclusions. Tennis players, coaches, and fans will surely benefit from the information presented. – Vania King, 2010 Wimbledon and US Open doubles champion (with Yaroslava Shvedova) and current USTA Director at Large Elite Athletes
The information in The Fein Points of Tennis is really, really good coming from great sources. Paul Fein understands there are not many absolutes in terms of technique and tactics because tennis is both an art and a science. So he points out the many variables in physiques, racket skills, personalities, and athleticism that coaches and players must take into account. That's important to remember because there is no perfect fit, but a lot of very good ones. I enjoyed reading the book and I highly recommend it. – Ola Malmqvist, USTA Director of Coaching and former U.S. Fed Cup coach
ABOUT THE AUTHOR
Longtime NSMA member Paul Fein has observed, served, and written about the tennis world from several vantage points during his eclectic career.
As a journalist, Fein has covered the great events, such as the US Open, Wimbledon, and the Davis and Fed Cups, and also written about the leading players, issues, and trends. His articles have appeared in sports and tennis publications in 30 countries and received more than 40 writing awards. Fein has authored three previous tennis books—Tennis Confidential, Tennis Confidential II, and You Can Quote Me on That—which were all ranked No. 1 among tennis books on Amazon for more than six months. In 1991, he received Tennis Week magazine's "International Tennis Writer of the Year" award.
Fein is also a longtime member of the United States Professional Tennis Association, with an Elite rating. He's served as head pro at the Candlewood Racquet Club, an indoor-outdoor facility in Brookfield, Conn., coached the girls' tennis team at The MacDuffie School in Springfield, Massachusetts, and for the past 25 years, taught tennis to children and adults for the Chicopee, Massachusetts, public parks and recreation program. In 2003, he received the New England Professional Tennis Association (NEPTA) "Western Pro of the Year" award, and in 2014, its "Senior Player of the Year" award.
Fein played No. 4 singles and No. 2 doubles on the varsity tennis team at Williston Academy team. He then played No. 5 singles and No. 2 doubles at Cornell University, where he always had winning records under acclaimed coach Eddie Moylan. An accomplished tournament player, Fein ranked No. 7 in singles and No. 4 in doubles in the men's open division in New England. As a super senior, he ranked No. 1 several times in New England in various age divisions and, in 2020, ranked No. 5 in the nation.
Fein has shared his expertise and experience over the years in several tennis organizations. He served as tournament consultant for the New England Lawn Tennis Association, NEPTA ranking committee chairman, and website editor for the National Senior Men's Tennis Association. Fein has also been vice president of the United States Tennis Writers' Association, president of the Springfield (Mass.) Tennis Club and the Springfield Tennis Council, tennis analyst for Continental Cablevision, and one of 125 experts to vote for candidates for the International Tennis Hall of Fame.
&nbsp « Back