2022 NSMA Awards Nominations Underway
10.20.2022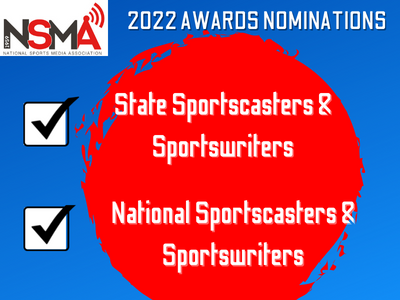 On Friday, October 14, 2022 NSMA Awards nomination ballots were emailed to NSMA members (Premier, Lifetime, and AIPS), who will have until November 15 to nominate people for state and national awards.
After the nomination process is completed, the NSMA's inclusion and diversity committee will help select two other finalists, for a total of up to five finalists in the state categories and three finalists for the national categories for a total of ten finalists in the national categories. Our current Hall of Famers consult on which ten finalists each -- for sportscaster and sportswriter -- are placed on the final ballot.
That final ballot is emailed to members in early December for voting through the end of December.
Winners are notified during the first week of January.
The list of winners is made public on Monday, January 9.
Winners will be honored during the 63rd NSMA Awards Weekend & National Convention, June 24-26, 2023, in Winston-Salem, North Carolina.
&nbsp « Back