60th NSMA Awards Weekend Sets Records
07.26.2019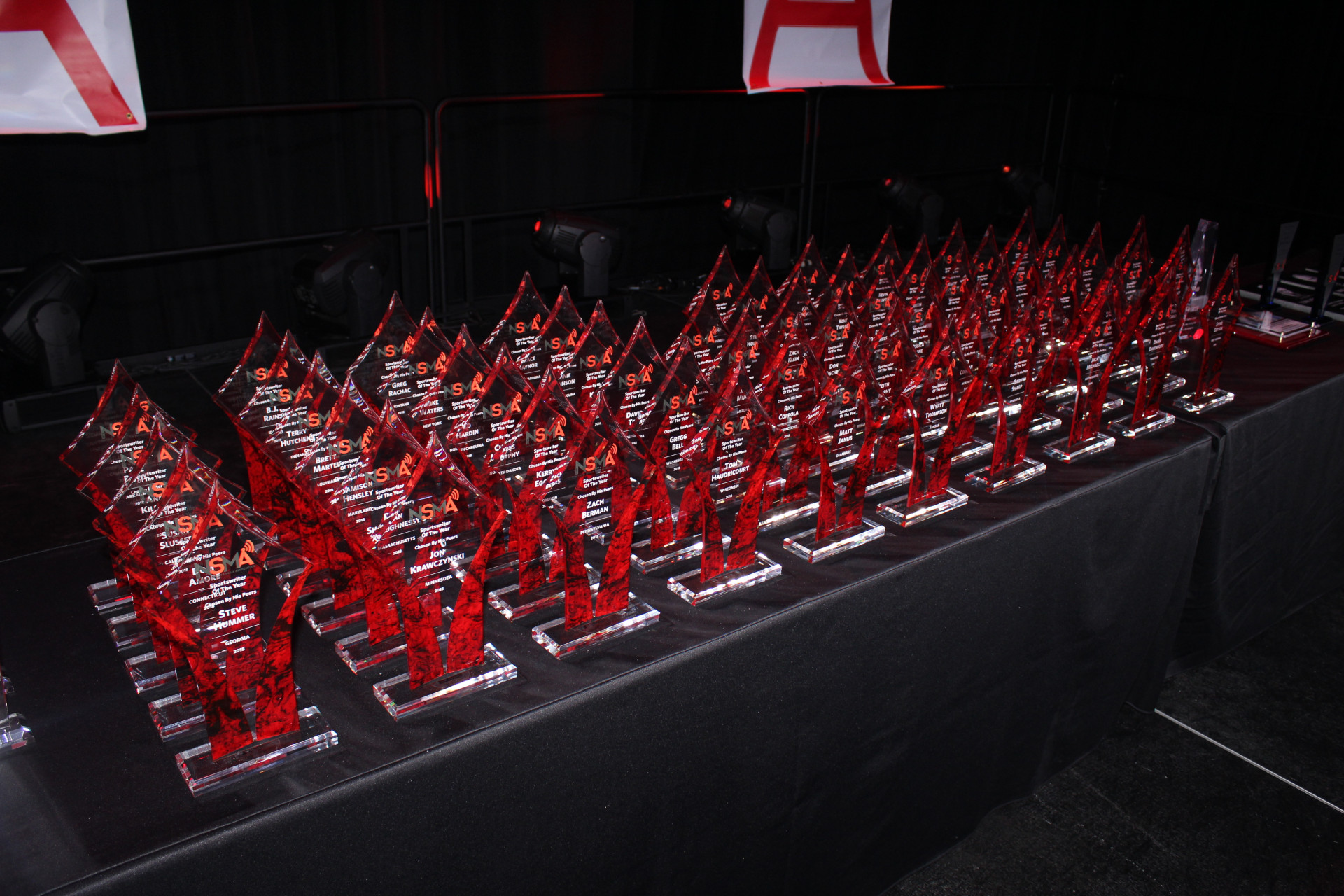 The 60th NSMA Awards Weekend set unofficial attendance records for its awards banquet and Legacy Night events. More than 500 people attended at least some part of the Awards Weekend, which also made it the most-attended in at least the last decade.

Winners and their guests began registering for the weekend on Saturday, June 22 at the Winston-Salem Marriott, which has served as the organization's headquarters hotel since it moved to Winston-Salem, NC in 2017. Volunteers and interns welcomed guests upon check-in. Later that afternoon, guests moved upstairs to the hotel's second floor for a welcome reception, which allowed them to meet people for the first time, or, if they were return winners, renew friendships from past awards weekends.
The welcome dinner, which also took place at the Marriott, featured a sports trivia contest that raised more than $700 for a GoFundMe campaign for the children of former three-time Alabama Sportscaster of the Year and Auburn play-by-play announcer Rod Bramblett and his wife Paula. The Brambletts were killed in an auto accident in late May.
A networking "after party" followed at Foothills Brewpub in downtown Winston-Salem.
June 23 Features Several Events

The middle day of the Awards Weekend featured several more events for winners and weekend guests. Sunday morning kicked off with the screening of College Basketball's Purple Reign, a documentary about the Holy Cross College basketball teams from 1947-1954. Holy Cross won one NCAA championship and one NIT title in that time. Filmmaker Richard Kaner attended the weekend and took questions from the audience. Togo Palazzi, one of the stars of the 1954 team, and Ryan Hughes, the film's director, joined the discussion via phone.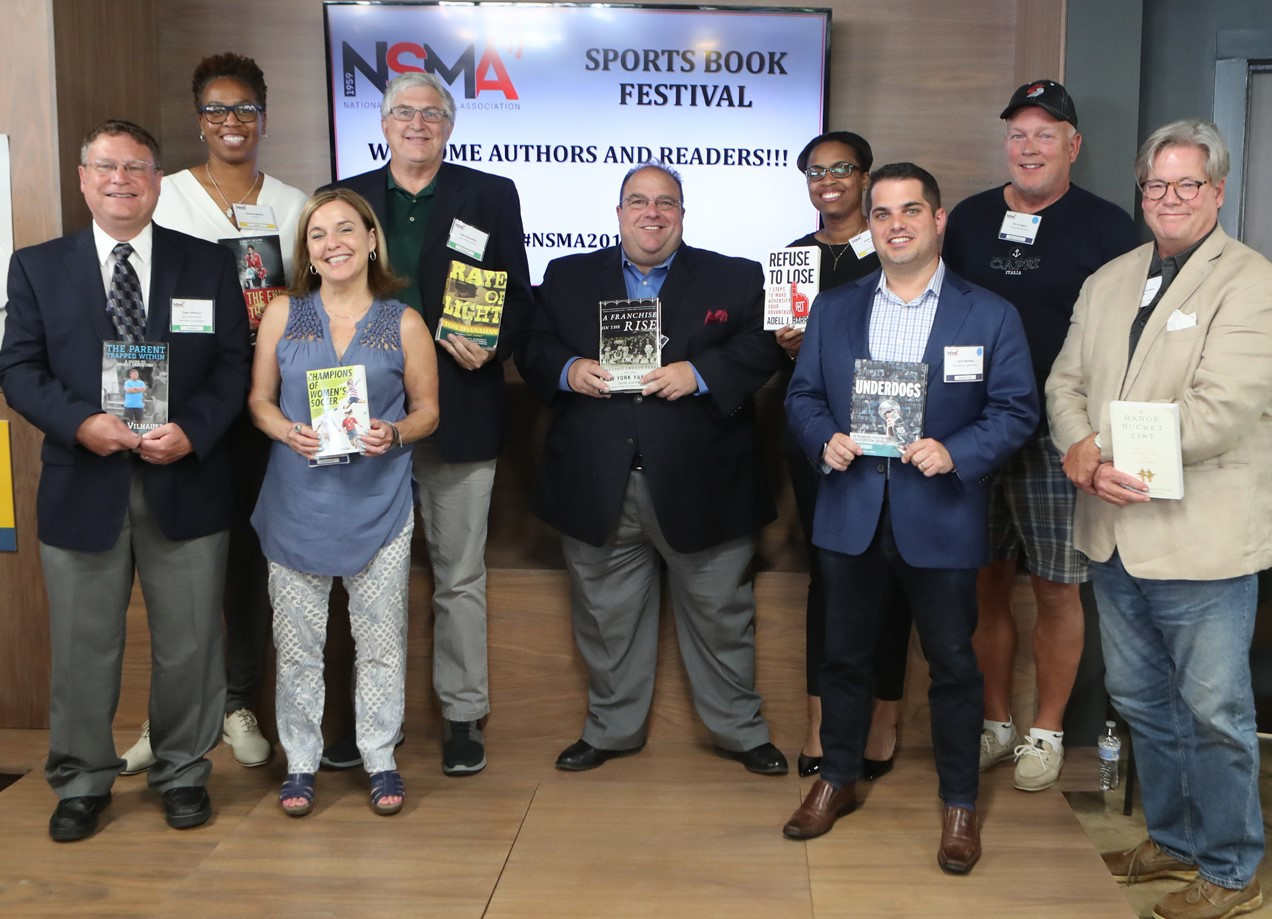 After a break for lunch, the NSMA hosted nine authors at the Sports Book Festival, held at Bookmarks, downtown Winston-Salem's independent nonprofit bookstore. Each author read a paragraph from his or her book, then signed the book and chatted with interested attendees. The authors (book in parentheses) who appeared were:
Dom Amore (A Franchise on the Rise: The First Twenty Years of The New York Yankees)
Zach Berman (Underdogs: The Philadelphia Eagles' Emotional Road to Super Bowl Victory)
James Dodson (Final Rounds: The Range Bucket List)
Kerry Eggers (The Jail Blazers: How the Portland Trail Blazers Became the Bad Boys of Basketball)
Adell Harris (Refuse to Lose: 7 Steps to Make Adversity Your Advantage)
Ann Killion (Champions of Women's Soccer)
Chasity Melvin (At the End of the Day: A Devotional Memoir)
Tom Shanahan (Raye of Light: Jimmy Raye, Duffy Daugherty, the Integration of College Football, and the 1965-66 Michigan State Spartans)
Dave Vilhauer (The Parent Trapped Within: A Guide to Sports Parenting)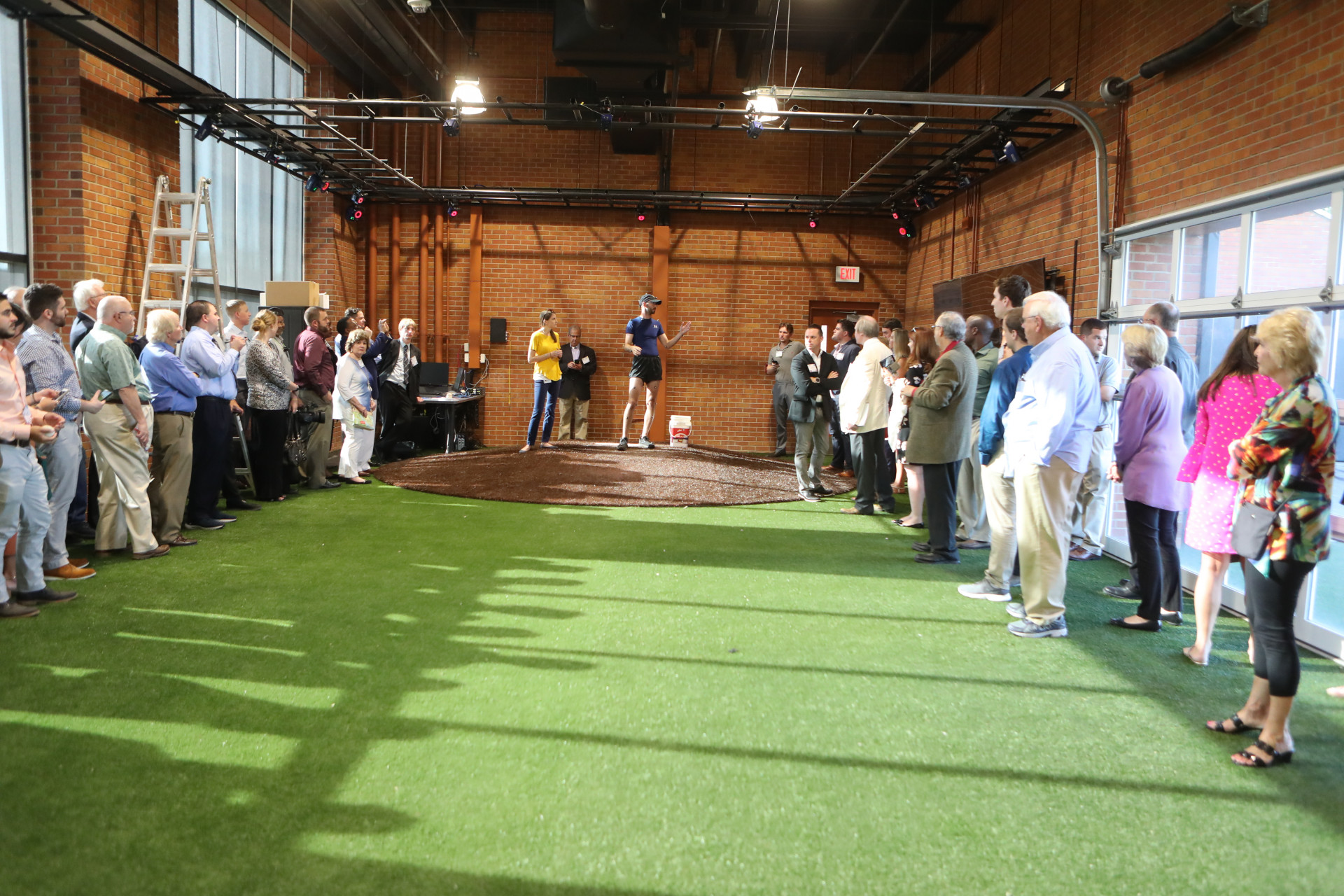 At the conclusion of the book festival, NSMA winners hopped on shuttles for a ride to David F. Couch Ballpark, where they watched an introductory video on Wake Forest University's Baseball Pitching Innovation Lab, then were treated to a demonstration of how the lab works, measuring movements of a pitcher's body through his windup and delivery.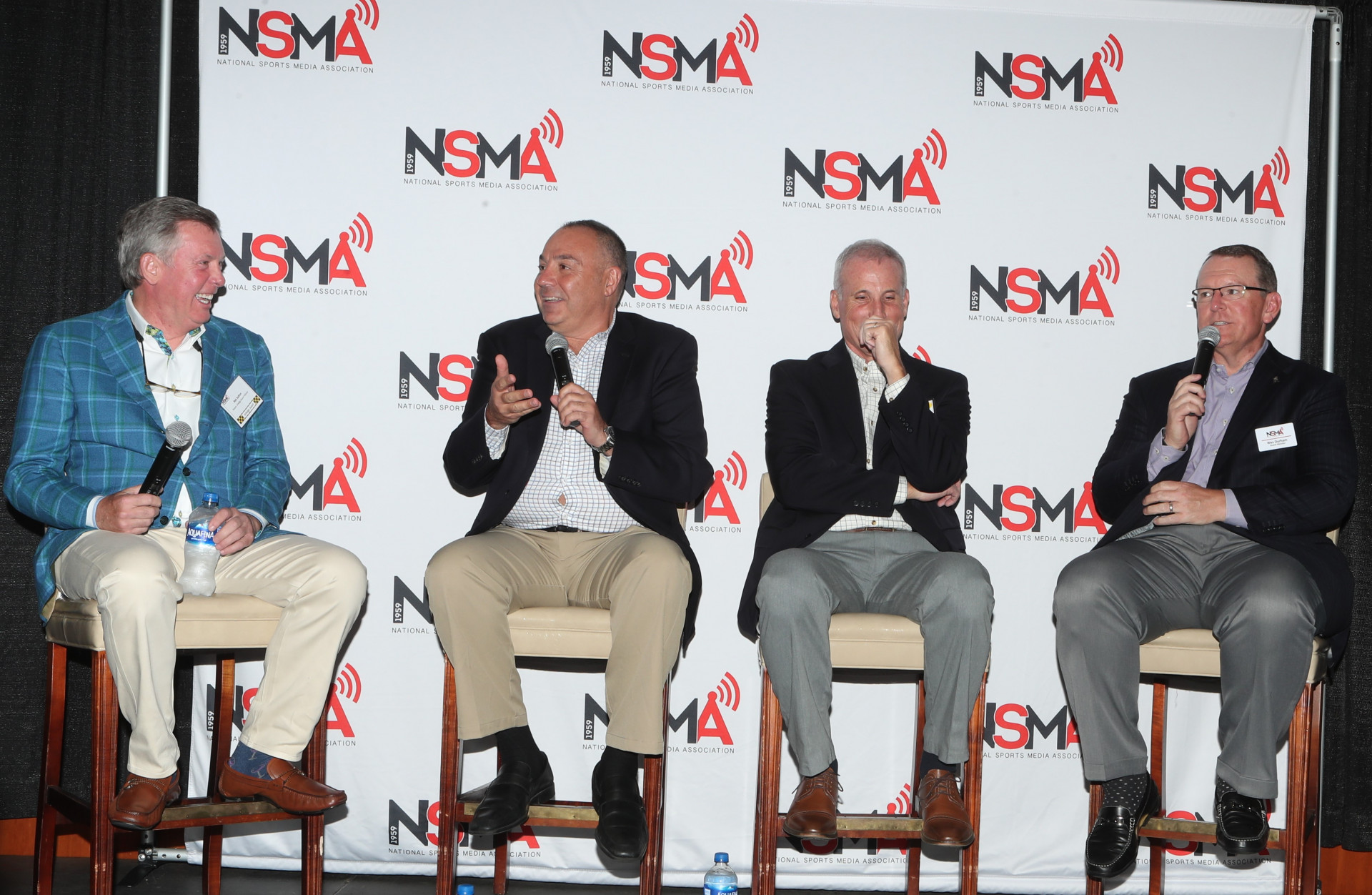 That was followed by a short hop over to Wake Forest's football stadium, BB&T Field. the stadium's Bridger Field House served as the host for the NSMA's annual Legacy Night. Legacy Night featured dinner and the presentation of the Roone Arledge Award for Innovation to Ben Sutton, founder of International Sports Properties, which merged with IMG to become IMG College (now Learfield IMG College). Following the presentation, Sutton participated in a panel discussion about the early days of ISP Sports, with three of the first play-by-play announcers he hired (Stan Cotten, Wake Forest; Bill Roth, Virginia Tech; and Wes Durham, Georgia Tech.
Sports Media Convergence Summit

Following breakfast on June 24th, Monday saw the annual Sports Media Convergence Summit, which featured seminars and panels of professional sports media experts. Hall of Fame inductee Mike "Doc" Emrick, STAA CEO Jon Chelesnik, Grind City Media's Michael Wallace were among the presenters, along with SEC Network sideline reporters Dawn Davenport and Lauren Sisler, consultants Jim Gilchriest and John Nicholson, SB Nation's Caroline Darney, and WRAL-FM's Lauren Brownlow and Joe Ovies. ESPN also presented a panel on the development of the ACC Network, with Wes Durham, Stacie McCollum and Aaron Katzman.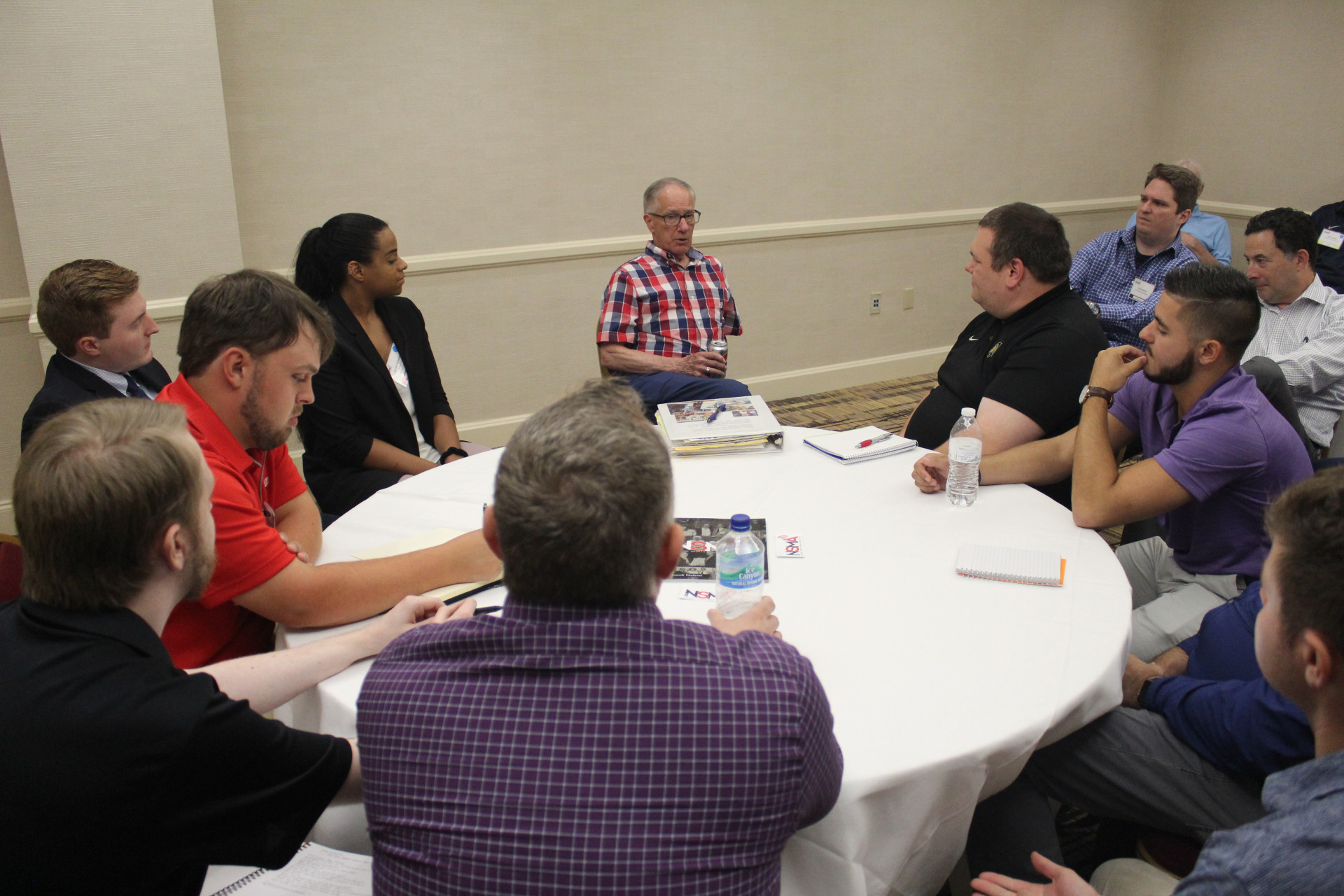 In addition to the formal presentations, several panelists also met in small groups or one-on-one with attendees to perform critiques, or simply to discuss best practices.
More than 130 participated in the Summit, the most in the event's history.
Record Crowd of 400 Attends 60th Awards Banquet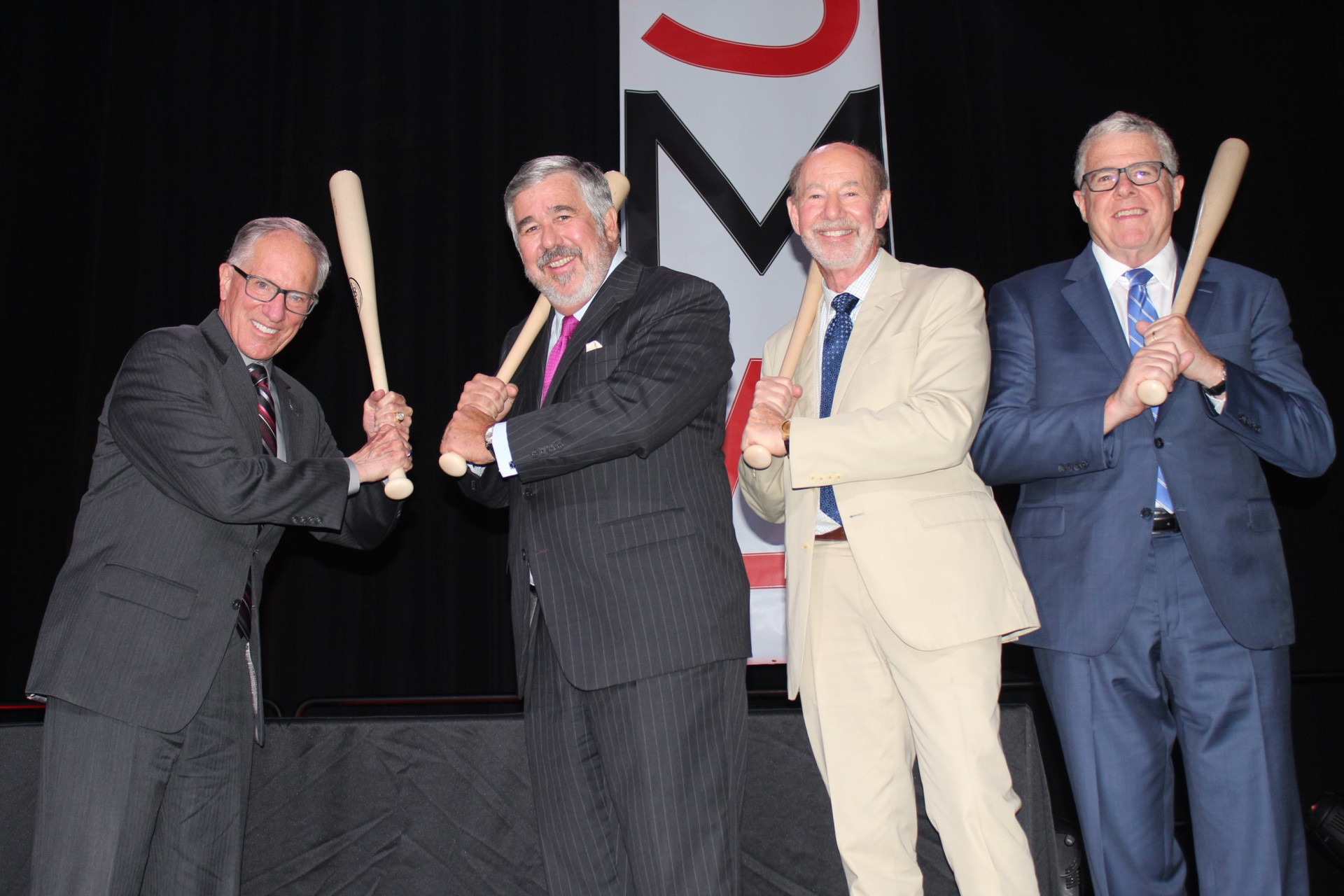 To top off the weekend, 400 people attended the 60th NSMA Awards Banquet on the floor of Wake Forest University's Joel Coliseum. That number included all four of this year's Hall of Fame inductees (Emrick, Peter King, Tony Kornheiser and Bob Ley), both national winners (Doris Burke and Adrian Wojnarowski), 60 state winners, both Big House Gaines winners (Kelvin Sampson and Lonnie Blow, Jr.), Woody Durham Voice of College Sports Award winner, Bill Hillgrove and Jim Nantz College Sportscaster of the Year, Drew Carter a recent Syracuse University graduate.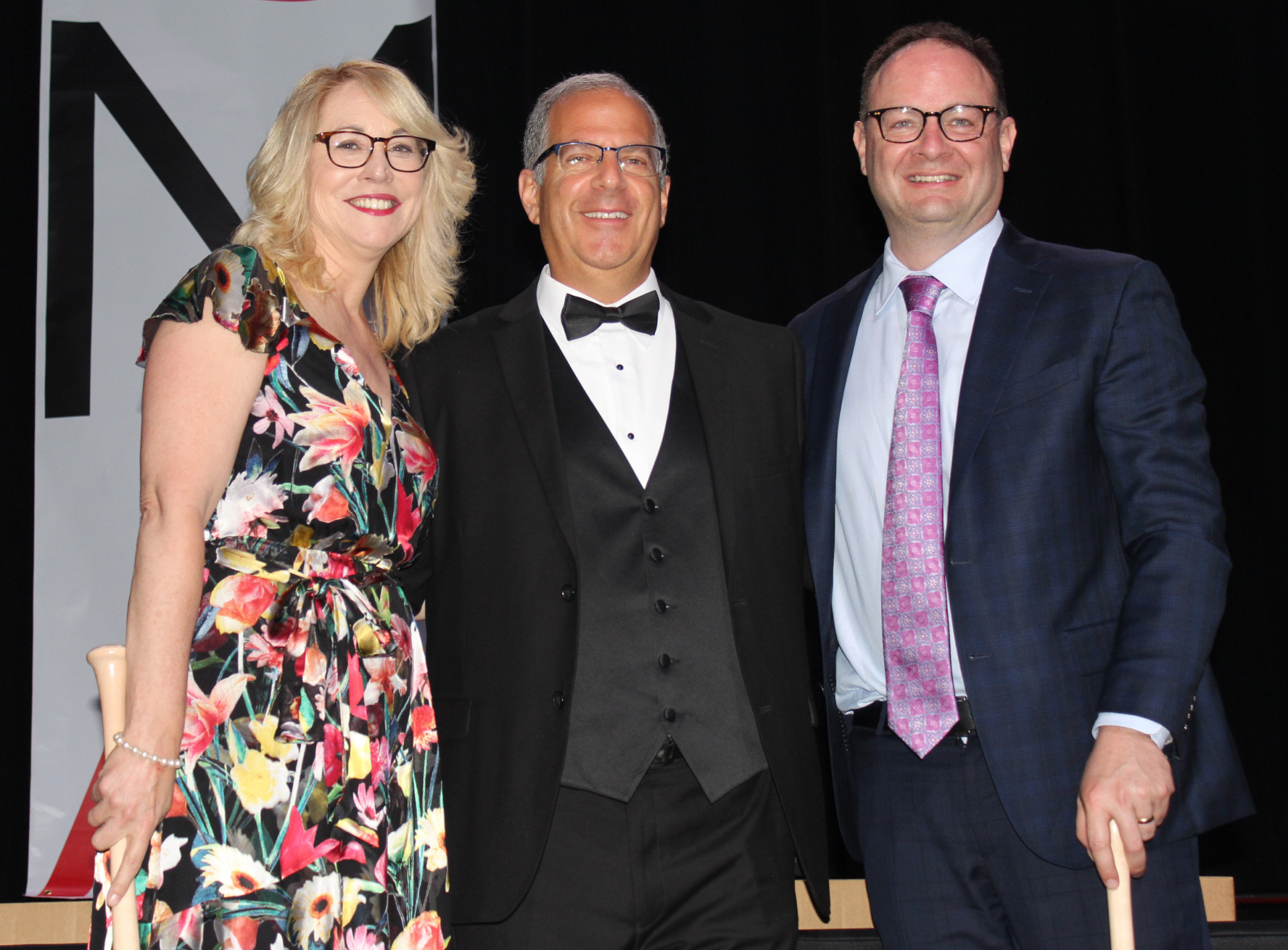 NSMA board member Wes Durham served as master of ceremonies, while longtime NSMA national board member Doug Logan introduced the state winners who attended and received their awards on stage from Burke (sportscasters) and Wojnarowski (sportswriters).
Following the banquet, winners and their guests met at the Butcher & Bull restaurant at the Marriott to network monce more and to say goodbye to the friends they had met during the weekend.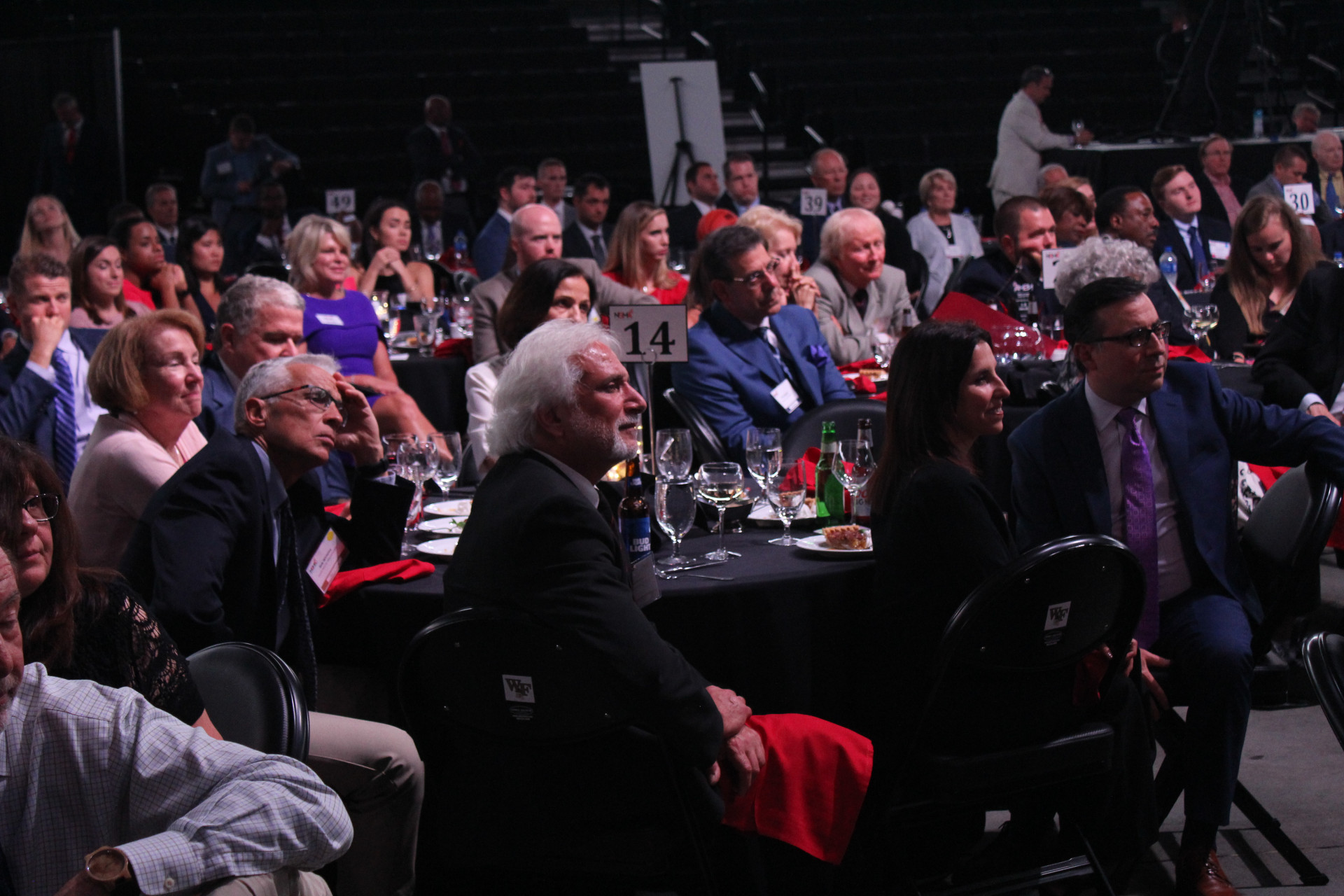 The NSMA would like to extend its sincerest congratulations to all of our winners and wishes to thank all of our sponsors, volunteers and board members for their support.
The 61st NSMA Awards Weekend will be held June 27-29, 2020 in Winston-Salem.
&nbsp « Back