62nd Awards Weekend & National Convention a Rousing Success
07.11.2022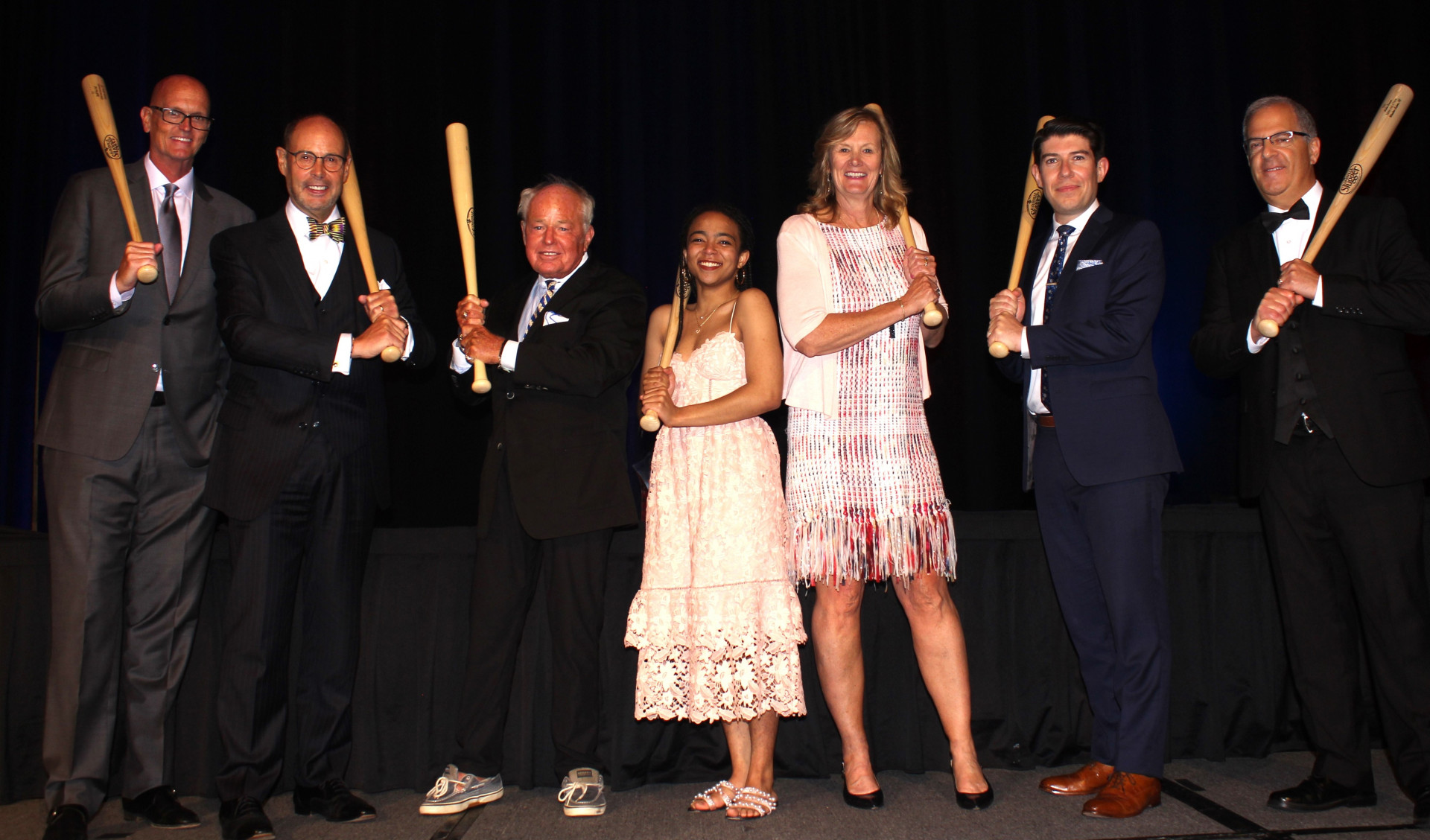 WINSTON-SALEM, N.C. – The National Sports Media Association hosted its 62nd Awards Weekend and National Convention, June 25-27, honoring four Hall of Fame inductees, three National Award winners, and 60 state sportscasters and sportswriters of the year.
More than 400 people attended the Awards Banquet on Monday, June 27 at Benton Convention Center. They saw Hubie Brown, Curry Kirkpatrick, Jackie MacMullan, and the late Stuart Scott inducted into the NSMA Hall of Fame.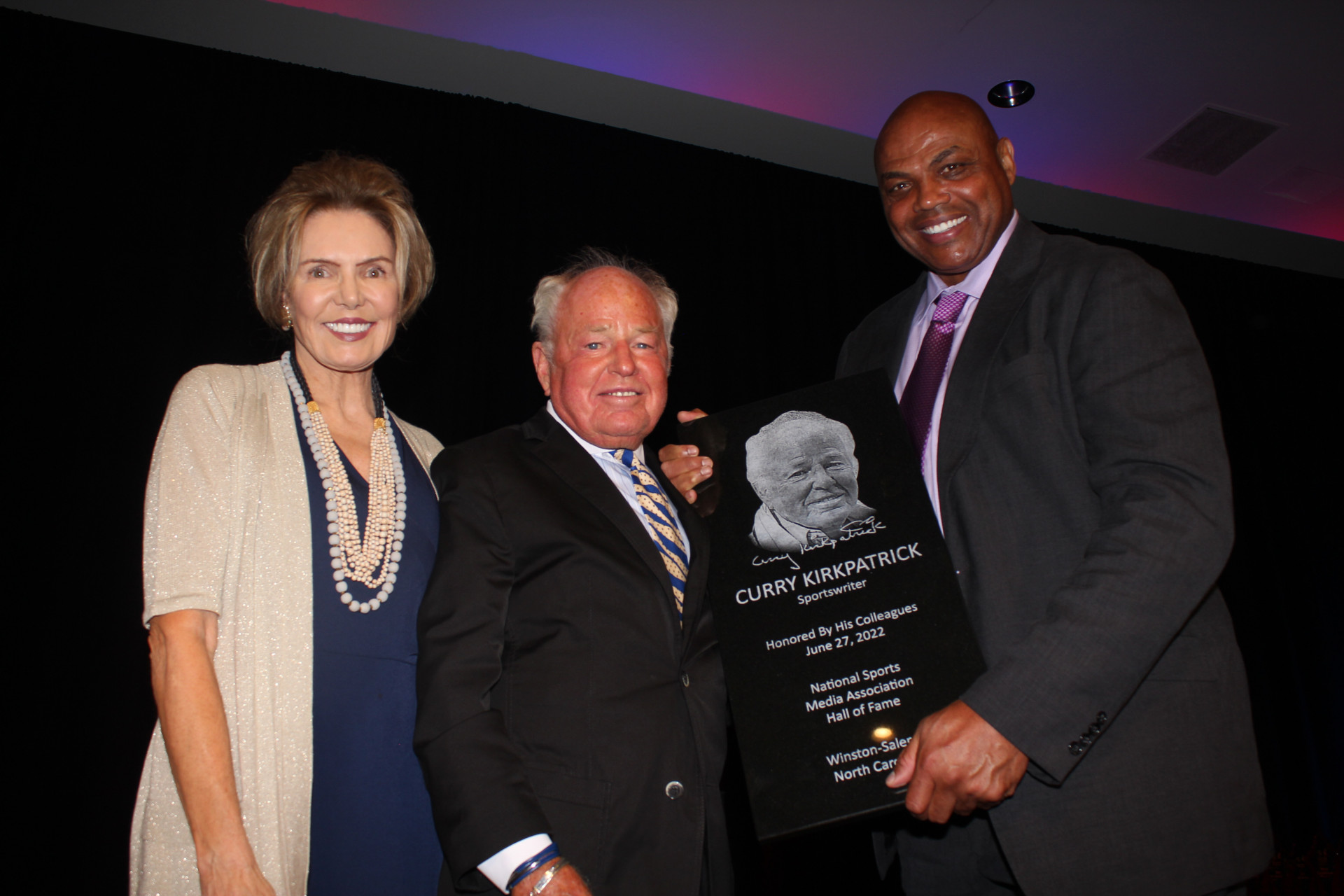 Kirkpatrick, a longtime Sports Illustrated writer, was presented for induction by Bob Costas (via video), Charles Barkley, and Lesley Visser. Barkley and Visser appeared together and entertained the crowd with a spoof of Inside the NBA's "Who He Play For" segment, with Barkley answering Visser's questions about Kirkpatrick.
In his acceptance, Kirkpatrick talked about idolizing Frank Deford and then the dream of getting to work with Deford at SI.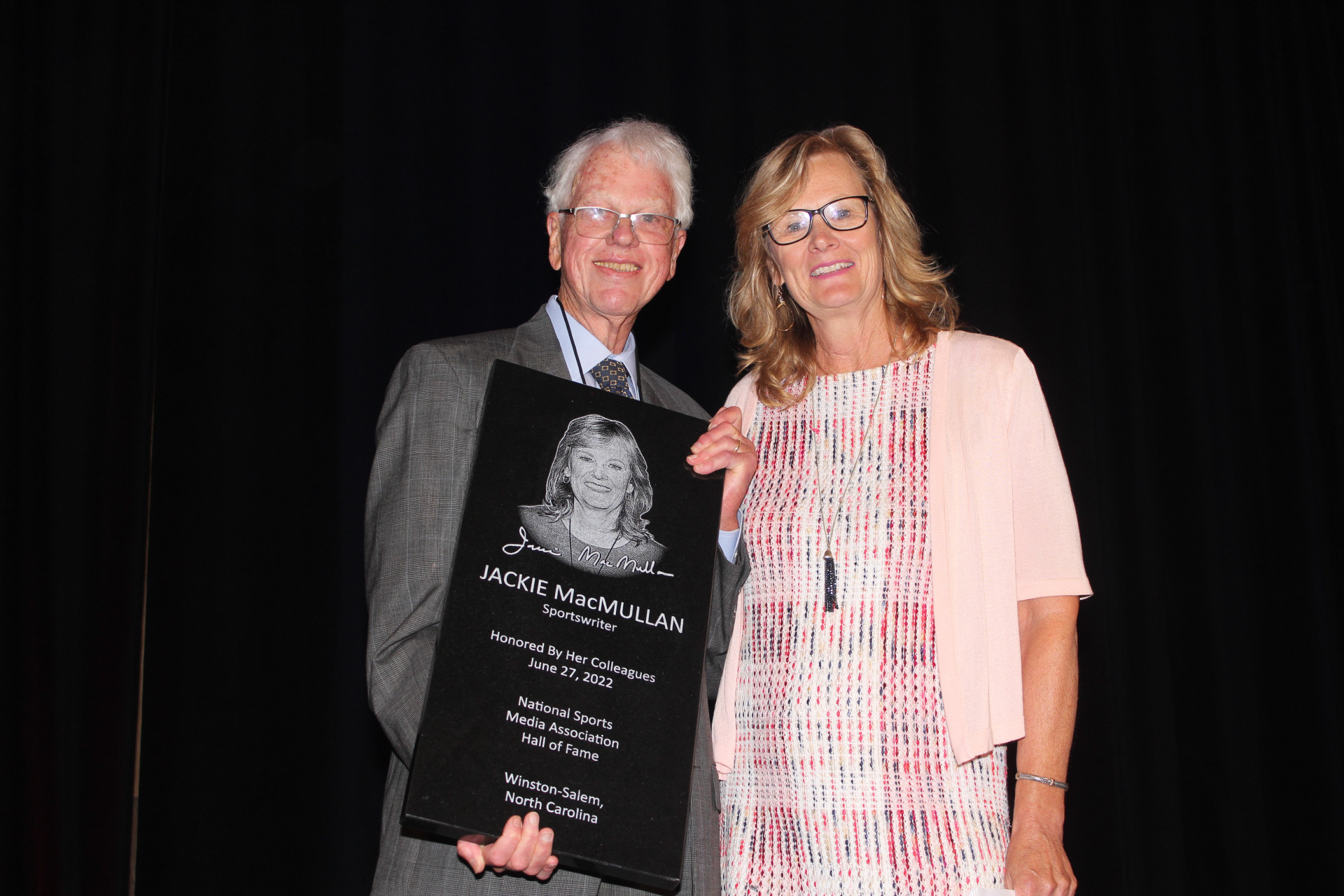 MacMullan was presented by former Boston Globe colleague Bob Ryan, a reverse of 2011 when MacMullan presented Ryan for Hall of Fame induction. She ended her acceptance speech talking about her father who instilled in her the ability to get back up after being knocked down, an allusion to the sexism MacMullan faced, especially in her early days at the Globe.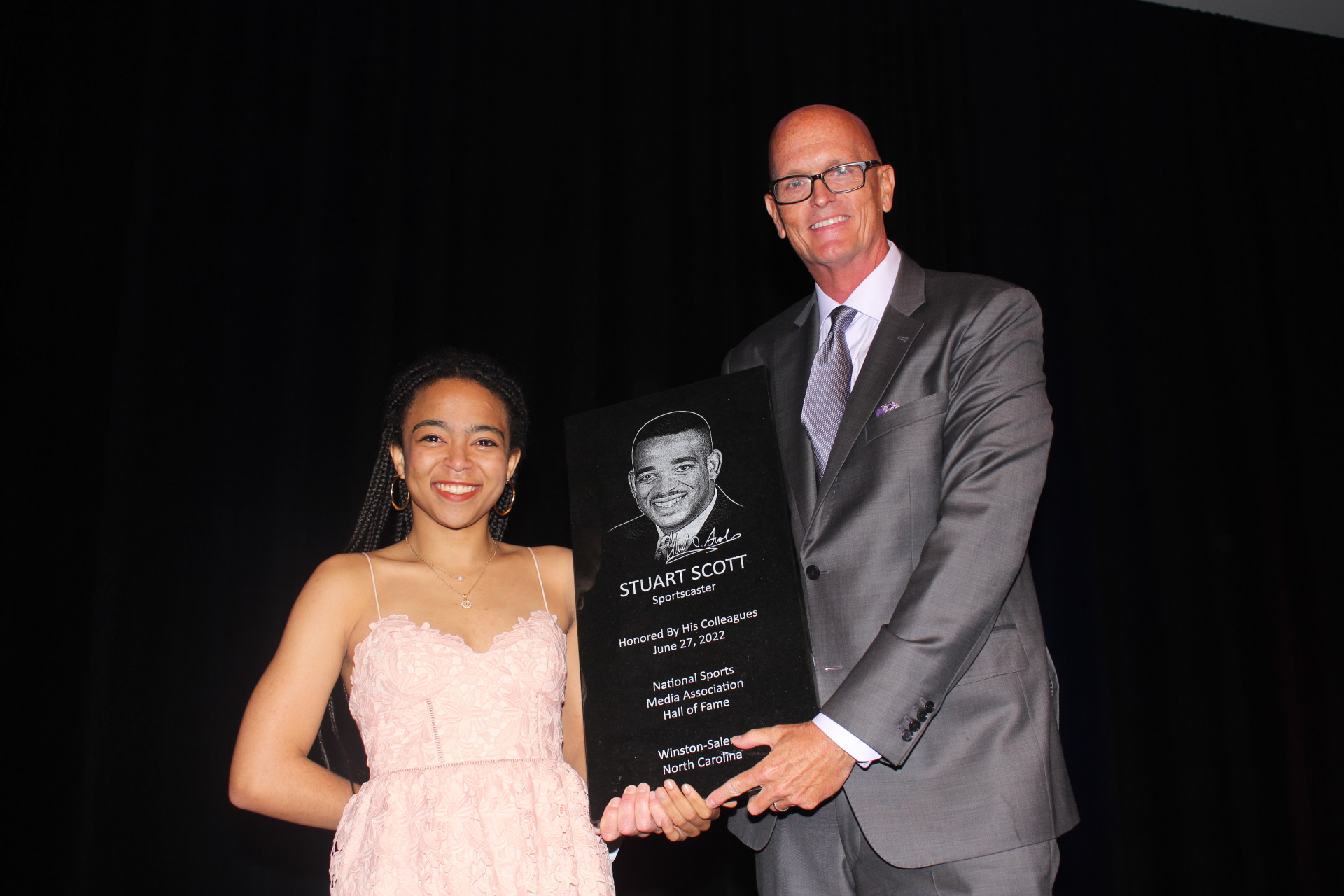 Scott was presented by former ESPN colleague Scott Van Pelt, who had just received his 2021 National Co-Sportscaster of the Year Award. Van Pelt talked about Scott as a friend and a father, then introduced Scott's daughter, Taelor, who accepted on her family's behalf.
ESPN's Brown was unable to attend. Master of ceremonies and NSMA board president Wes Durham accepted on his behalf.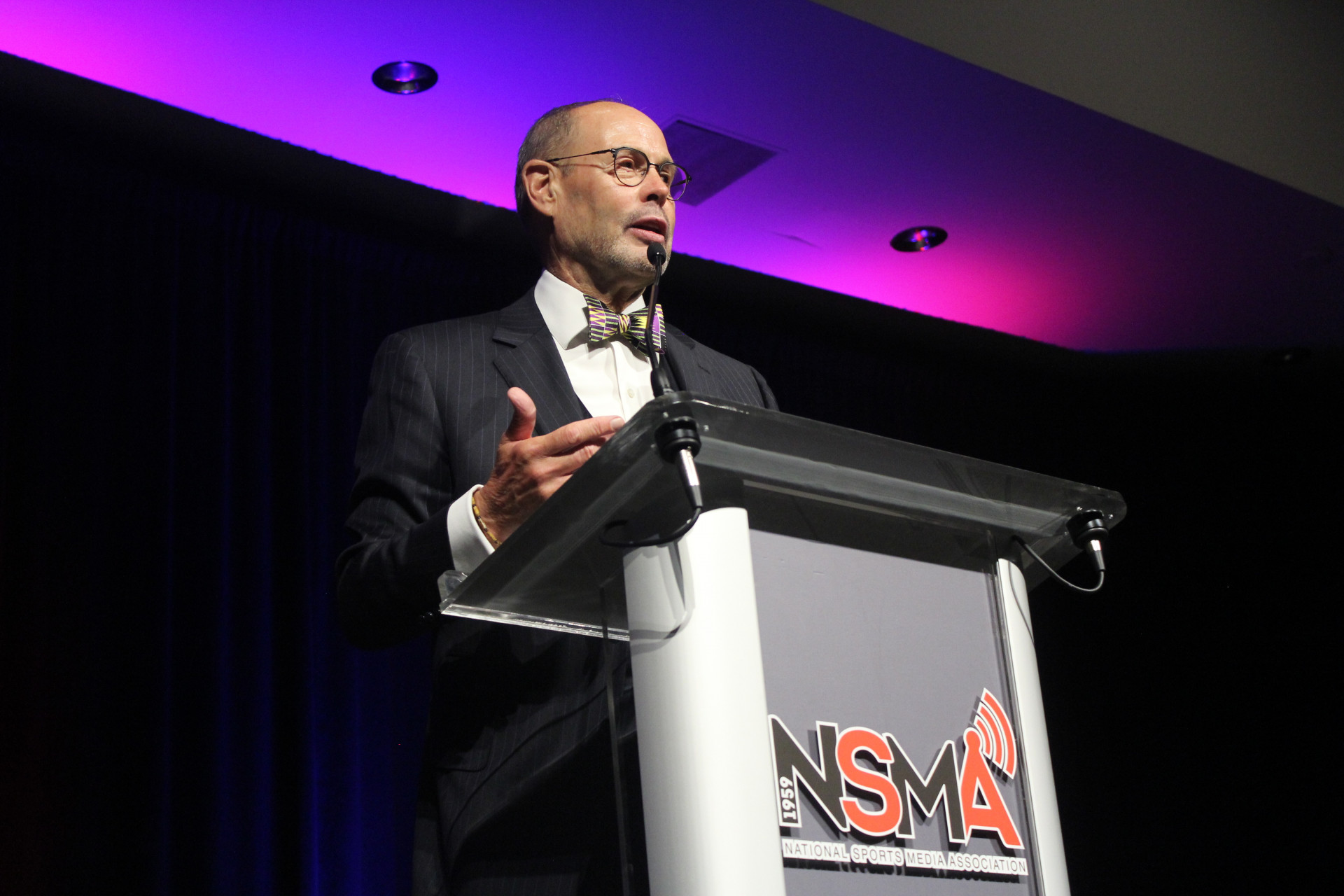 Ernie Johnson shared the 2021 National Co-Sportscaster of the Year Award with Van Pelt. The two of them discussed their mutual admiration for each other, while Johnson said of his Inside The NBA position, "It's a 'get-to' job, not a 'got-to' job." He also spoke of his adopted son, Michael, who passed away in 2021 after a lifelong battle with muscular dystrophy. And he ended with a humorous story of how, when he was making his local tv news debut, his parents stopped at a Macon, Georgia motel and asked to rent a room "for a half-hour" so they could see their son's debut.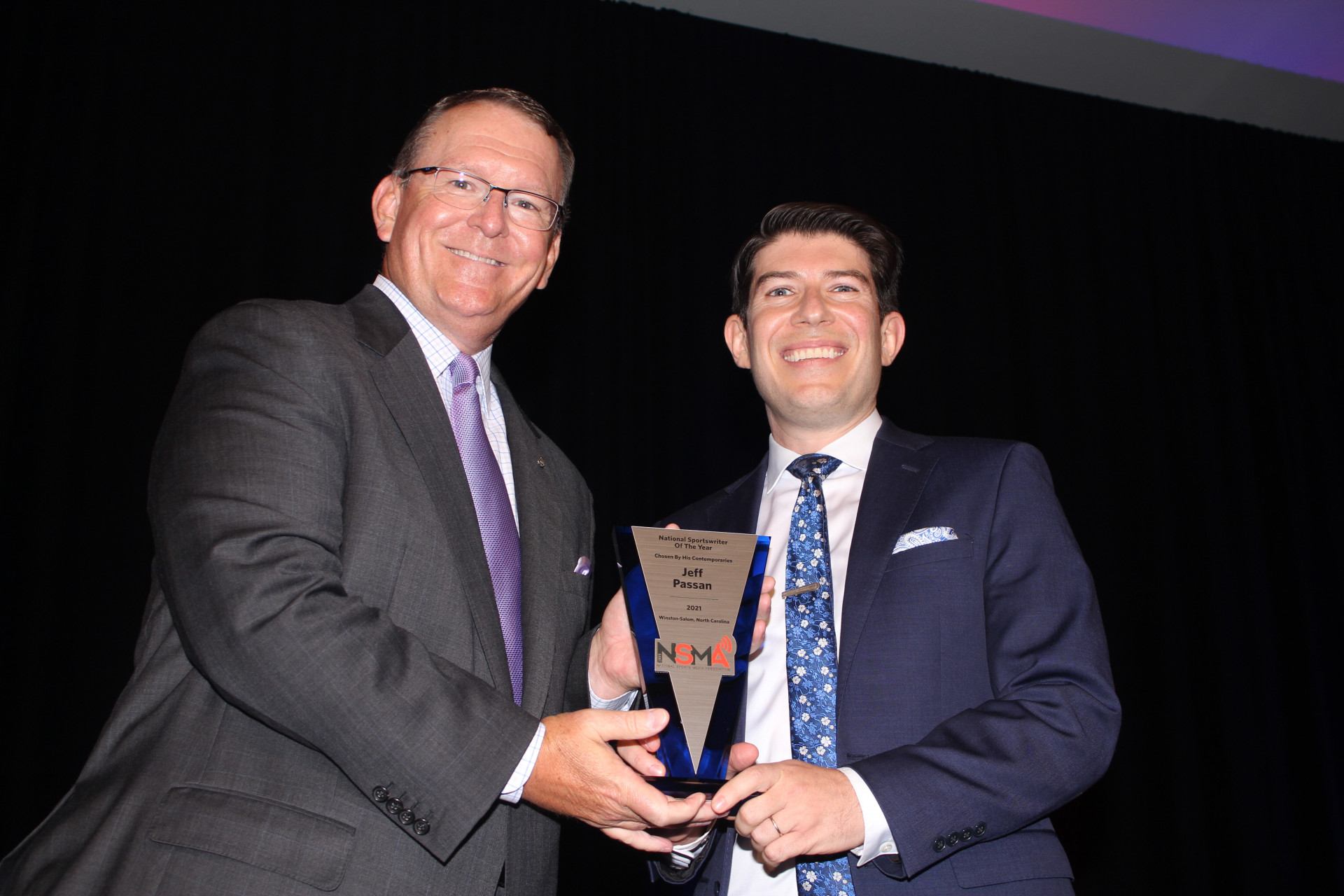 2021 National Sportswriter of the Year, Jeff Passan said his award was a "team award," and credited several people, including one of his ESPN editors, Rachel Ullrich.
"We are the products of other people's belief in us and generosity," Passan said.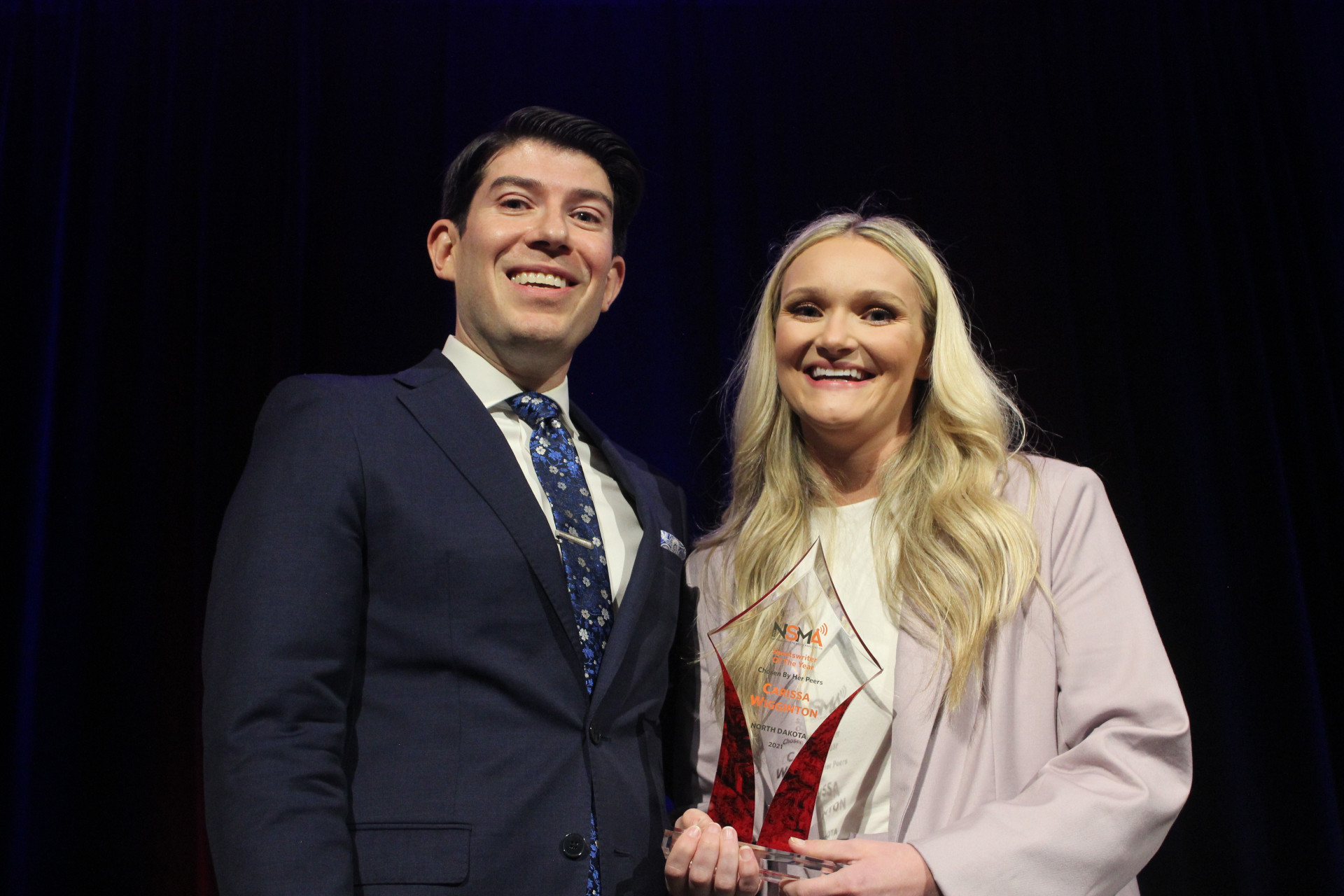 State Sportswriters of the Year walked across the stage to receive their awards from Passan while the State Sportscasters of the Year received their awards from Johnson.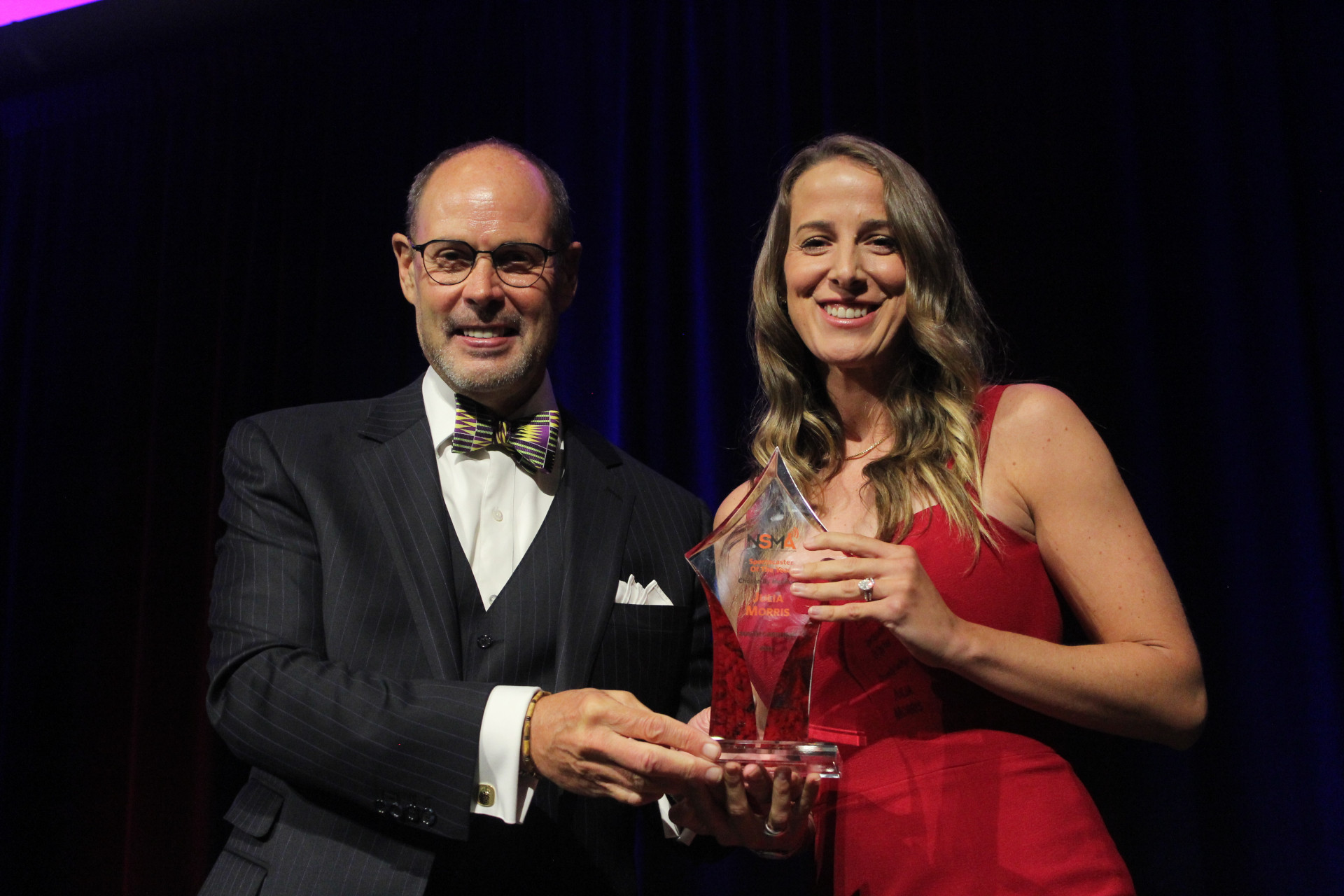 After a reception and dinner, the ceremony began with remarks from Durham (ACC Network and Atlanta Falcons' play-by-play announcer) and Greater Winston-Salem Inc. president Mark Owens, both of whom are NSMA board members.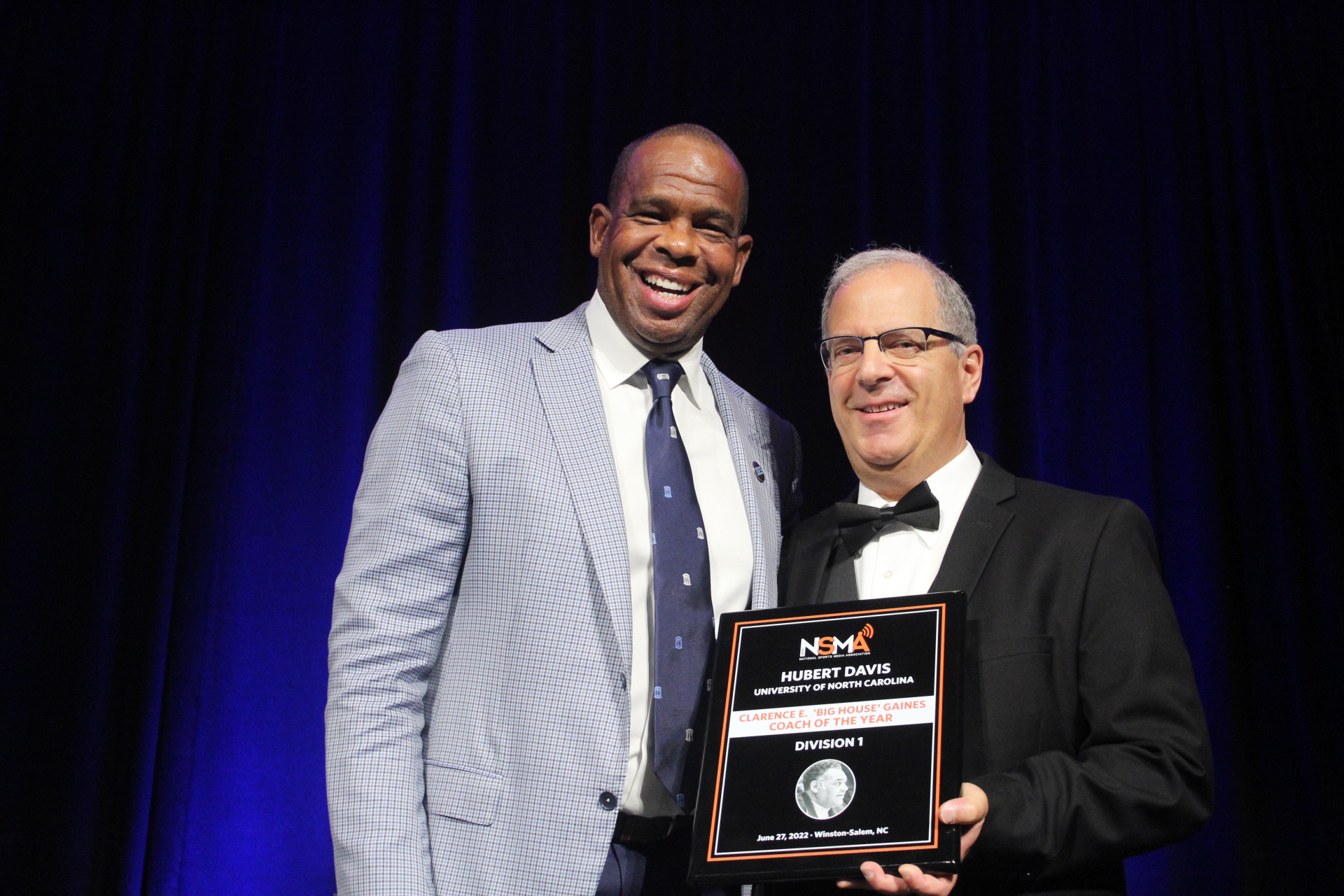 NSMA executive director Dave Goren then presented the Big House Gaines College Basketball Coach of the Year Awards to Hubert Davis (Division 1 - University of North Carolina men's coach) and Janice Washington (Division 2 - Lincoln University women's coach).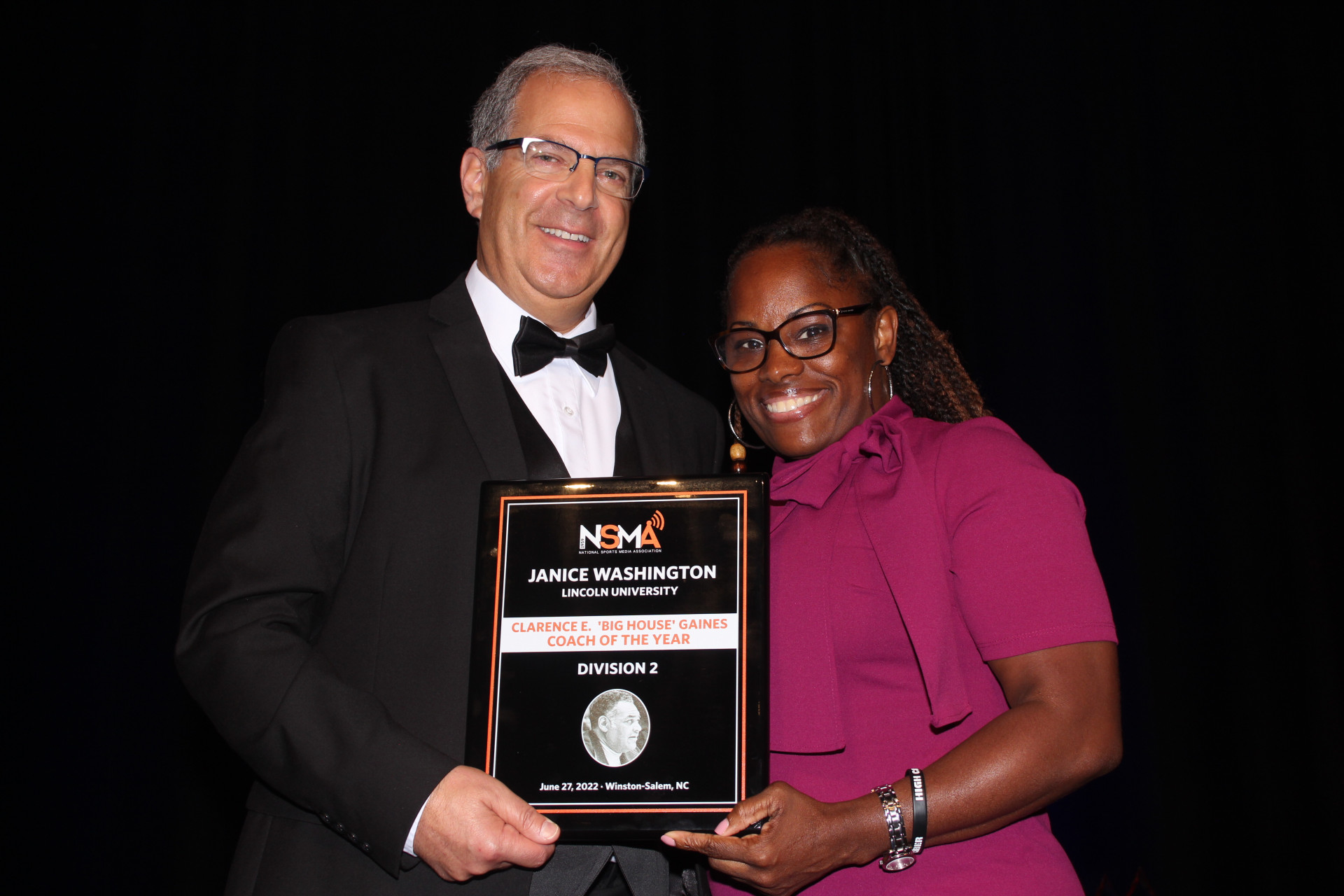 Goren then presented the 2021 Best Young Reporter (under 30) Award to Michael-Shawn Dugar of The Athletic Seattle.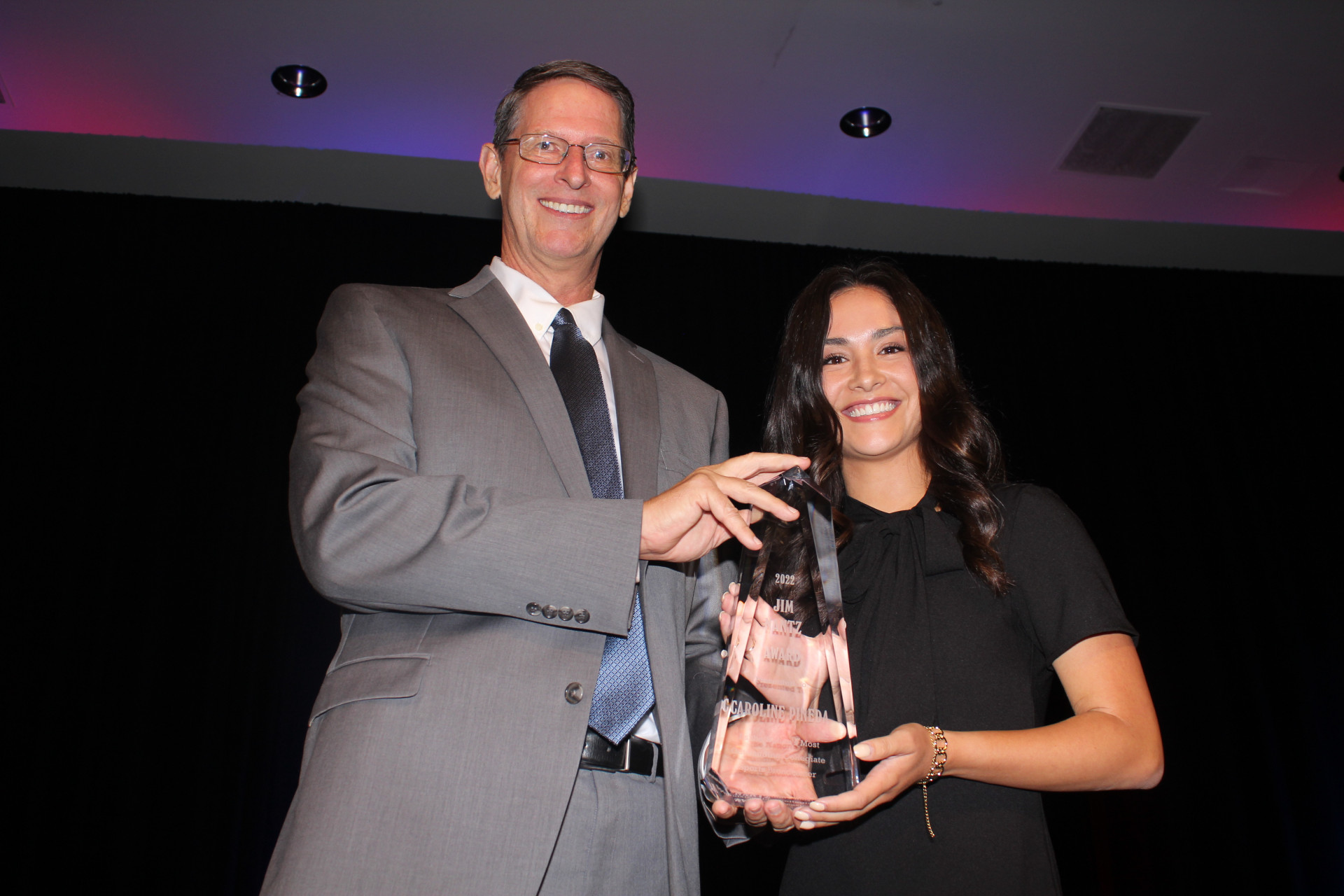 Recent University of Notre Dame graduate Caroline Pineda received the Jim Nantz Collegiate Sportscaster of the Year Award from Jon Chelesnik, CEO of Sportscasters Talent Agency of America.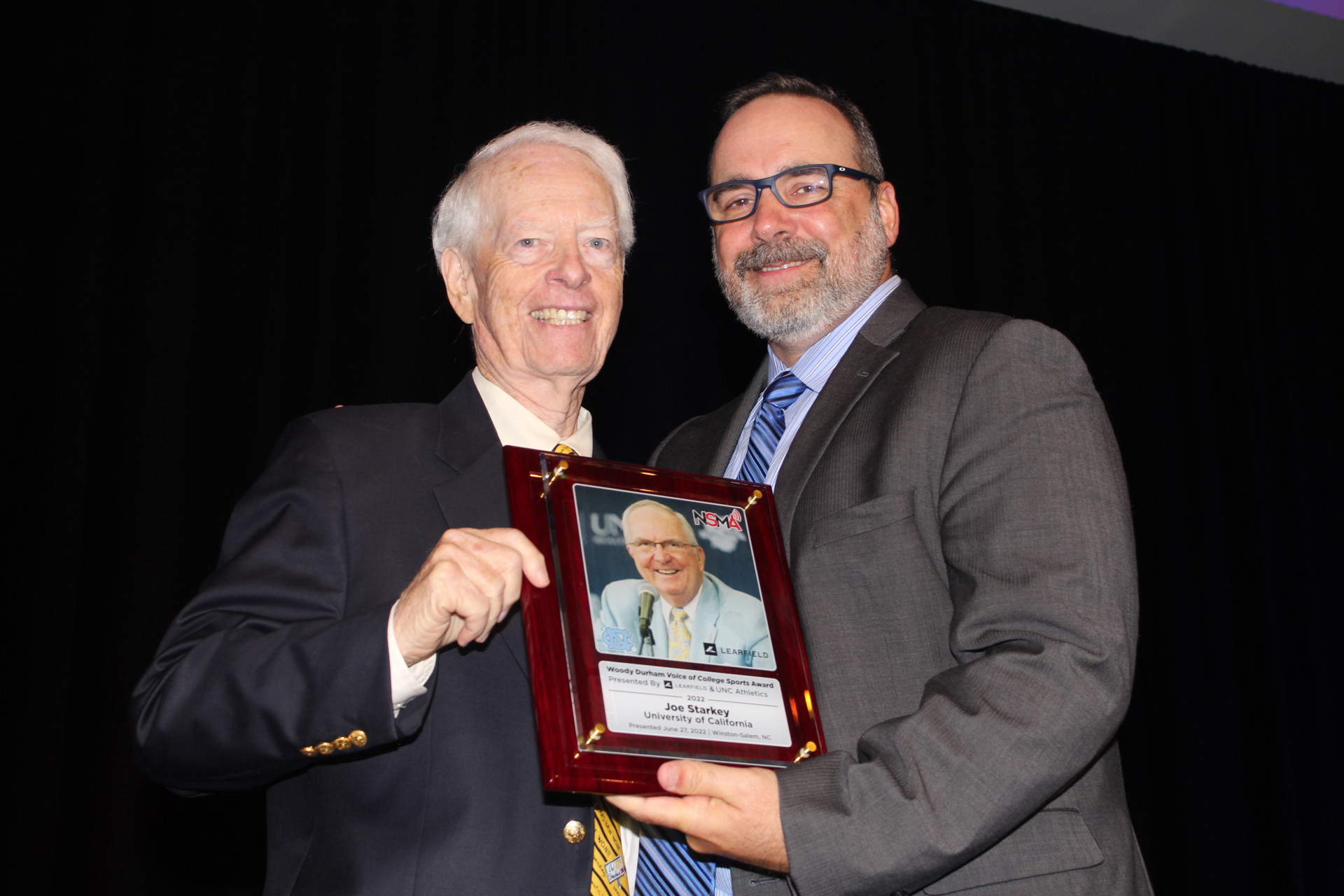 Longtime University of California play-by-play announcer Joe Starkey received the Woody Durham Voice of College Sports Award.
Sunday, June 26 began at the Winston-Salem Marriott with four Sports Media Convergence Summit seminars, featuring NSMA winners and other industry veterans as presenters.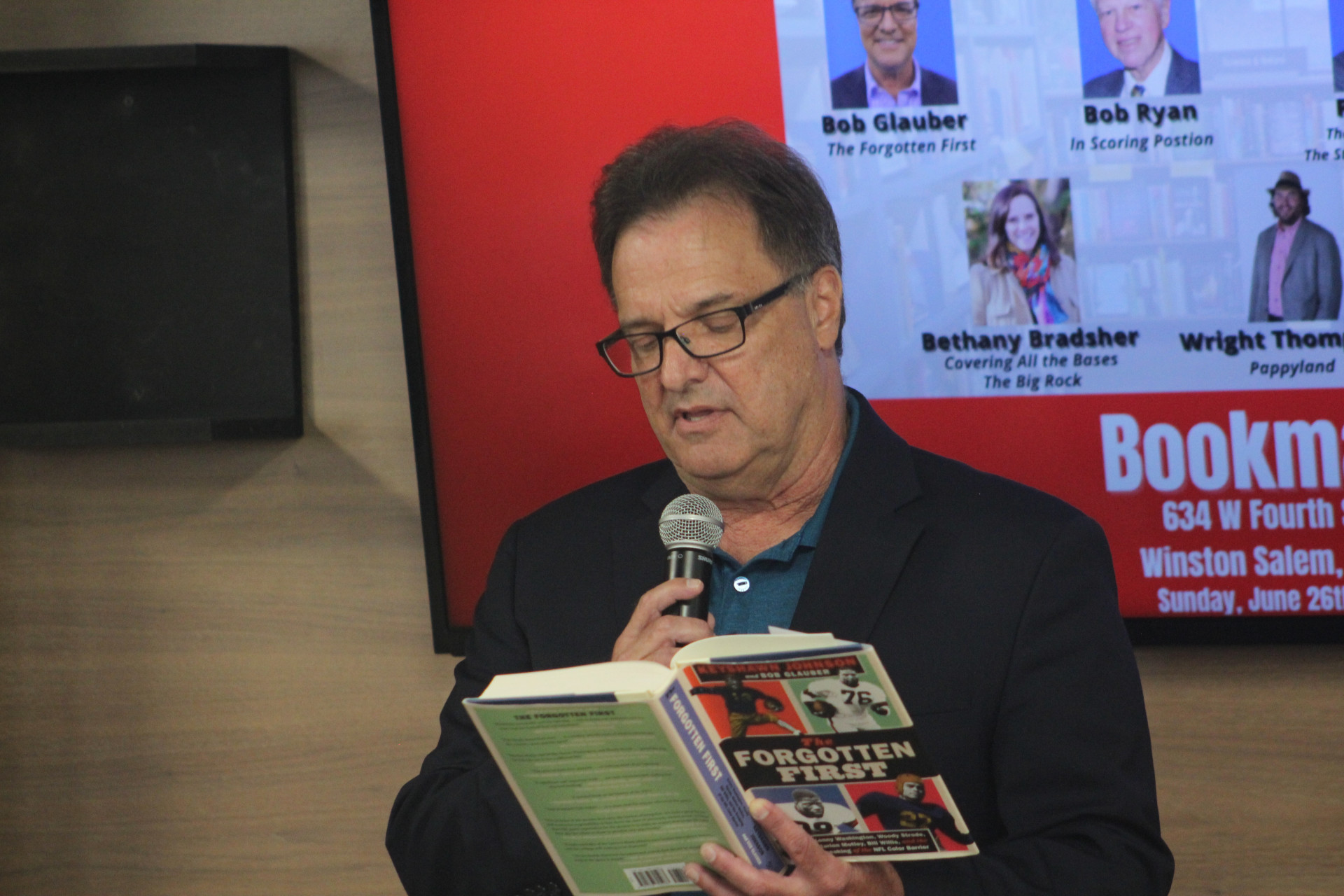 From there, attendees ventured a few blocks to Bookmarks, an independent downtown bookstore for the Sports Book Festival. Sports book authors Paul Keels (Voice of The Ohio State Buckeyes), Seth Wickersham (ESPN.com), Bob Glauber (News Day), Bob Ryan (The Boston Globe), Bethany Bradsher (author), and Ed Southern (author) each read a passage from his or her book, then signed their books for those who bought them.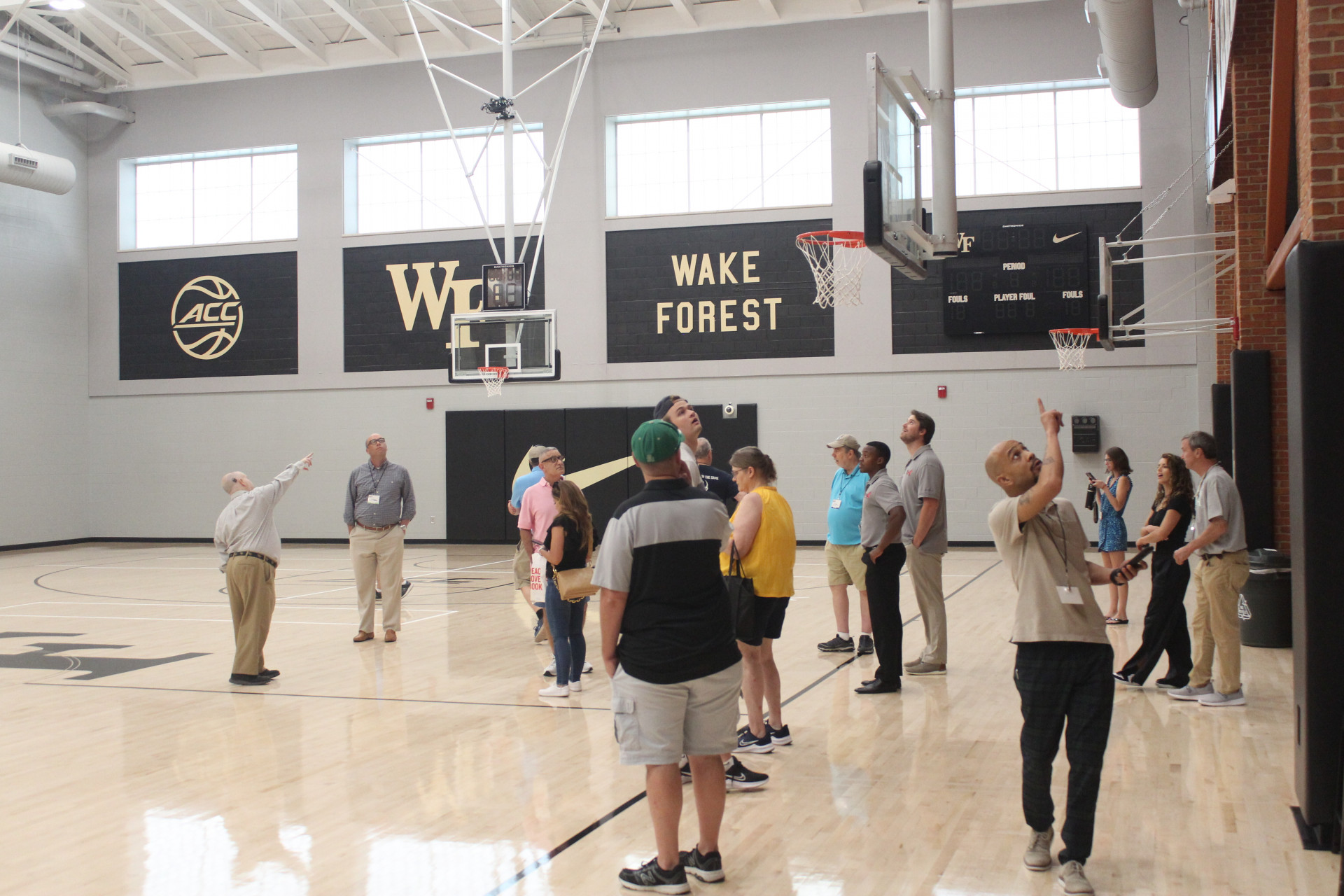 While the Sports Book Festival was in action, several dozen attendees were bused to Wake Forest University's campus and were taken on tours of the University's athletics facilities.
The centerpiece of Sunday's festivities was Legacy Night, held at the Gallery at The Benton. The program featured the presentation of the Roone Arledge Award for Innovation to Jayne Kennedy. Kennedy was the first woman of color to co-anchor a network sports show, working with Brent Musburger, Irv Corss, and Jimmy "The Greek '' Snyder on CBS' NFL Today Show from 1978-1980.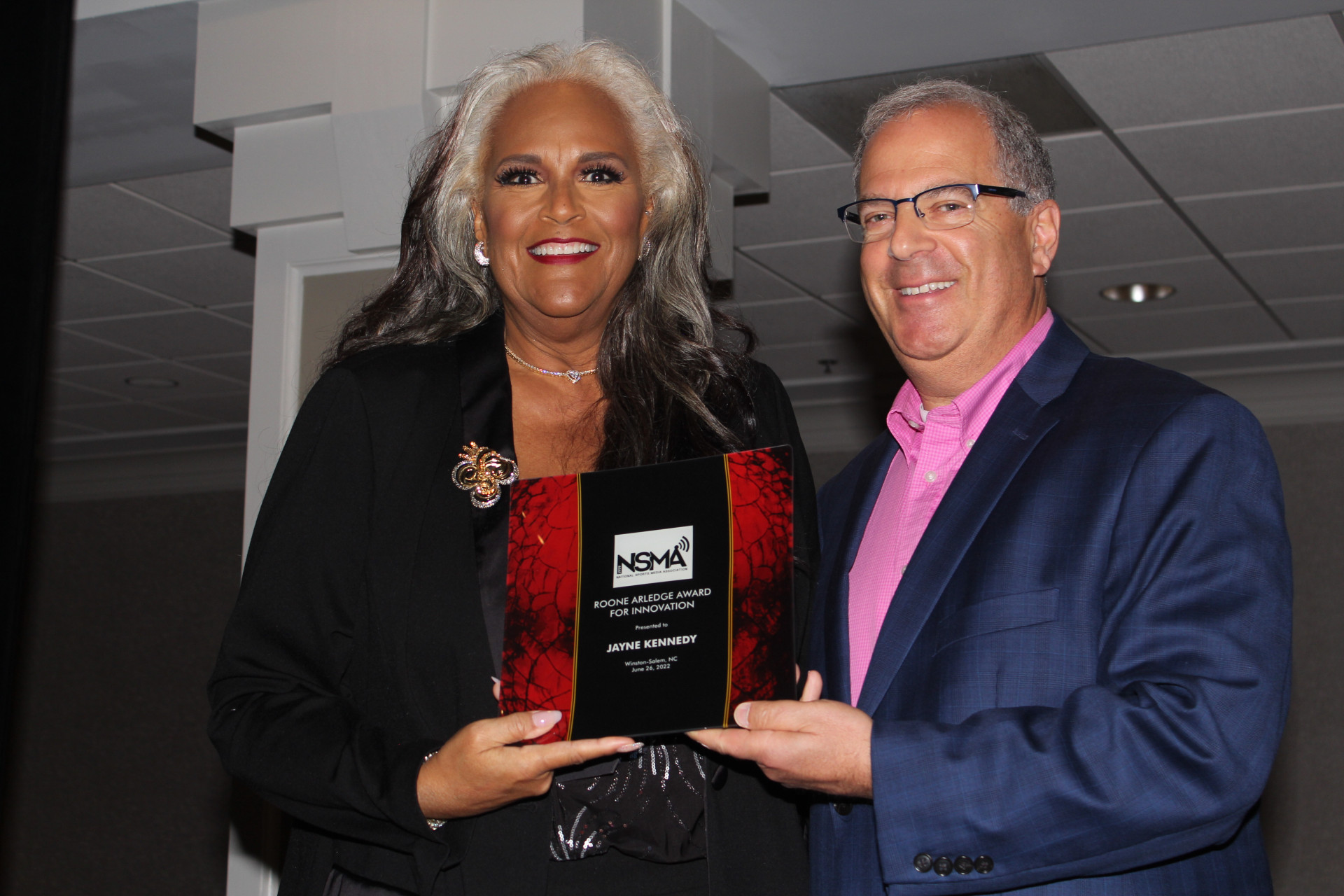 Upon receiving the Arledge Award, Kennedy said, "This is incredibile. You have no idea what this means to me."
Goren and Kennedy sat on the stage and discussed her time as a model, actress, and sportscaster. She talked about her struggles breaking into the industry, and the barriers she faced due to her gender and the color of her skin.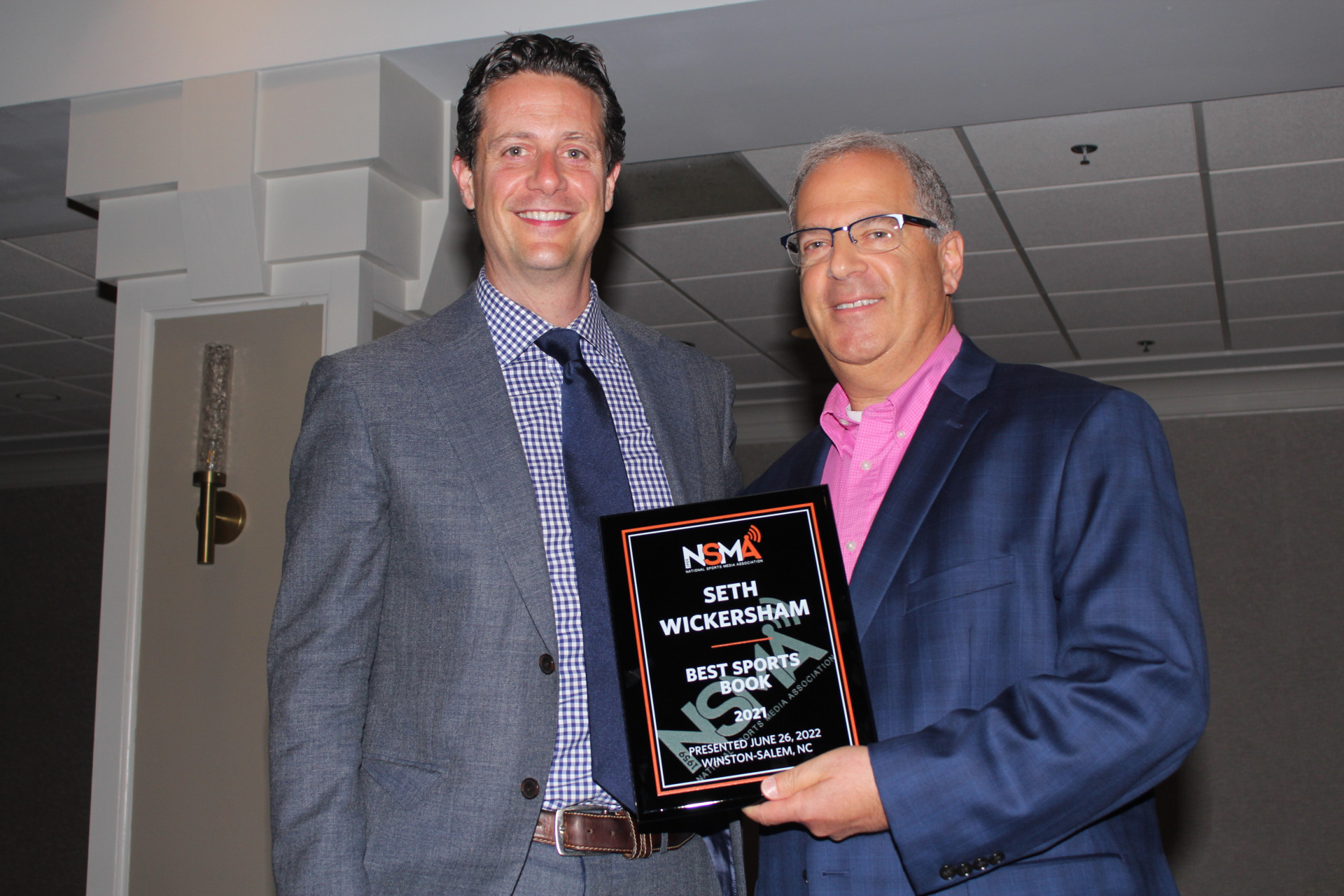 Prior to the Arledge Award presentation, Seth Wickersham of ESPN.com was presented with the 2021 Book of The Year Award for It's Better to be Feared, his story about the New England Patriots dynasty.
Producer Audrey Martin of Turner Sports accepted the 2021 Documentary of the Year award for "The Inside Story," on behalf of those who worked on the project. She praised her colleagues, including Deaton Bell, who was also in attendance.

The Awards Weekend and National Convention began with registration at noon on Saturday, June 25. That was followed by a welcome reception, where winners and guests took the opportunity to meet one another and share stories.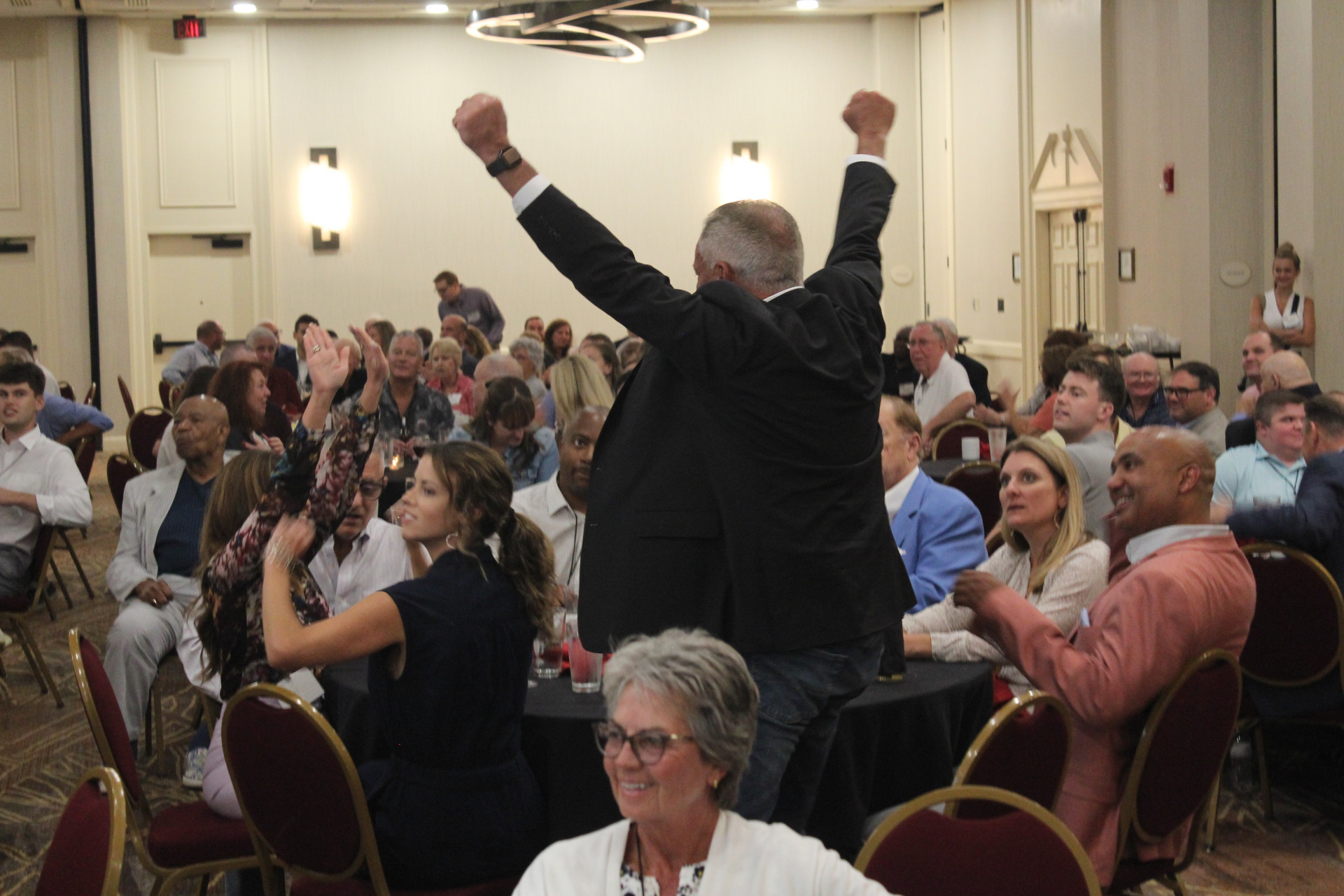 Attendees then moved to a welcome dinner, which was followed by a sports trivia contest. Each contestant had to donate money. The proceeds are being directed to the Stuart Scott Memorial Cancer Research Fund for the V Foundation.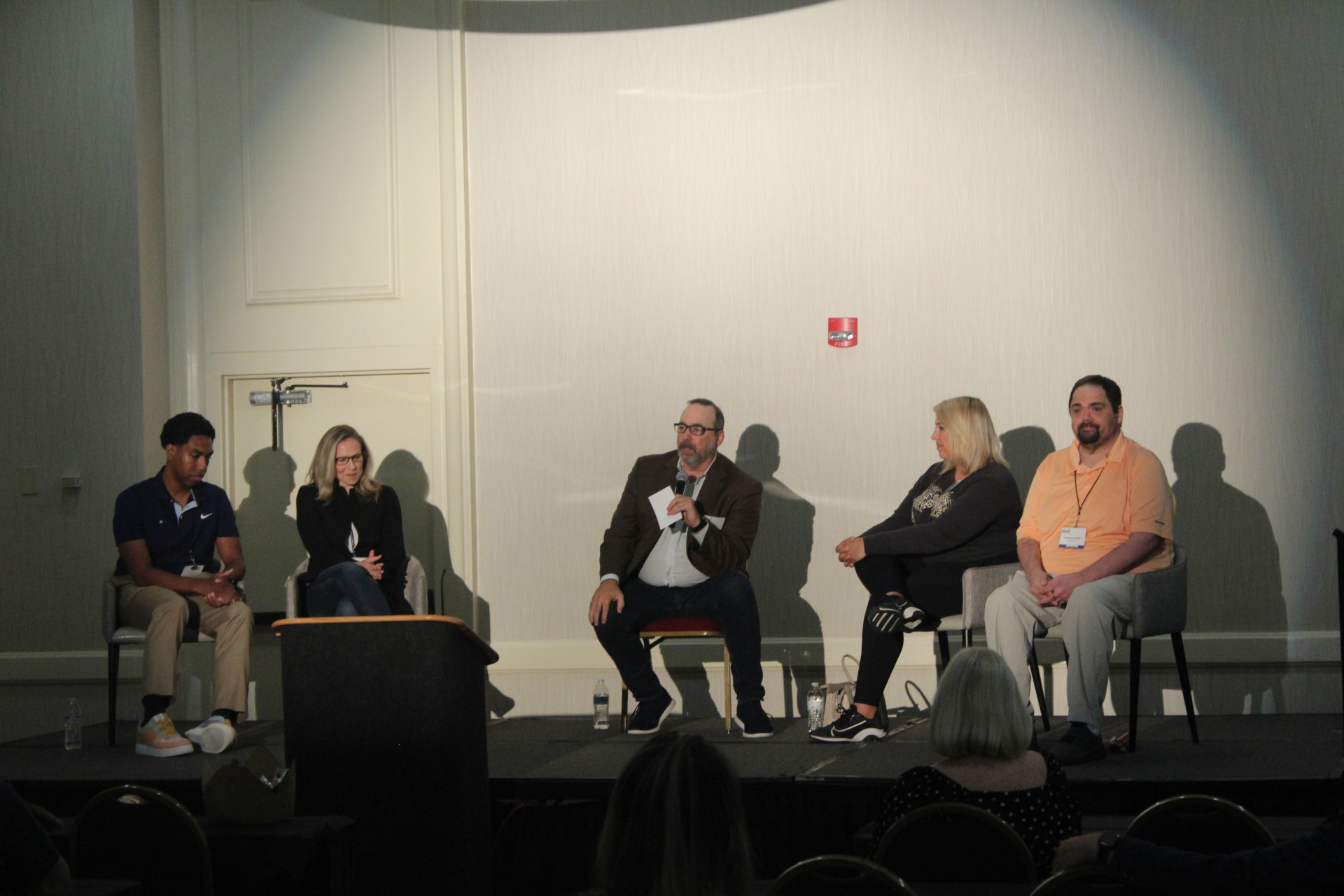 College students and young professionals had several educational and networking opportunities. NSMA added a half-day of seminars and panels to its Sports Media Convergence Summit, where more than 30 industry veterans presented on various topics of interest. In addition, the NSMA hosted nightly after-parties each night to encourage networking in relaxed settings.
Goren called the Awards Weekend & National Convention "the best in my 13 years as executive director."
The 63rd edition is scheduled for June 24-26, 2023, in Winston-Salem.
&nbsp « Back