A Farewell to Salisbury, By MIKE DOWNEY
03.02.2017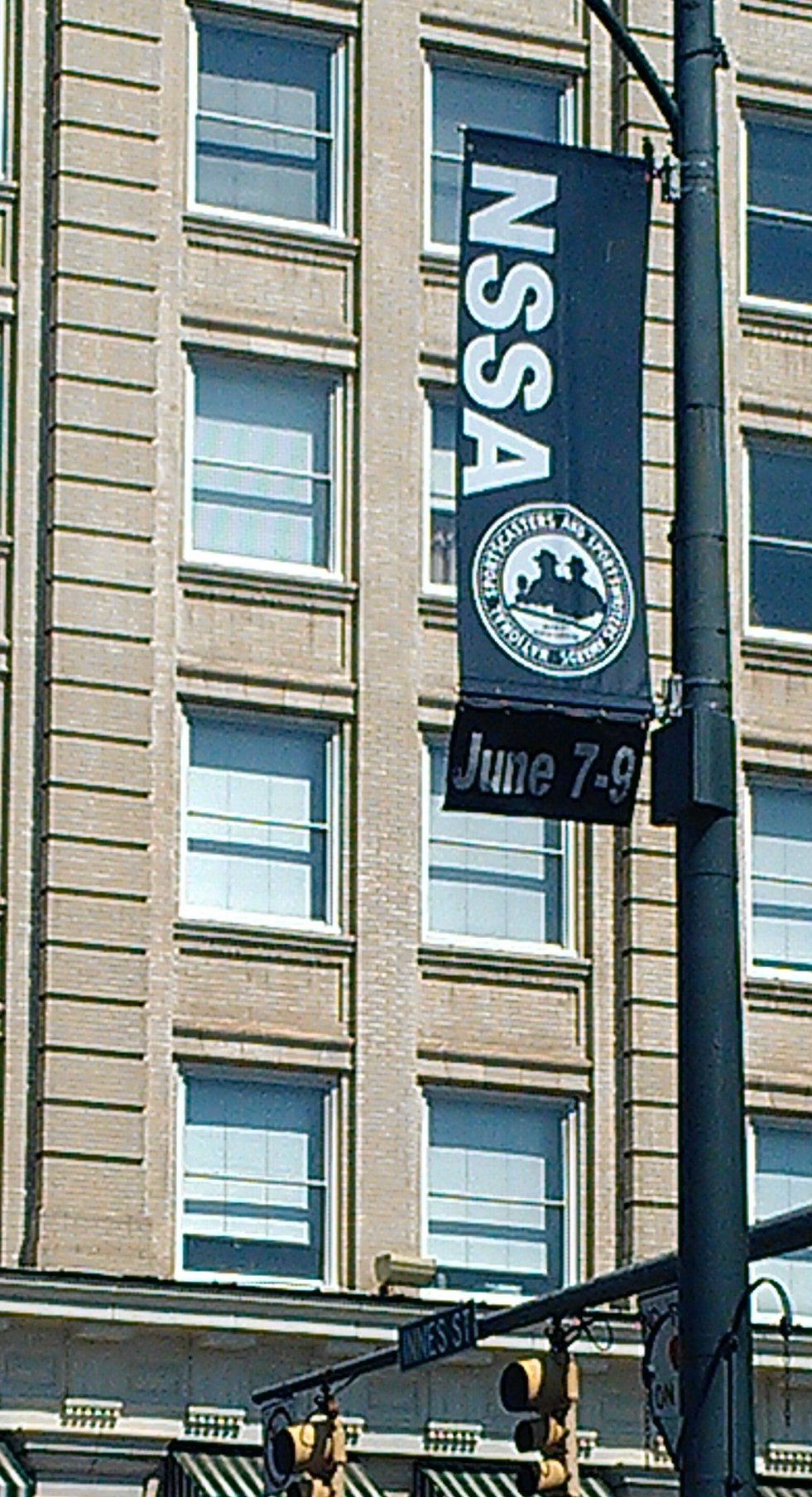 I knew little or nothing — no, absolutely nothing — about Salisbury, N.C., in my youth. Like a lot of other people (damn Yankees) living hundreds or thousands of miles from there, the extent of my knowledge about the entire state of North Carolina was minimal and stereotypical: tobacco, basketball, Andy Griffith.
Then I got older. And I came to Salisbury for the first time. And I found out what it was, although I had no idea why it was:
Sports Media Town, U.S.A.
For whatever reason, Salisbury, a charming town with a whole lot of hospitable people, adopted honest (some), hard-working (most), overlooked (some), underpaid (most) American broadcast and print journalists as their very own. An organization known as the National Sportscasters and Sportswriters Assn. was headquartered there, playing host once a year to an extravagant display of love and affection to the folks of those professions.
Cooperstown has baseball, Canton has football, Springfield has basketball. Salisbury, a community of 30,000 or so about an hour's drive from Charlotte, had, bless their hearts, the sporting press.
"Had" is the key word in that last sentence, because as of 2017, it was just announced a few days ago, the whole organization, lock, stock and barrel, including its modernized new identity as the National Sports Media Association, is moving to Winston-Salem, N.C., on a permanent basis.
Salisbury in the rear-view mirror.
So, it is highly unlikely that I shall ever set foot there again. Living as I do, 3,000 miles away in La La Land, a visit to Salisbury seems no more plausible a destination or destiny at this moment than one to Saskatchewan or Saudi Arabia would be. Although you never know. I could find myself vacationing in Hilton Head or Myrtle Beach or some other lovely Carolina locale and say to my traveling companions, "Hey, would you guys like to go someplace even cooler than this? Let's go to Salisbury!"
My kind of town, baby. Chicago, ha.
The first time I was lucky enough to win one of those Sportswriter of the Year awards, it came with an invitation to attend the awards dinner and a generous little plus: Come for the banquet, OR, hey, come for the whole weekend. Play golf, shop, take part in other organized activities, meet some folks. It wasn't just one of those typical three-hour evenings of chicken and speeches; it was a town-wide welcome.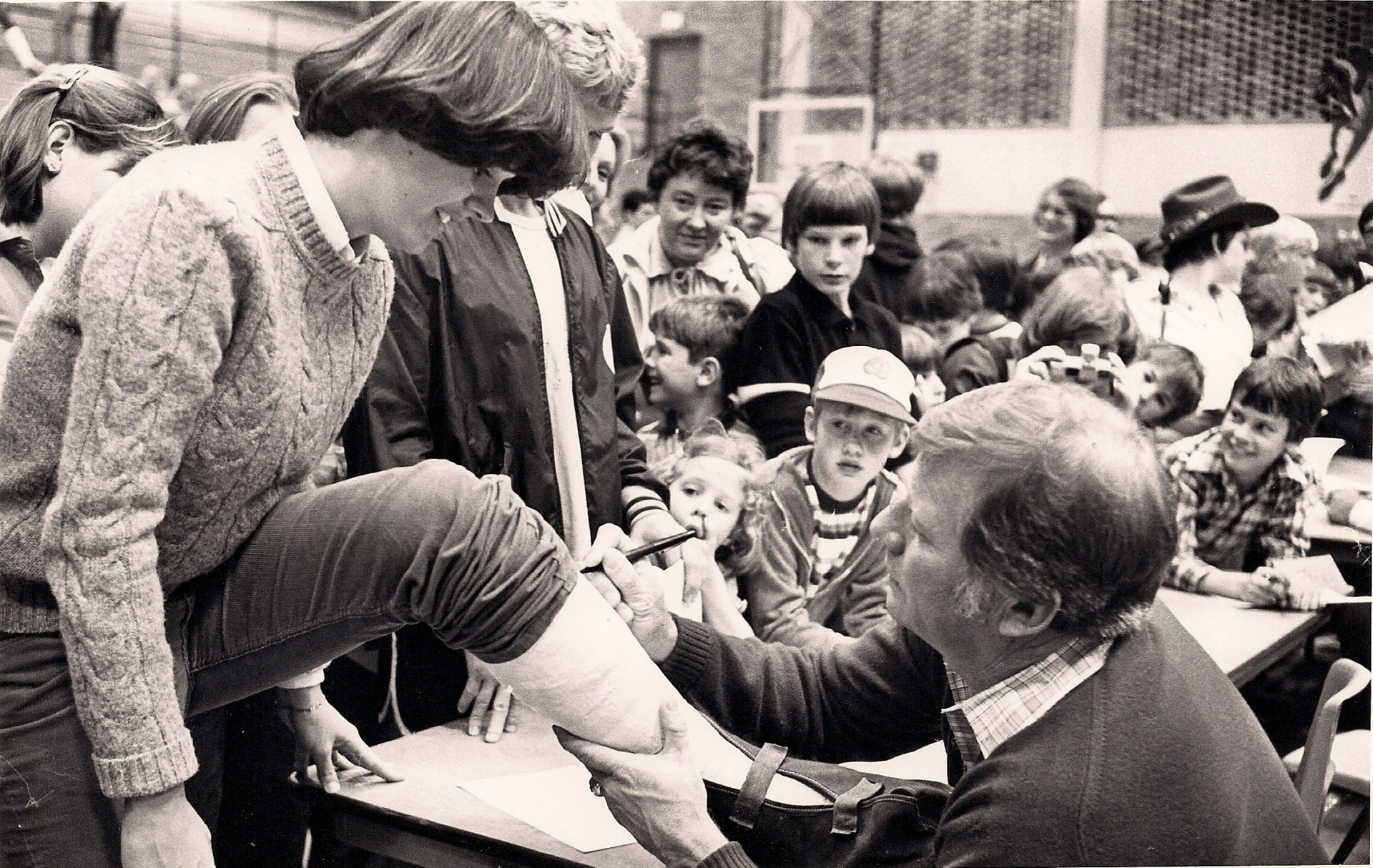 I found out some of its history. How the town of Salisbury was founded around 1753. (Before our whole country was.) How the inaugural NSSA awards ceremony was held in 1960. How a lot of honored guests came in the years to come — governors, mayors, famous athletic figures. How a lot of these evenings even included nationally known entertainers — Bob Hope, Flip Wilson, Tennessee Ernie Ford, and, yes, good old Andy Griffith, too.
Some of the organization's origins puzzled me. For example, its Hall of Fame was a fine idea, one I value to this very day, but some of its early selections were rather peculiar. John Wayne? Lou Gehrig? Jesse Owens? Hmmm, if those guys were sportscasters or sportswriters, I must have missed it. Knute Rockne? I mean, he did coach Notre Dame to some thrilling football victories, but he belonged in a media Hall of Fame about as much as I belong in a Mr. Universe pageant.
OK, so maybe the rules had to be tweaked and refined throughout the years. Somebody obviously woke up one day and declared, "Hey, here's a thought: Maybe we should confine the media Hall of Fame to media people."
Excellent plan.
Of course, from the very beginning, announcers (antiquated euphemism for broadcasters) and scribes (antiquated euphemism for print journalists) formed the crux of the club. Royals of those professions were recognized: Mel Allen, Red Barber and Bill Stern among the microphone men, for instance, or the likes of Ring Lardner, Grantland Rice, Damon Runyon among the men with pens.
National honors went early and often to active stars of those professions: Lindsey Nelson, Chris Schenkel, Curt Gowdy among the '60s and '70s television voices and faces (with Keith Jackson and Bob Costas picking up speed later), Red Smith and Jim Murray the dominant east-west forces from the newspaper world (with magazine writers, mainly from Sports Illustrated, gaining greater and greater fame due to their national exposure).
I liked the way the NSSA looked back to the Roaring Twenties and radio days to see if there were great broadcasters they might have missed. I liked that columnists and even cartoonists, particularly back in the day when newspaper syndicates were so important in the industry, were not neglected.
The people of Salisbury did more than make sportscasters and sportswriters feel welcome. They made them feel important. They made them feel admired. They made them feel necessary.
And they threw a hell of a party.
Everybody ate and laughed. The speechmakers were both sincere and funny. The actual awards presentation took quite a while to pull off, but you weren't in a hurry to get somewhere. You were having too good a time.
What seemed uncommon at first came to feel comfortable. You wanted to win the award again because you wanted to go back. You wanted to be part of the party.
I enjoyed the "presenters" more, on many an occasion, than I did the honorees. Someone would be designated to present the Hall of Fame inductees or national winners and would prepare a few thousand chosen words, often very elaborate, frequently very funny. On one of the many years when Rick Reilly won, his old magazine colleague Gary Smith did a presentation that made the Super Bowl halftime show look quaint.
Some of the ceremonies during my visits were held in a train depot, converted for the occasion into a banquet hall. I found the whole scheme and theme completely charming. I remember being seated with Boston's Ron Borges one year and him saying, "I had no idea this was going to be this much fun."
By default, on a couple of occasions, I gave a speech. Not a good speech, inasmuch as I happen to be one of those guys who is pretty witty until I make the mistake of opening my mouth. If I were a standup comic, I would be heckled and booed every night. But, on nights when honorees such as Chick Hearn or Jerome Holtzman or a representative of their families was unable to attend, I was granted the privilege of accepting on his behalf. I tried to be funny, but, trust me, I was no Andy or Tennessee Ernie. I am no Larry the Cable Guy. I am not even as clever as my actual cable guy.
Anyhow, time marches on. We are well into a new century and new visions. The name change, the relocation to Winston-Salem, a new website, etc., it is all a vital adaptation to a changing world. Sportscasters and sportswriters aren't all from the places they used to be. Some come from nationally acknowledged dot.coms now. Some come from podcasts and blogs. A time once existed when I hadn't heard of a certain state's winner. Now there are times when I haven't even heard of a winner's organization.
What I want to do most is express gratitude to Salisbury, N.C., for being what it was — a cradle of sports media. A lot of us were totally unfamiliar with that town, but it put us on the map every bit as much as we put it on the map. "I'm going to Salisbury" was a treat to be able to say. "Y'all come back" was a treat to hear.
On behalf of a grateful media nation, thank you.
###
Mike Downey is an 11-time NSMA State Sportscaster of the Year (2 in Illinois, 2 in Michigan, 7 in California).

&nbsp « Back