Brown, Kirkpatrick, MacMullan, Scott Voted Into NSMA Hall of Fame
01.18.2022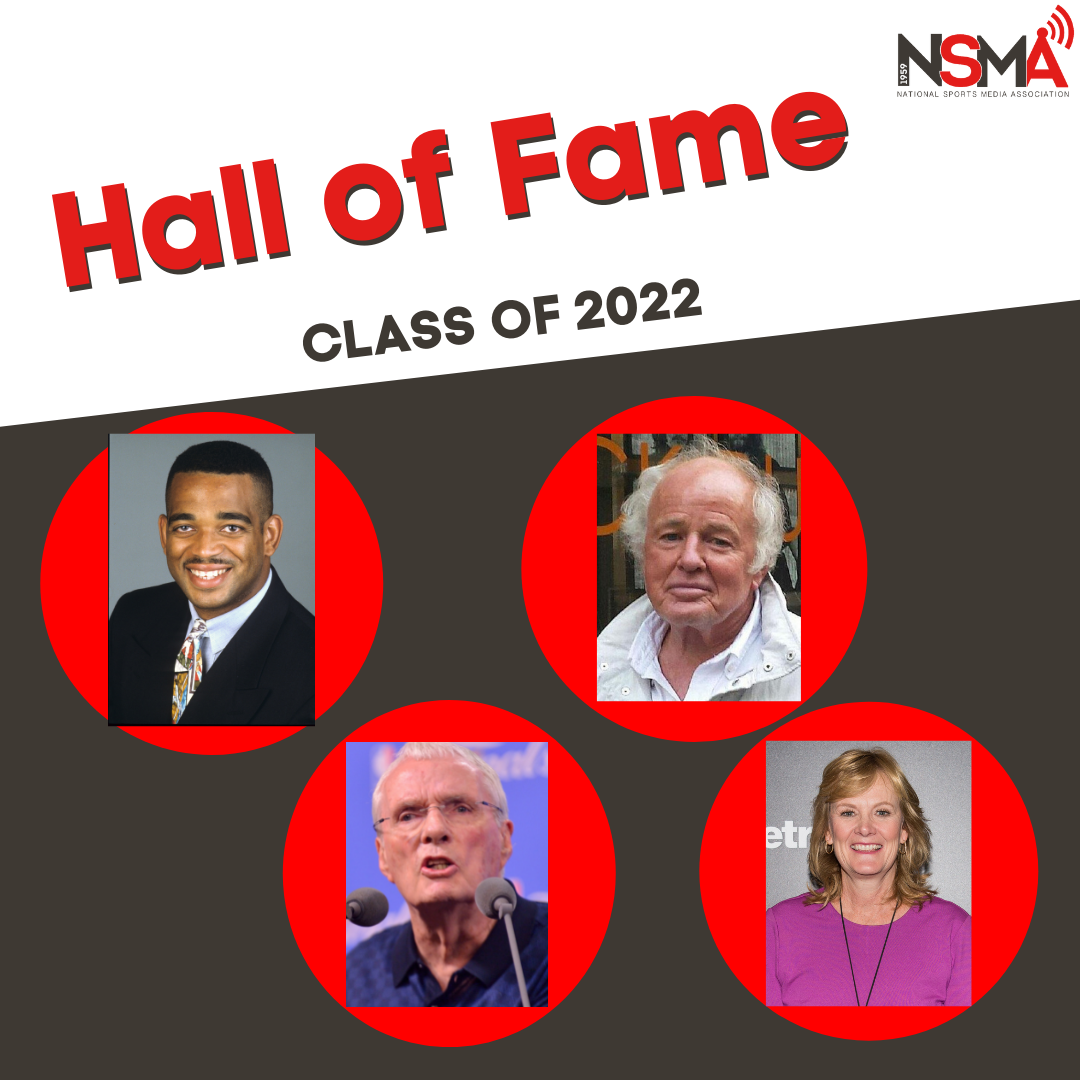 WINSTON-SALEM, N.C. (January 18, 2022) – The late Stuart Scott, who attended high school in Winston-Salem, is among the 2022 class of four voted into the National Sports Media Association Hall of Fame. The others are sportscaster Hubie Brown, and sportswriters Curry Kirkpatrick and Jackie MacMullan.
For the first time in NSMA history, there is a tie for the national sportscaster of the year award. The 2021 winners are Turner Sports' Ernie Johnson and ESPN's Scott Van Pelt. NSMA members also voted ESPN.com's Jeff Passan as the 2021 national sportswriter of the year.
Among the 115 who won 2021 state sportscaster or sportswriter of the year honors, a record 70 are first-time winners in their respective states.
The NSMA will honor its winners and Hall of Fame inductees during the organization's 62nd awards weekend and national convention, scheduled for June 25-27, 2022, in Winston-Salem, N.C.
Scott was born in Chicago but moved with his family to North Carolina as a youth. He graduated from Winston-Salem's R.J. Reynolds High School in 1983 and the University of North Carolina at Chapel Hill in 1987. After local television stops in Florence, South Carolina, Raleigh, and Orlando, Scott was hired at ESPN, where his trend-setting blend of culture and catchphrases helped connect an entire generation of sports fans. Diagnosed with cancer on three separate occasions, Scott passed away from the disease at age 49 on January 4, 2015.
After a coaching career that saw him win an ABA championship and his NBA teams qualify for the playoffs six times, Brown left for the broadcast table, where he had dabbled in between coaching the Hawks and Knicks in the early 1980s. He began his full-time broadcast career in 1986 at CBS, worked local telecasts for the Sixers and Pistons, then began at TNT in the early 1990s, earning two Sports Emmy nominations there before he was hired by the Grizzlies early in the 2002 -2003 season. After resigning from the Grizzlies in 2004, Brown was hired at ABC. He has worked games on ABC and ESPN since that time and contributes to ESPN Radio coverage of the NBA playoffs. He was elected into the Naismith Basketball Hall of Fame as a contributor.
Like Scott, Kirkpatrick is a University of North Carolina at Chapel Hill graduate. He went straight to Sports Illustrated from UNC and stayed there until 1992. He spent the next ten years writing for Newsweek and ESPN the Magazine, while also reporting for CBS and ESPN. He retired in 2002. He co-wrote Jim Valvano's autobiography, They Gave Me a Lifetime Contract, and Then They Declared Me Dead, and Dick Vitale's autobiography, Just Your Average Bald, One-Eyed Basketball Whacko Who Beat the Ziggy and Became and PTPer. Both were New York Times best-sellers. Kirkpatrick was a charter inductee into the United States Basketball Writers Association Hall of Fame, and won the Curt Gowdy Award from the Naismith Basketball Hall of Fame in 2001.
A former basketball player at the University of New Hampshire, MacMullan interned in The Boston Globe newsroom after graduation, then joined the sports department, where she worked as a writer, columnist, and associate editor until 2008. Since then, MacMullan has written for Sports Illustrated and ESPN.com, while appearing on ESPN and other sports networks. She also authored or collaborated on books with Geno Auriemma, Larry Bird, Magic Johnson, and Shaquille O'Neal. Called by The New Yorker, "The Great Chronicler of the Golden Age of Basketball," MacMullan won the Curt Gowdy Award from the Naismith Hall of Fame in 2010, and in 2019, she was awarded the PEN/ESPN Lifetime Achievement Award for Literary Sports Writing.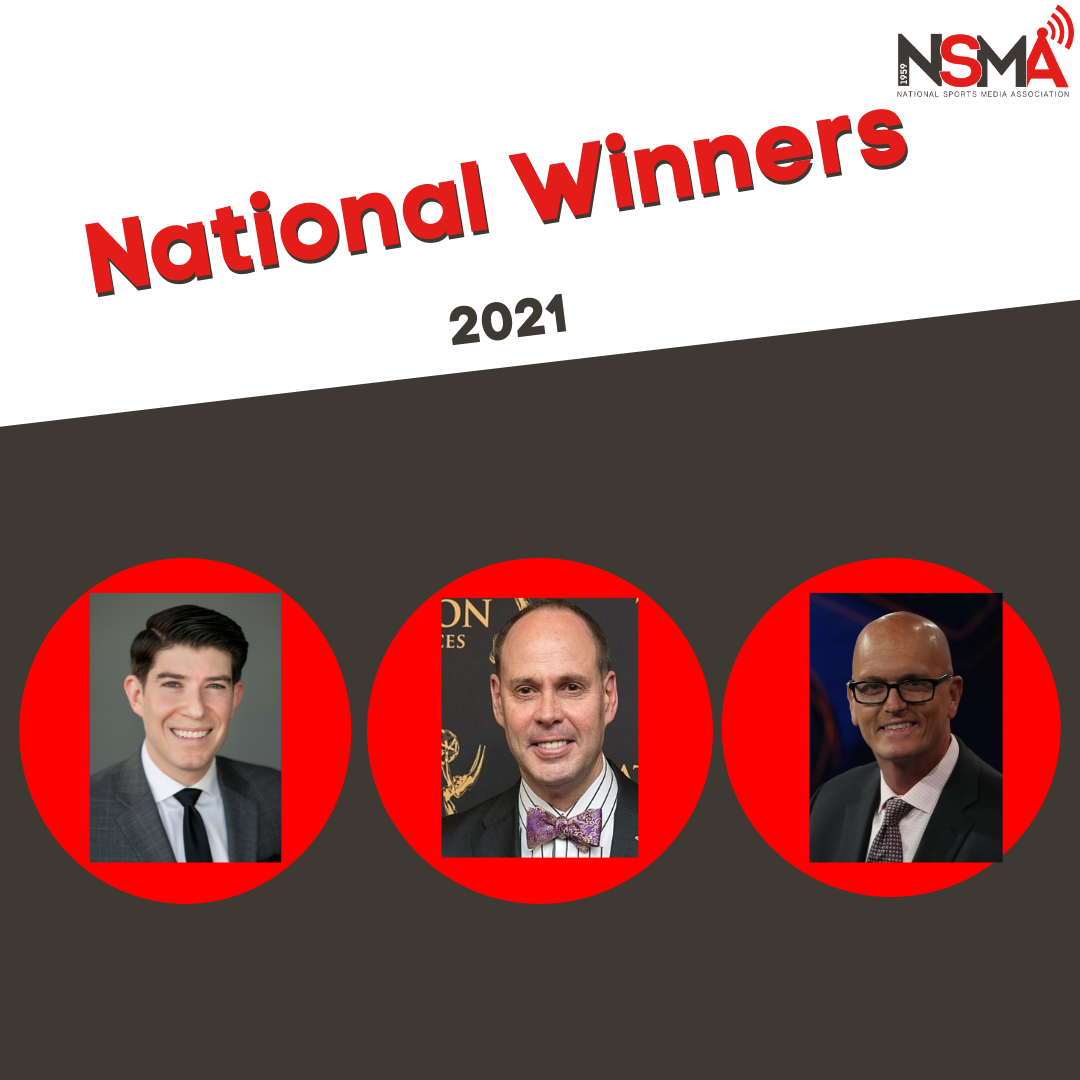 After graduation from the University of Georgia, Johnson began his broadcast career as a news anchor and reporter at television stations in Macon, Georgia and Spartanburg, South Carolina, before heading to Atlanta's WSB-TV, where he worked from 1982-1989. He then left to join Turner Sports, also calling Braves' games for SportSouth with his father, Ernie Johnson Sr, for four seasons. Johnson is best-known for his role as studio host for Turner's NBA coverage, working alongside Charles Barkley, Shaquille, O'Neal, and Kenny Smith. He is a three-time Sports Emmy winner.
A University of Maryland graduate, Van Pelt began his television career at WTTG-TV in Washington, DC. From there, it was on to The Golf Channel, where he spent six years as a reporter, anchor, and host. And since 2001, he has worked at ESPN in a variety of roles, from lead golf reporter to SportsCenter anchor to radio host. Since 2015, Van Pelt has been the host of the midnight edition of SportsCenter.
Passan is a Syracuse University graduate who moved to ESPN and ESPN.com after 13 years at Yahoo Sports. He currently serves as an ESPN Senior MLB Insider. He is the author of New York Times bestseller The Arm: Inside the Billion-Dollar Mystery of the Most Valuable Commodity in Sports, and co-authored Death to the BCS: The Definitive Case Against the Bowl Championship Series.
*Deceased
(# of times won in parentheses)
HALL OF FAME SPORTSCASTERS
Hubie Brown, ESPN/ABC, Turner, CBS, et. al.
*Stuart Scott, ESPN
HALL OF FAME SPORTSWRITERS
Jackie MacMullan, ESPN.com, Sports Illustrated, The Boston Globe
Curry Kirkpatrick, Sports Illustrated
NATIONAL SPORTSCASTER OF THE YEAR (TIE)
Ernie Johnson, Turner Sports (1)
Scott Van Pelt, ESPN (1)
NATIONAL SPORTSWRITER OF THE YEAR
Jeff Passan, ESPN.com (1)
ALABAMA SPORTSCASTER OF THE YEAR
Andy Burcham, Auburn Sports Network, Auburn (1)
ALABAMA SPORTSWRITER OF THE YEAR
Jason Caldwell, AUTigers.com, Auburn (1)
ARIZONA SPORTSCASTER OF THE YEAR
Al McCoy, Suns Radio Network/KTAR, Phoenix (12)
ARIZONA SPORTSWRITER OF THE YEAR
Jeff Metcalfe, Arizona Republic/azcentral, Phoenix (1)
ARKANSAS SPORTSCASTER OF THE YEAR
Jourdan Black, 40/29 Sports, Fayetteville (1)
ARKANSAS SPORTSWRITER OF THE YEAR
Bob Holt, Arkansas Democrat-Gazette, Fayetteville (4)
CALIFORNIA SPORTSCASTER OF THE YEAR
Kate Scott, PAC12 Network, Learfield, & 76ers/NBC Sports Philadelphia, San Francisco (1)
CALIFORNIA SPORTSWRITER OF THE YEAR
Marcus Thompson, The Athletic, Oakland (1)
COLORADO SPORTSCASTER OF THE YEAR
Jenny Cavnar, AT&T SportsNet, Denver (1)
COLORADO SPORTSWRITER OF THE YEAR
Mike Singer, Denver Post, Denver (1)
CONNECTICUT SPORTSCASTER OF THE YEAR
John Pierson, WTNH-TV, New Haven (2)
CONNECTICUT SPORTSWRITER OF THE YEAR
Dom Amore, Hartford Courant, Hartford (6)
DELAWARE SPORTSCASTER OF THE YEAR
Gary Laing, HSRN, Dover (1)
DELAWARE SPORTSWRITER OF THE YEAR
Kevin Tresolini, News Journal, Wilmington (13)
DC SPORTSCASTER OF THE YEAR
Joe Beninati, Capitals/NBC Sports Washington, Washington (3)
DC SPORTSWRITER OF THE YEAR
Mark Zuckerman, MASNsports.com, Washington (2)
FLORIDA SPORTSCASTER OF THE YEAR (TIE)
José Pañeda, Heat Spanish Radio, Miami (1)
David Steele, Magic/Bally Sports Florida, Orlando (2)
Shayne Wright, WPBF-TV, West Palm Beach (1)
FLORIDA SPORTSWRITER OF THE YEAR
Omar Kelly, Palm Beach Post, West Palm Beach (1)
GEORGIA SPORTSCASTER OF THE YEAR
Steve Holman, Hawks Radio Network/92.9 The Game, Atlanta (5)
GEORGIA SPORTSWRITER OF THE YEAR
Chris Kirschner, The Athletic, Atlanta (1)
HAWAII SPORTSCASTER OF THE YEAR
Alan Hoshida, KHON2, Honolulu (1)
HAWAII SPORTSWRITER OF THE YEAR
Rob Collias, Maui News, Wailuku (1)
IDAHO SPORTSCASTER OF THE YEAR (TIE)
Chris Lewis, Bronco Sports Properties/Learfield & Freelance, Boise (1)
Brittany Cooper, KMVT-TV, Twin Falls Idaho (1)
IDAHO SPORTSWRITER OF THE YEAR
B.J. Rains, Idaho Press, Nampa (4)
ILLINOIS SPORTSCASTER OF THE YEAR
Adam Amin, Bulls/NBC Sports Chicago & FOX Sports, Chicago (1)
ILLINOIS SPORTSWRITER OF THE YEAR
James Fegan, The Athletic, Chicago (1)
INDIANA SPORTSCASTER OF THE YEAR
Tim Newton, Purdue Radio Network, W. Lafayette (1)
INDIANA SPORTSWRITER OF THE YEAR
Gregg Doyel, Indianapolis Star, Indianapolis (4)
IOWA SPORTSCASTER OF THE YEAR
Keith Murphy, WHO-TV, Des Moines (5)
IOWA SPORTSWRITER OF THE YEAR
Travis Hines, Ames Tribune, Ames (1)
KANSAS SPORTSCASTER OF THE YEAR
Chris Lilly, KAKE-TV, Wichita (1)
KANSAS SPORTSWRITER OF THE YEAR
Matt Tait, Journal World, Lawrence (1)
KENTUCKY SPORTSCASTER OF THE YEAR (TIE)
Fred Cowgill, WLKY-TV, Louisville (2)
Kendrick Haskins, WAVE-TV, Louisville (1)
KENTUCKY SPORTSWRITER OF THE YEAR
Jon Hale, The Courier Journal, Louisville (1)
LOUISIANA SPORTSCASTER OF THE YEAR
Jacques Doucet, WAFB-TV, Baton Rouge (2)
LOUISIANA SPORTSWRITER OF THE YEAR
Rod Walker, New Orleans Advocate/Times-Picayune (1)
MAINE SPORTSCASTER OF THE YEAR
Jon Shields, Maine Black Bears Hockey/Learfield, Orono (1)
MAINE SPORTSWRITER OF THE YEAR
Travis Lazarczyk, Portland Press Herald, Portland (4)
MARYLAND SPORTSCASTER OF THE YEAR
Bruce Cunningham, FOX 45, Baltimore (11)
MARYLAND SPORTSWRITER OF THE YEAR
Jeff Zrebiec, The Athletic, Baltimore (4)
MASSACHUSETTS SPORTSCASTER OF THE YEAR
Bob Socci, Patriots Radio Network/98.5 the Sports Hub, Boston (1)
MASSACHUSETTS SPORTSWRITER OF THE YEAR
Kevin Dupont, The Boston Globe, Boston (6)
MICHIGAN SPORTSCASTER OF THE YEAR (TIE)
Jack Ebling, Ebling Media, Lansing (32)
Brad Galli, WXYZ-TV, Detroit
MICHIGAN SPORTSWRITER OF THE YEAR (TIE)
James Edwards, The Athletic, Detroit (1)
Ryan Ford, Detroit Free Press, Detroit (1)
MINNESOTA SPORTSCASTER OF THE YEAR
Marney Gellner, Bally Sports North/KFXN-FM, Minneapolis (1)
MINNESOTA SPORTSWRITER OF THE YEAR
Aaron Gleeman, The Athletic, Minneapolis (1)
MISSISSIPPI SPORTSCASTER OF THE YEAR

Noah Newman, WJTV-TV, Jackson (1)
MISSISSIPPI SPORTSWRITER OF THE YEAR
Parrish Alford, Northeast Mississippi Daily Journal, Tupelo (2)
MISSOURI SPORTSCASTER OF THE YEAR
John Rooney, Cardinals Radio Network/KMOX, St. Louis (13)
MISSOURI SPORTSWRITER OF THE YEAR
Derrick Goold, Post-Dispatch, St. Louis (2)
MONTANA SPORTSCASTER OF THE YEAR
Zach Mackey, Bobcat Sports Properties/Learfield, Bozeman (1)
MONTANA SPORTSWRITER OF THE YEAR
John Letasky, Billings Gazette, Billings (1)
NEBRASKA SPORTSCASTER OF THE YEAR
Chris Schmidt, KLMS Radio, Lincoln (1)
NEBRASKA SPORTSWRITER OF THE YEAR
Luke Mullin, Lincoln Journal Star, Lincoln (1)
NEVADA SPORTSCASTER OF THE YEAR
Russ Langer, Aviators Radio & UNLV Sports Properties/Learfield, Las Vegas (11)
NEVADA SPORTSWRITER OF THE YEAR
Ed Graney, Las Vegas Review-Journal, Las Vegas (7)
NEW HAMPSHIRE SPORTSCASTER OF THE YEAR
Brett Franklin, WTSV Radio & Dartmouth College/Learfield, Lebanon (1)
NEW HAMPSHIRE SPORTSWRITER OF THE YEAR
Ben Conant, Monadnock Ledger-Transcript, Peterborough (1)
NEW JERSEY SPORTSCASTER OF THE YEAR (TIE)
Jerry Recco, Rutgers Sports Properties/Learfield & WFAN, New Brunswick (1)
Tom Williams, Prime Events, Ocean City (11)
NEW JERSEY SPORTSWRITER OF THE YEAR (TIE)
James Kratch, NJ Advance Media, Newark (1)
Keith Sargeant, NJ Advance Media, Newark (1)
NEW MEXICO SPORTSCASTER OF THE YEAR
Jeff Siembieda, KNML The Sports Animal, Albuquerque (3)
NEW MEXICO SPORTSWRITER OF THE YEAR
Geoff Grammer, Albuquerque Journal, Albuquerque (1)
NEW YORK SPORTSCASTER OF THE YEAR
Mike Breen, Knicks/MSG Network & ABC/ESPN, New York (1)
NEW YORK SPORTSWRITER OF THE YEAR (TIE)
Donna Ditota Syracuse Post Standard, Syracuse (1)
Bob Glauber, Newsday, New York (3)
NORTH CAROLINA SPORTSCASTER OF THE YEAR

Adam Gold, 99.9 the Fan/WRAL Radio, Raleigh (1)
NORTH CAROLINA SPORTSWRITER OF THE YEAR
Joe Person, The Athletic, Charlotte (1)
NORTH DAKOTA SPORTSCASTER OF THE YEAR
Brian Shawn, Midco Sports Network, Fargo (1)
NORTH DAKOTA SPORTSWRITER OF THE YEAR
Carissa Wigginton, The Forum, Fargo (1)
OHIO SPORTSCASTER OF THE YEAR
Paul Keels, Ohio State Radio Network/Learfield, Columbus (5)
OHIO SPORTSWRITER OF THE YEAR (TIE)
Geoff Hobson, Bengals.com, Cincinnati (1)
Zack Meisel, The Athletic, Cleveland (1)
OKLAHOMA SPORTSCASTER OF THE YEAR
Adam Hildebrandt, Oral Roberts Radio Network, Tulsa (1)
OKLAHOMA SPORTSWRITER OF THE YEAR
Guerin Emig, Tulsa World, Tulsa (2)
OREGON SPORTSCASTER OF THE YEAR
AJ McCord, KOIN-TV & 1080 the Fan/ESPN Portland, Portland (1)
OREGON SPORTSWRITER OF THE YEAR
John Canzano, The Oregonian, Portland (64)
PENNSYLVANIA SPORTSCASTER OF THE YEAR
Marc Zumoff, Sixers/NBC Sports Philadelphia, Philadelphia (3)
PENNSYLVANIA SPORTSWRITER OF THE YEAR
Jim Salisbury, NBC Sports Philadelphia, Philadelphia (3)
RHODE ISLAND SPORTSCASTER OF THE YEAR (TIE)
Morey Hershgordon, WPRI-TV, Providence (1)
Ian Steele, WLNE-TV, Providence (1)
RHODE ISLAND SPORTSWRITER OF THE YEAR (TIE)
Mark Daniels, Providence Journal (1)
Brendan McGair, Pawtucket Times/Woonsocket Call, Pawtucket/Woonsocket (5)
SOUTH CAROLINA SPORTSCASTER OF THE YEAR
Julia Morris, WYFF-TV, Greenville (1)
SOUTH CAROLINA SPORTSWRITER OF THE YEAR
Gene Sapakoff, Post and Courier, Charleston (8)
SOUTH DAKOTA SPORTSCASTER OF THE YEAR
Dellas Cole, KBRK Radio, Brookings (3)
SOUTH DAKOTA SPORTSWRITER OF THE YEAR
Matt Zimmer, Argus Leader, Sioux Falls (1)
TENNESSEE SPORTSCASTER OF THE YEAR

Terry Crisp, Predators/Bally Sports South, Nashville (1)
TENNESSEE SPORTSWRITER OF THE YEAR
Maurice Patton, Main Street Preps, Columbia (1)
TEXAS SPORTSCASTER OF THE YEAR
Dana Larson, Bally Sports Southwest, Dallas (1)
TEXAS SPORTSWRITER OF THE YEAR
Brad Townsend, Dallas Morning News, Dallas (1)
UTAH SPORTSCASTER OF THE YEAR
Greg Wrubell, BYU Radio Network, Provo (1)
UTAH SPORTSWRITER OF THE YEAR
Jay Drew, Deseret News, Salt Lake City (3)
VERMONT SPORTSCASTER OF THE YEAR
Angelique Martinez, WVNY/WFFF-TV, Burlington (1)
VERMONT SPORTSWRITER OF THE YEAR (TIE)
Michael Beniash, Caledonian-Record, St. Johnsbury (2)
Tom Haley, Rutland Herald, Rutland (10)
VIRGINIA SPORTSCASTER OF THE YEAR (TIE)
Lane Casadonte, WTVR-TV, Richmond (2)
Wes McElroy, 910 the Fan, Richmond (3)
VIRGINIA SPORTSWRITER OF THE YEAR
David Teel, Times-Dispatch, Richmond (14)
WASHINGTON SPORTSCASTER OF THE YEAR

Ian Furness, Sports Radio 950/KJR Radio & FOX 13 TV, Seattle (15)
WASHINGTON SPORTSWRITER OF THE YEAR
Jim Meehan, The Spokesman-Review, Spokane (16)
WEST VIRGINIA SPORTSCASTER OF THE YEAR
Dave Wilson, Metronews, Morgantown (1)
WEST VIRGINIA SPORTSWRITER OF THE YEAR
Grant Traylor, HD Media, Huntington (1)
WISCONSIN SPORTSCASTER OF THE YEAR (TIE)
Matt Lepay, Badger Sports Properties/Learfield, Madison (11)
Jim Paschke, Bucks/Bally Sports Wisconsin, Milwaukee (1)
WISCONSIN SPORTSWRITER OF THE YEAR

Lori Nickel, Milwaukee Journal Sentinel, Milwaukee (2)
WYOMING SPORTSCASTER OF THE YEAR
Trevor Jackson, KWYO, Sheridan (2)
WYOMING SPORTSWRITER OF THE YEAR
Alex Taylor, News Record, Gillette (1)
1 – won 2 Alabama Sportscaster of the Year Awards
2 – won 3 Michigan Sportswriter of the Year Awards
3 – won 1 Illinois Sportscaster of the Year Award
4 – won 2 Oregon Sportscaster of the Year Awards
5 – won 1 Utah Sportscaster of the Year Award
6 – won 5 Idaho Sportswriter of the Year Awards
&nbsp « Back