Farewell to Doctor to the Stars
09.15.2017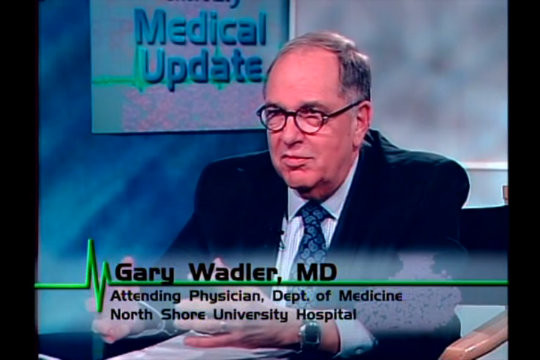 In our household, Gary Wadler, MD, was known as "Doctor to the Stars."
Our daughter Laura Vecsey, the sports columnist, named him that because he treated some of the most complicated, proud, talented and, yes, ornery, athletes of the past generation. They got him, and vice versa.
Gary, who died on Sept. 12 at the age of 78, was an internist with a very private practice but also a very public persona. He has been given due respect in Newsday, the Daily News and The New York Times (links are below), mostly concentrating on how he explained body-enhancing drugs in sport and how he advocated testing.
Some very powerful leagues and organizations in sport considered Gary a total pain in the tail because he interrupted their unquestioning campaign for money. Others saw him as carrying the lamp to illuminate the dark places of sport.
I met Gary in 1982 when I was covering the quarterfinals of the U.S. Open tennis, when Martina Navratilova faded against her friend and doubles partner Pam Shriver, who played a great match and beat her -- a shocking upset. Right afterward, Martina told the press she was suffering from toxoplasmosis, from a friend's cat, and had been warned she would not have the energy for a tough three-set match.
Some reporters thought Martina was exaggerating. I know that Shriver, one of my favorite people in sports, could not have been happy to see her magnificent accomplishment downgraded minutes after it happened. But Martina referred us to a Dr. Wadler, an attending physician at the Open – you know, the guy in the tomato-red jacket – and a few of us beat it down to his office near the main court, where Dr. Wadler, with Martina's permission, discussed her health.
After I wrote my column, the doctor and I discovered we lived a few miles from each other, and my wife and I soon became friendly with his very smart and capable wife Nancy. We were guests at sweet Seders at their home, at their pool, and we met their friends.
Journalists are not supposed to get close to the people we cover, so being friends with Gary was a tricky balance, to be sure. I came to realize he had many interests – the chairman at SUNY/Old Westbury! Advisor to the ballet! Expert on body-building drugs!
He started the Nassau sports council, which held an annual awards dinner at which I got to meet Sylvia Mackey, who was caring for her husband, John Mackey, the great tight end from Long Island, after football's plague of brain damage broke him.
I travelled to Washington to write columns about Congressional hearings on drugs and I witnessed Gary giving impassioned and outraged testimony that forced powerful sports organizations to face reality.
When I was running around with the Tour de France, I would call and ask Gary to explain the impact of certain drugs I was hearing about. Nancy told me recently that an editor at a major sports publication recently called Gary "our go-to-guy"
Just recently, Northwell, the hospital he served so well, named a dialysis center for Gary and Nancy. Dialysis? Yes, decades ago, Gary had prodded the hospital to build one. How often did I hear Gary say: "Why don't they…?"
Did I mention that Gary became my doctor for a long time?
To my knowledge, Gary did not have much connection to sports – except for that photo of that holiest of teams, the 1955 Brooklyn Dodgers, on his wall behind his bed, where he spent his final weeks.
However, Gary was fascinated by some athletes who were so much more than champions on the field or court. They were artists and scholars of their craft. Seeing him connect with world-wide figures was a lesson to me.
Gary lived by the old clubhouse adage: what you hear here, stays here. But I knew he loved his tennis patients, starting with Martina. He was appalled by the piecemeal medical care these stars received in their worldwide carnival. No one doctor knew them. There was no followup. He urged tennis to organize a computer-based dossier so doctors in Europe or Asia could give continual care, but tennis was too balkanized to do it.
One of his disciples was Jimmy Connors, during his last great run at the Open in 1991. Connors was cramping and feeling light-headed in the late-summer humidity, but he assured Gary that he was drinking plenty of liquid; after all, he swigged soda on changeovers. Nobody on the tour had ever told Connors that soda/caffeine is a diuretic, and causes dehydration. Gary told him. Bluntly. Connors recognized a fellow hardhead – and switched to H2O and ran all the way to the semifinals at 38.
The next year Connors came back to the Open and discovered that Gary's role had been undercut by organizational politics. The swaggering hero of the New York crowd put out an ultimatum: Doc Wadler would be present for all his practices and matches. Period. He got it.
Talk about kindred souls. Gary discovered Wilt Chamberlain, a huge man, a huge ego and intellect, and also a huge tennis fan and observer of life, who knew everything and eagerly shared his knowledge. Wilt had spent many summers in the Catskills, on the hotel basketball circuit, and was a born schmoozer.
When there were no medical emergencies, Gary would sit with Wilt and they would talk about, well, anything. Gary loved to tell about the warm night in the grandstand when Wilt took off his shirt, only to have an usher ask him to put his shirt back on. Wilt stalked out into the night….but he and Gary soon resumed their chats.
Gary also loved Wilt for being able to fold himself into Gary's Lexis sports car.
They were – you have already come up with the phrase -- the Odd Couple.
When Gary fell ill recently, Angel Cordero called the house, and made Gary laugh, and cry. That great jockey, who lives on Long Island, had been urged to retired by Gary in 1992, because of internal injuries from his frequent spills.
I looked it up recently: Angel did race 12 more times after that, but he knew Gary had his best interests at heart. In fact, he invited Gary to Puerto Rico for a big race. And at the barns at Belmont, Angel talked Nancy into getting up on a thoroughbred, which, she discovered, had a few more gears than some old plug from the riding stable.
Angel called Gary "Papi" – in Puerto Rico, a term of endearment.
PS: When Gary became a grandfather, he asked Amelie and Theo to call him "Papi."
Many of Gary's favorite sports people were strong-minded women, I am sure because of his marriage to Nancy. In recent months, Gary and Nancy would talk about Diana Nyad, Virginia Wade, Donna DeVarona. He had encouraged the Women's Sports Foundation -- founded by Billie Jean King and run by Donna Lopiano -- to move to Nassau County for a decade and a half.
When Billie Jean heard about Gary's illness, she sent this note to Nancy that said in part:
"His expertise regarding the education of female athletes on the dangers of performance-enhancing drugs together with his advice about health and injury prevention practices has made an incredible contribution to the field."
I also know that Gary became friendly with Nancy Lieberman, the fierce basketball player from Far Rockaway, who was training with Martina at that time. As a Noo Yawk guy, Gary recognized the drive in Nancy, who, as a high-school player, took the A train from Far Rockaway to Harlem to compete against the best male schoolyard players. Uptown, they gave her a nickname: "Big Red." Gary was also friendly with Nancy's mom Reenie.
I've been around. I can tell you that these people I have mentioned were among the most demanding people in sport.
They did not suffer fools. They were Gary's friends.
As a journalist, and as a friend, I observed this: Doc Wadler earned people's respect and friendship—and love.
###
A sampling of stories on Wadler:
From Christian Red, New York Daily News: https://www.google.com/amp/www.nydailynews.com/amp/sports/gary-wadler-early-expert-ped-sports-dead-78-article-1.3491866
From John Jeansonne, Newsday: http://www.newsday.com/sports/olympics/long-island-s-gary-wadler-an-early-expert-on-peds-in-sports-dies-at-age-78-1.14148586
From Juliet Macur, The New York Times: https://www.nytimes.com/2017/09/13/sports/olympics/gary-wadler-wada-doping.html?mcubz=3&_r=0
From Richard Sandomir, The New York Times: https://www.nytimes.com/2017/09/13/sports/gary-wadler-dead.html?mcubz=3
The New York Times Obituary: http://www.legacy.com/obituaries/nytimes/obituary.aspx?n=gary-wadler&pid=186642119
&nbsp « Back