Fish Earns AIPS Young Reporters Post
10.10.2018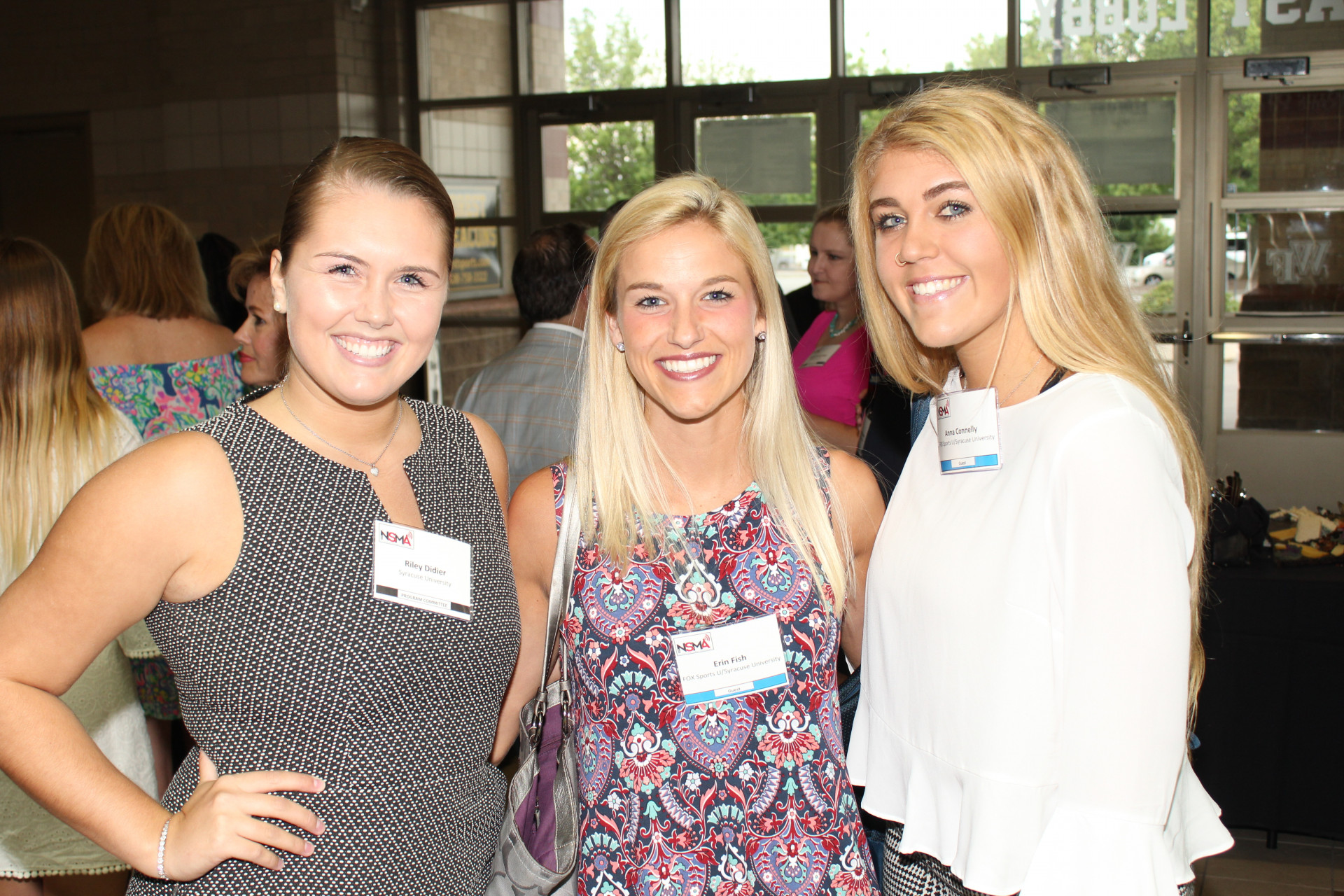 Erin Fish, a graduate of Long Island University - Brooklyn, who earned her Master's degree from Syracuse's Newhouse Sports Media Center, has been chosen by the International Sports Press Association (AIPS) to represent the United States in AIPS's Young Reporters Program. One of 16 young reporters chosen from around the world, Fish will report from the FIFA Under-17 Women's World Cup (soccer) in Uruguay. She will leave for Uruguay on November 11 and return on December 2.

Fish was a part of the FOX Sports University program while at Syracuse. As part of that program, she was one of ten students who attended the 59th Annual NSMA Awards Weekend in Winston-Salem, NC in June.
In August, when NSMA executive director Dave Goren was speaking on the phone with AIPS president Gianno Merlo, Merlo asked Goren to come up with some candidates for the Young Reporters Program. Goren funneled the request to several sources, including Fish, whose demo reel he had seen. That, and her summer internship program covering the New York Mets for MLB.com provided the perfect background for the program, which requires the its reporters to utilize writing and video in their work.
Goren forwarded Fish's candidacy materials to AIPS. Two other candidates emerged later. And AIPS notified Goren and Fish this week that she had been selected.
Below is a Q & A with Fish.
NSMA: What intrigued you about the opportunity?
Fish: I love telling athletes' stories. I grew up a three sport athlete and continued my athletic career as a Division 1 soccer player in college. Unfortunately, with three surgeries on the same knee, my career did not pan out the way that I would have liked it to. But when I saw the opportunity to cover young soccer players, I was incredibly excited because I just know I will see a part of myself within them. Soccer will always be my first love and I know how much it means to these young women. I am honored to be able to tell their stories.
NSMA: What did you think your chances were of being selected?
Fish: I honestly didn't know. At first I thought my chances were pretty good, because I had experience playing soccer and covering it already, but as the time passed, I started to become more and more worried that it wasn't going to work out. I started to put it out of my mind.

Freeze frame from Erin Fish's demo reel

NSMA: What was your reaction when you were notified?
Fish: When I found out I was so excited. I immediately told my parents and then tried calling my professor (Olivia Stomski). She didn't answer, so I left her a voicemail that she had to call me back. When she did call back and I told her, she screamed so loud into the phone. She has been such a huge support system for me throughout this year and I can't thank her enough.
NSMA: What preparations do you need to make before leaving on November 11th?
Fish: Well, just in the past few days I have been figuring out some logistics of traveling, credentials and everything else. But as for actual preparations, as anyone who knows me can attest, I am definitely a planner. I would like to find out as much as I can about the U-17 USA team and maybe reach out to some of the local media outlets of the young women and figure out a few feature stories I could possibly do while I'm over there.
NSMA: Ever been to:
Fish: Yes. I went to Nicaragua in January of 2015 with a program called Soccer Without Borders. I went there with my college roommate, Jessica Montrose as well as many other female college soccer players from around the USA. We spent a week there and coached underprivileged youth females. It was a life-changing experience to show these young women how to use soccer as a tool for empowerment and to keep them off the streets.

Freeze frame from Erin Fish's demo reel, in her role as color commentator for Syracuse University soccer

Fish: I have not been to Uruguay, but after my experience in Nicaragua I am looking forward to traveling more and understanding different cultures.
NSMA: What are you most looking forward to?
Fish: I am most looking forward to the fact that I will be one of 16 reporters from all over the world. I am very excited to meet new people that could potentially become friends and connections in the industry that are from all over. I think this experience will be unlike anything I have ever done.
NSMA: What do you hope to get out of the experience?
Fish: I am hoping to get more on-camera, writing, and social media experience out of this. But I think the fact that I am learning from people all over the world will be extremely eye-opening and I am hoping to be able to become a better storyteller because of that.
&nbsp « Back