Meet 2017 North Dakota Sportscaster of the Year Brad Anderson
06.19.2018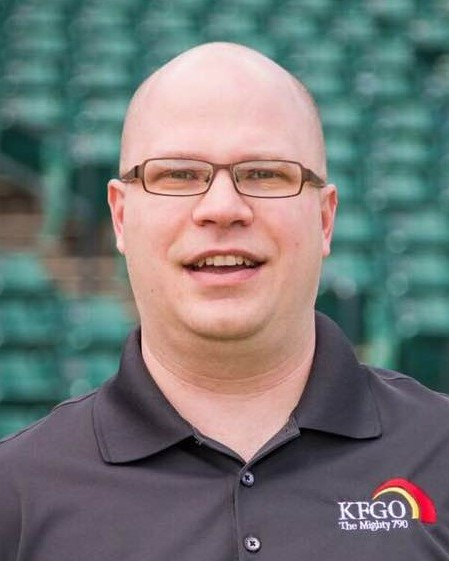 Today's award spotlight is on NSMA 2017 North Dakota Sportscaster of the Year, Brad Anderson. Anderson is in his second year full-time at KFGO and KNFL Radio in Fargo, ND. He's also in eighth year calling football & basketball for the North Dakota State College of Science, and his third season of USHL hockey with the Fargo Force. He also follows North Dakota and western Minnesota high school sports, and fills in as a voice of the Fargo-Moorhead RedHawks baseball team. His call of the RedHawks turning two triple plays in one game on August 31st made ESPN Sportscenter's Top 10.
Anderson spoke with NSMA on winning his award, what he's looking forward to about awards weekend, and his start in the sports media industry.
NSMA: How does it feel to be recognized by your peers as North Dakota Sportscaster of the Year?
Brad Anderson: It's a true honor and humbling to win North Dakota Sportscaster of the Year. Even though we're a small state, North Dakota has many talented broadcasters. To be chosen by my peers is a thrill. To see my name with people who I respect and some I grew up listening to on the radio and watching on TV is a personal source of pride.

NSMA: What are you most looking forward to during the 59th NSMA Awards Weekend?
BA: The opportunity to meet fellow broadcasters and media members from all over the country. Everyone I've talked who has attended the event has not been disappointed, and said you'll be in awe of who will see and meet.
NSMA: How did you get your start in the sports media industry?
BA: My first job in the media was working at the radio station in my hometown of Lisbon, ND when I was 17. When I was 19, I got the chance to broadcast American Legion baseball. It gave me opportunities that at the time, were hard to come by for someone my age.

NSMA: Who were some of your mentors in the industry?
BA: I had two mentors who have been important in my broadcasting career. One is Bruce Dougherty, who was the sports director at hometown station (KQLX Radio in Lisbon, ND.) He thought I had potential to be a a broadcaster and gave me ample opportunities to try. The other is Scott Miller, who was a NSMA Sportscaster of the Year winner in Montana and North Dakota. Scott passed away in 2016 after a lengthy career as the voice of North Dakota State athletics and Fargo-Moorhead RedHawks baseball. Just a complete professional in everything he did, not to mention a terrific person.

NSMA: What's the biggest highlight of your career in sports media? Why?
BA: It's hard to pinpoint the "highlight" of my career. Having the opportunity to call the variety of sports and big events is a privilege. From filling in on Division I basketball games with North Dakota State, minor league baseball with the Fargo-Moorhead RedHawks, to calling USHL hockey and many state high school championships in North Dakota and Minnesota, I've enjoyed it all.

NSMA: What advice would you give to someone starting in the sports media industry?
BA: My advice is don't be afraid to try anything. If there's a sport you're not familiar with, learn it, and try to immerse yourself in it. 20 years ago, I never thought I'd ever broadcast hockey or volleyball on the radio, but I have and I enjoy both. Thanks to technology, there are more opportunities and avenues to showcase your talents, skills, and abilities. Enjoy the ride, and it won't seem like work. Oh, and be kind to those around you. It goes a long way.

&nbsp « Back