Minor League Memory, By Mark McCarter
03.23.2017
Any night, the phone will ring. It's that time of the year. It's a spring training tradition. Though with each passing year, the phone call seems to come earlier in the evening, with less background noise and less evidence of the callers being ambitiously served.
On the other end of the line will be Brian Kingman and Bruce Robinson. They're a couple of old friends from my very first season covering a minor league baseball team, back – gulp! – 41 years ago. They started calling during spring training the next year, and done so countless times since.
Kingman was a pitcher for the Oakland A's, one of the great young arms ruined by Billy Martin; he lost 20 games in 1980 despite a 3.83 ERA (and with 10 complete games).
Robinson was a catcher for the A's and Yankees and he's in the Hall of Fame. Or at least his invention is. He created the "Robby Pad," the hinged pad that protects a catcher's throwing shoulder. Robby is also an accomplished musician, with one of his CD's entitled, "In Good Hands." I couldn't resist informing him that he once led the Southern League in passed balls.
They played for the Chattanooga Lookouts in 1976, alongside some other names seamheads will recognize: Denny Walling, Matt Keough, Dwayne Murphy, Steve McCatty. Rene Lachemann was the manager.
Kingman and Robinson were the culprits in my go-to story about life covering minor league baseball.
I was with the team for a road game in Montgomery in August 1976. The three of us were wandering the street, killing time, when we would up at the state capitol. A naïve teenage tour guide named Wendy greeted us.
"We're here to see George," Kingman formally announced, referring to Gov. George Wallace.
To which he added, "He played ball with my father and George told him any time I was in Montgomery I should come by."
Fake news. Kingman made that up on the spot. But Wendy The Naïve Tour Guide believed him.
It also happened that her family and the Wallace family were close, so she knew him well. She could leave her post to take us to meet the governor.
Next thing you know, we're upstairs, in an outer office of the governor's suite. We're unshaven, we're in shorts and we're wearing those once-upon-a-time-trendy striped shirts. We kinda looked like we were wearing oversized Garanimals.
Waiting in the office was Harvey Glance, the Auburn University sprinter, just back from winning an Olympic gold medal in Montreal. We chatted with him and he passed the medal around to us.
Then Glance was ushered in, leaving Robinson, Kingman, Wendy The Naïve Tour Guide and me. Robby and I were shooting looks at Kingman, like "What have you gotten us into?"
Finally, a big mahogany door opened and we're led into the governor's office. It was a feeling not unlike going into the principal's office.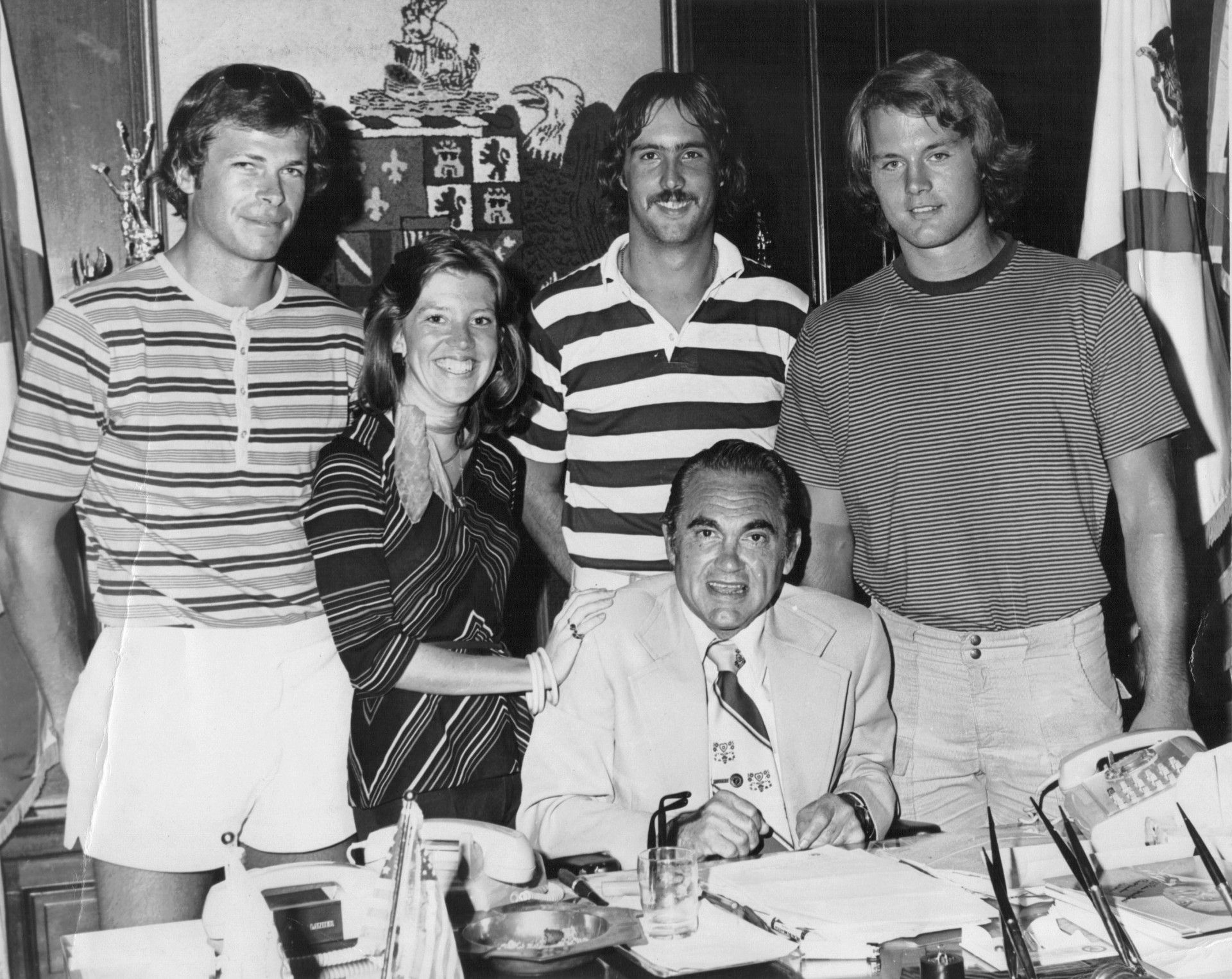 Wallace sat in his wheelchair behind his desk, having been left paralyzed by Arthur Bremer's bullet four years earlier. Time had softened him and his features from that ugly day 13 years earlier when he defiantly stood at a schoolhouse door to prohibit black students from entering the University of Alabama.
Wendy The Naïve Tour Guide made brief introductions. The governor knew of my newspaper, which was even slightly to his right. He knew about the Southern League, and Montgomery's team.
As a photographer grouped us behind the governor for a picture, Wendy The Naïve Tour Guide blurted out:
"Governor, Brian said you used to play baseball with his father."
Now, Kingman, pitch out of this jam, I thought. Robinson looked at him with pretty much the same thought.
The Governor bailed him out.
"Ever since the accident," Wallace said, referring to his shooting, "my mind isn't quite as good as it should be.
"But," he continued, "I vaguely remember your father. Tell him I said hello."
George Wallace was many things to many different people. But the one thing he was more than anything was a politician.
# # #
Mark McCarter, a four-time Alabama Sportswriter of the Year and author of two books, is senior writer for the City of Huntsville Communications Office and freelancer.
&nbsp « Back