My Alma Mater Thrills Some Old Players
12.10.2017
Hofstra was all over the web on Dec. 6 after a stunning 4-point flurry to beat Monmouth.
It looked almost as if Joe Mihalich, the lifer coach, taught that play in practice.
However, I did not notice it when we were privileged to visit a pre-season practice a few weeks earlier, courtesy of Mihalich.
I'm sure other schools, other coaches, make welcoming gestures like this. But I also know what an effort it must be just to make some old jocks feel very much at home. I consider our visit to be a one-off blessing.
I love watching my pals go back and observe the huge young players work out in the sparkling new athletic building. We are an informal bunch of old Hofstra basketball and baseball players who meet for lunch every few months, usually at Foley's Irish sports pub in the city.
Back in the late '50s, I was a student publicist, paid to keep score and call the results into the papers. Butch van Breda Kolff called me "Grantland" in that booming voice of his.
Our guys have done well in many fields – business, teaching, dentistry, writing, even a Pulitzer-Prize-winning poet (Stephen "Radar" Dunn) -- bringing honor to the tarnished concept of "student athlete."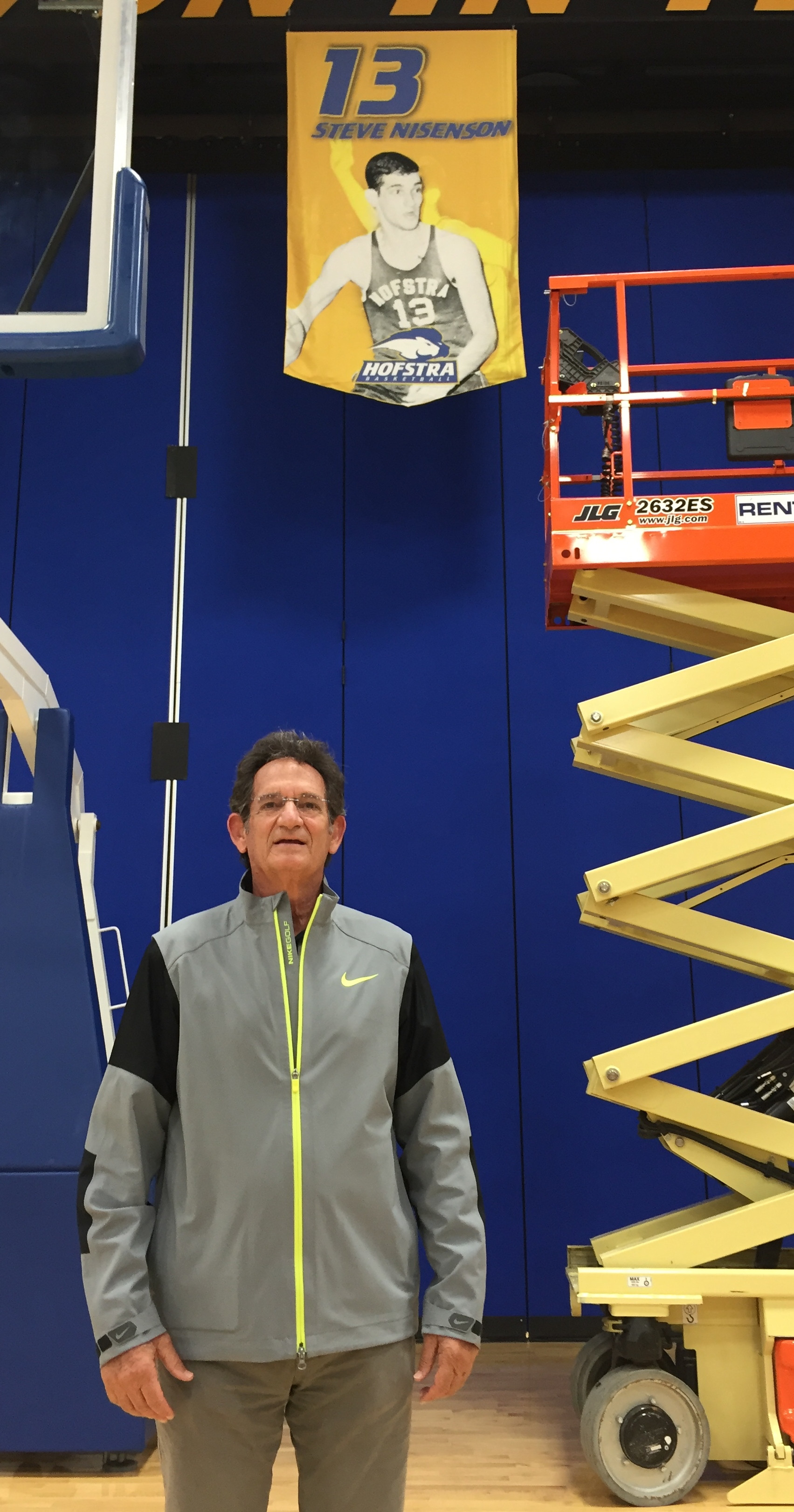 On our visit back to practice last year, I took a picture of Steve Nisenson – the third leading scorer in school history: 2222 points in only three seasons – and this was before the 3-point rule! I lined him up below the banner depicting his retired No. 13.
A young assistant was on a high platform, filming practice. I pointed to the No. 13 banner, and then I pointed at Steve, who still looks fit enough to ace his jumpers. The kid on the platform gave me a thumbs-up. He understood.
One of the nicest parts of our visit is when the current players come over and shake hands before practice. Very cool. Last year Whitey Jakubauskus, a burly rebounder in the early 60s, started speaking – in Lithuanian -- with Rokas Gustys, the super-sized rebounder of today's team. The big kid did a double take. Priceless.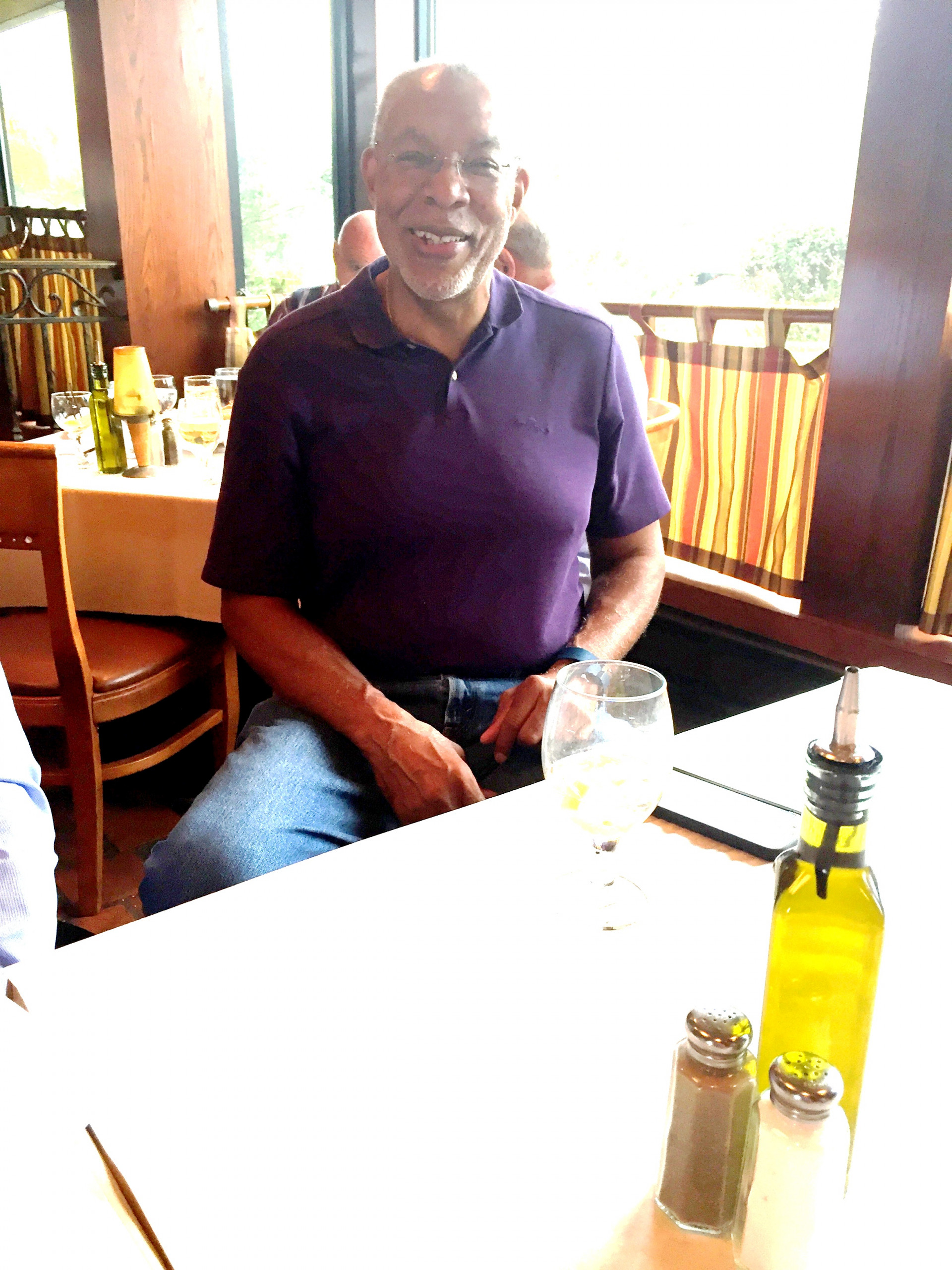 This year, I had the pleasure of sitting next to Jim Boatwright – 12th on the all-time rebounding totals, served in Vietnam, later an administrator at Hofstra and the College of New Jersey— when a current player with a nice smile came over to shake hands.
With the dignity of a neighborhood elder, commanding instant respect, Boats told the young man, "Go over there and ask that guy to teach you how to come off a pick and shoot a jumper." The young man went over to Ted Jackson – 24th on the all-time scoring list, in three seasons -- and asked the question. Ted broke out in his infectious laugh. (I used to try to guard Ted's great first step in gym class back in Jamaica High.)
Our four other visitors in October also had glorious moments at Hofstra: Stan Einbender was a star rebounder who once beat Army – at West Point – at the buzzer. Curt Block once nailed a jumper at the buzzer at West Chester State. Jerry Rosenthal was an all-conference shortstop who played in fast company in the Milwaukee Braves farm system. And Donald Laux was a leaper in his day and later an assistant in Butch's second tour of duty at Hofstra.
Butch is the common denominator for us – larger than life, put it that way. Lusty and informal, he had his contradictions, often calling his players by their full first names. To this day, we tend to address each other that way: Curtis. Donald. Stanley.
We talk about Butch all the time. Probably too much. And Jay Wright, who coached at Hofstra for seven years before heading to Villanova, evokes warm memories. When Mo Cassara was the coach, he used to join us for lunch now and then and listen to our Butch stories. Mihalich, a Philly guy who coached at Niagara, seems to like his occasional exposure to old Hofstra lore, and he invites my friends to a practice. He gets it, totally gets it.
Our latest visit: we enter via the women's volleyball gym, acknowledging lithe willowy athletes with respectful nods; it's a new world. In the basketball gym, a manager has set up chairs at courtside. Joe comes over and gives us a rundown of the team – fairly candid; he knows he is among family. Then he excuses himself. The team had a bad scrimmage the night before. He needs to address a few things.
We watch the practice –multiple managers flitting around, ticking clocks to simulate game situations, assistant coaches everywhere, including Speedy Claxton, who went from Hofstra to the N.B.A. and has now come home.
We observe Mihalich's drills, shaking our heads in respect for the 3-point shots and the hands above the rim. Some of the guys wander into the arena lobby to look at team lore – their names and photos in display cases.
Maybe it's my imagination, but as we slip out of the long practice, I think my old athlete friends are walking with a bit more spring in their step. They have been home.
* * *
As it happened, a bunch of us met for lunch at Foley's on the afternoon of Dec. 6. We talked about watching the Monmouth game on the web that evening, but I doubt many of us did.
However, the result found us – in the top sports "hits" for the night. Down by 3 points, Justin Wright-Foreman was fouled with 5 seconds left. He made the first, then intentionally missed the second. Stafford Truehart, a sub, made a perfect backtap past the 3-point line. Then Jalen Rose, a freshman, drilled a 3-pointer with 2 seconds left for the 1-point victory.
The next day I emailed Mihalich to congratulate him, and I joked that it almost looked as if he taught that play. His response was classic coach:
"Thanks! We gotta keep winning!! And we do practice that play----it has NEVER worked!! LOL!!"
###
&nbsp « Back