NSMA Celebrates 59th Anniversary
04.12.2019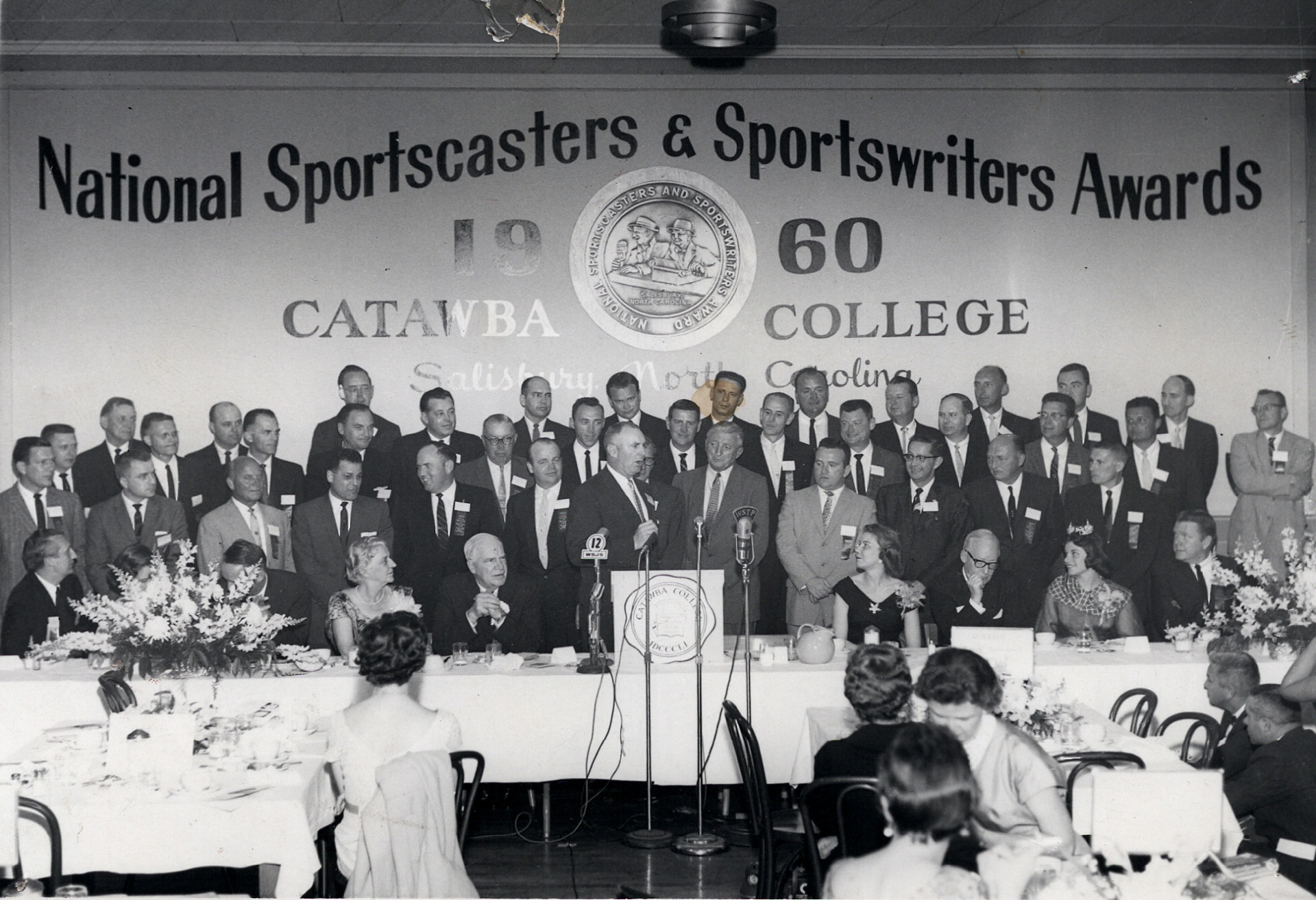 On this day, 59 years ago -- April 12, 1960, a group of sportscasters and sportswriters gathered in Salisbury, NC, to celebrate the first National Sportscasters and Sportswriters Association (NSSA) awards banquet. The brainchild of Salisbury restaurateur Pete DiMizio, what had begun as the North Carolina Sports Broadcasters and Writers dinner at his eponymous restaurant, turned into a yearly pilgrimage to the North Carolina Piedmont.
In two months, what is now known as the National Sports Media Association (NSMA), will host its 60th Awards Weekend in its current home of Winston-Salem, NC, 40 miles northeast of Salisbury.
But on that April day 59 years ago, more than 35 award winners from all over the country descended upon Salisbury and became the pioneers of an organization that has honored excellence in sports media for six decades. Among the future NSMA Hall of Famers who attended that first year were:
National Sportscaster Lindsey Nelson (obscured by plant at head table to left of speaker);
National Sportswriter of the Year Red Smith (seated at head table to right of speaker, wearing black-rimmed glasses);
Washington DC Sportscaster of the Year Jim Simpson (back row of picture under the 'N' in North Carolina);
Pennsylvania Sportscaster of the Year Ray Scott (standing front row, just over the right shoulder of the speaker);
Illinois Sportswriter of the Year John Carmichael (standing front row, just to right of speaker);
Georgia Sportswriter of the Year Furman Bisher (second standing row, fourth from left).
Other state winners who went on to Hall of Fame induction were:
California Sportscaster of the Year Chick Hearn;
Illinois Sportscaster of the Year Jack Brickhouse;
Massachusetts Sportscaster of the Year Curt Gowdy;
Missouri Sportscaster of the Year Harry Caray;
California Sportswriter of the Year Melvin Durslag;
Maryland Sportswriter of the Year John Steadman;
New York Sportswriter of the Year Dan Parker;
Tennessee Sportswriter of the Year Fred Russell;
Texas Sportswriter of the Year Blackie Sherrod.We salute these pioneers and remember their spirit and legacy of excellence, 59 years later.
While none of the state winners who went on to the Hall of Fame is alive today, at least one of the state winners who was there that day remains with us. The man standing in the very back row, second from left, is Irwin Smallwood, the 1959 North Carolina Sportswriter of the Year. We're pleased to let you know that the former Greensboro Daily News (and News & Record) sportswriter identified himself in the picture this afternoon. Smallwood is 93 years old and still lives in Greensboro.
&nbsp « Back