NSMA Hosts Sports Media Convergence Summit on Dec. 13
11.23.2021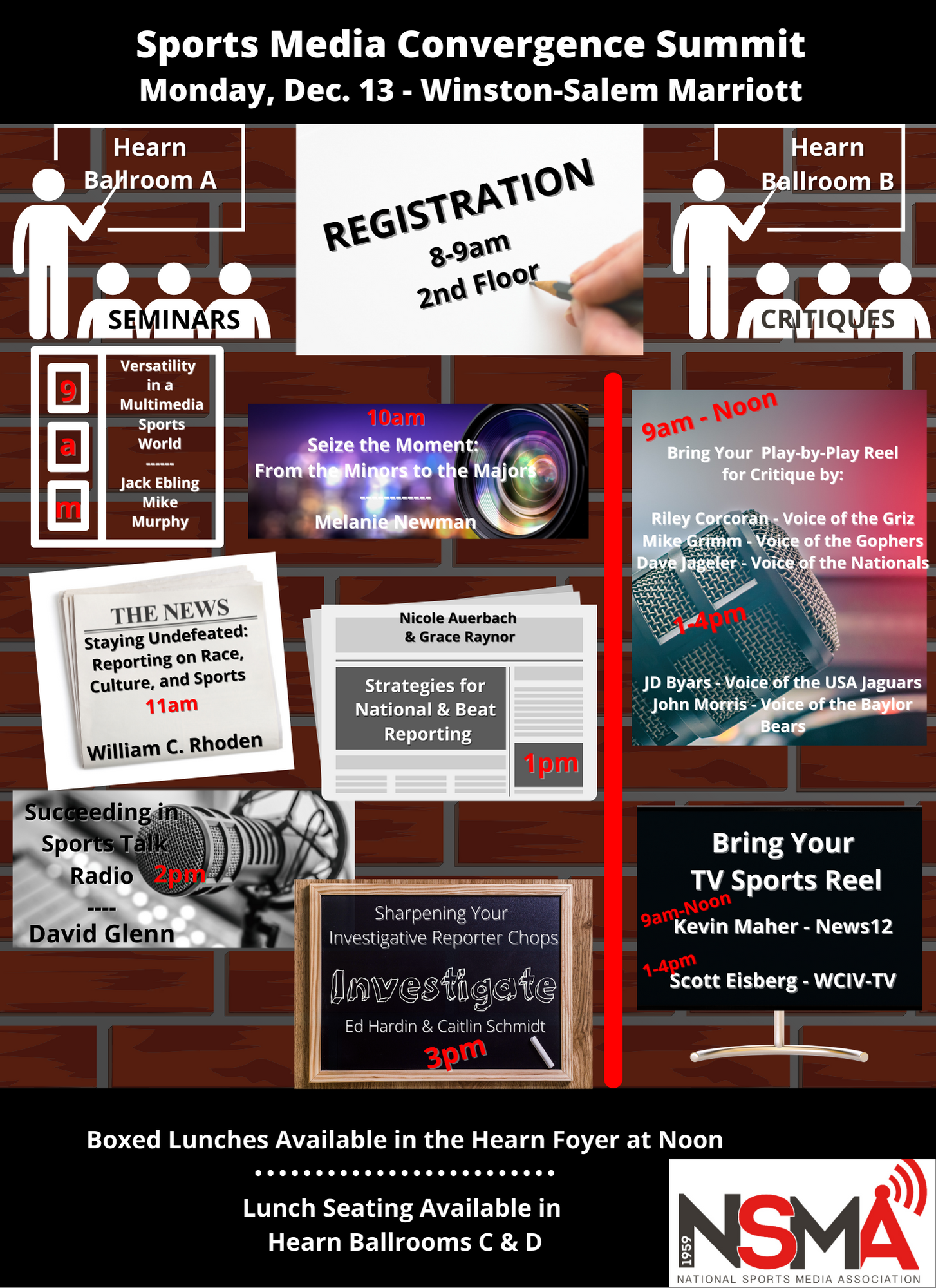 The National Sports Media Association will once again host its Sports Media Convergence Summit on Monday, December 13, as part of the NSMA's 61st Awards Weekend. The Summit, geared towards college students and young professionals, is a series of seminars and panels, designed to educate attendees. Industry professionals will speak to the students and young professionals on a variety of topics, while some pros will offer critiques of demo reels in one-on-one or small group settings.
The Summit will be held in the Hearn Ballrooms, second floor of the Winston-Salem Marriott (425 N. Cherry St.).
Registration opens at 8:00 am. The Summit features:
9:00 am - Versatility in a Multimedia Sports World, with Jack Ebling a two-time Michigan Sportscaster of the Year and three-time Sportswriter of the Year, and Mike Murphy, eight-time New Hampshire Sportscaster of the Year, who now works in the University of New Hampshire athletics department;
10:00 am - Seize the Moment: From the Minors to the Majors, with Baltimore Orioles' broadcaster, Melanie Newman, who also made her ESPN play-by-play debut in 2021;
11:00 am - Staying Undefeated: Reporting on Race, Culture, and Sports, with NSMA Hall of Fame inductee, William C. Rhoden of The Undefeated, and formerly of The New York Times;
Noon - Lunch Break
1:00 pm - Strategies for National and Beat Reporting, with 2020 National Sportswriter of the Year, Nicole Auerbach, and three-time South Carolina Sportswriter of the Year, Grace Raynor, both of The Athletic;
2:00 pm - Succeeding in Sports Talk Radio, with two-time North Carolina Sportscaster of the Year, David Glenn;
3:00 pm - Sharpening Your Investigative Reporter Chops, with 2019 Arizona Sportswriter of the Year, Caitlin Schmidt.
For those who want to have their demo reels critiqued:
9:00 am - Noon - Radio play-by-play announcers Riley Corcoran (U. of Montana), Mike Grimm (U. of Minnesota), and Dave Jageler (Washington Nationals) will provide feedback, while Kevin Maher of News12 Long Island will provide critiques for TV demo reels.
1:00 pm - 4:00 pm - Radio play-by-play announcers JD Byars (U. of South Alabama) and John Morris (Baylor U.) will listen to audio reels, and Scott Eisberg (WCIV-TV, Charleston, SC) will watch video demos.
Cost of the day-long event is $109 and includes a boxed lunch.
To register, go to https://bit.ly/31fyxDV
&nbsp « Back