NSMA South Carolina Student Chapter Hosts AD Ray Tanner
02.15.2019
When Ray Tanner was a college baseball player at North Carolina State University in the late 1970's, he said the team was lucky to have their games broadcasted on the radio. Now, Tanner says the "coverage we get here in Columbia is mind-boggling."
Tanner coached the Gamecocks to their first ever College World Series appearance in 2002, and won back-to-back CWS Championships in 2010 and 2011.
He said most of the media at the 2010 College World Series were South Carolina reporters, which made him realize how much support and coverage college baseball was getting in Columbia, South Carolina.
For the current University of South Carolina Athletic Director, understanding how athletics work has always been a hobby.
After his baseball career at NC State, he returned to the school as a graduate assistant. He also helped out in the athletic department, where he learned from a mentor, "If you've got passion, you can get a lot of stuff of done."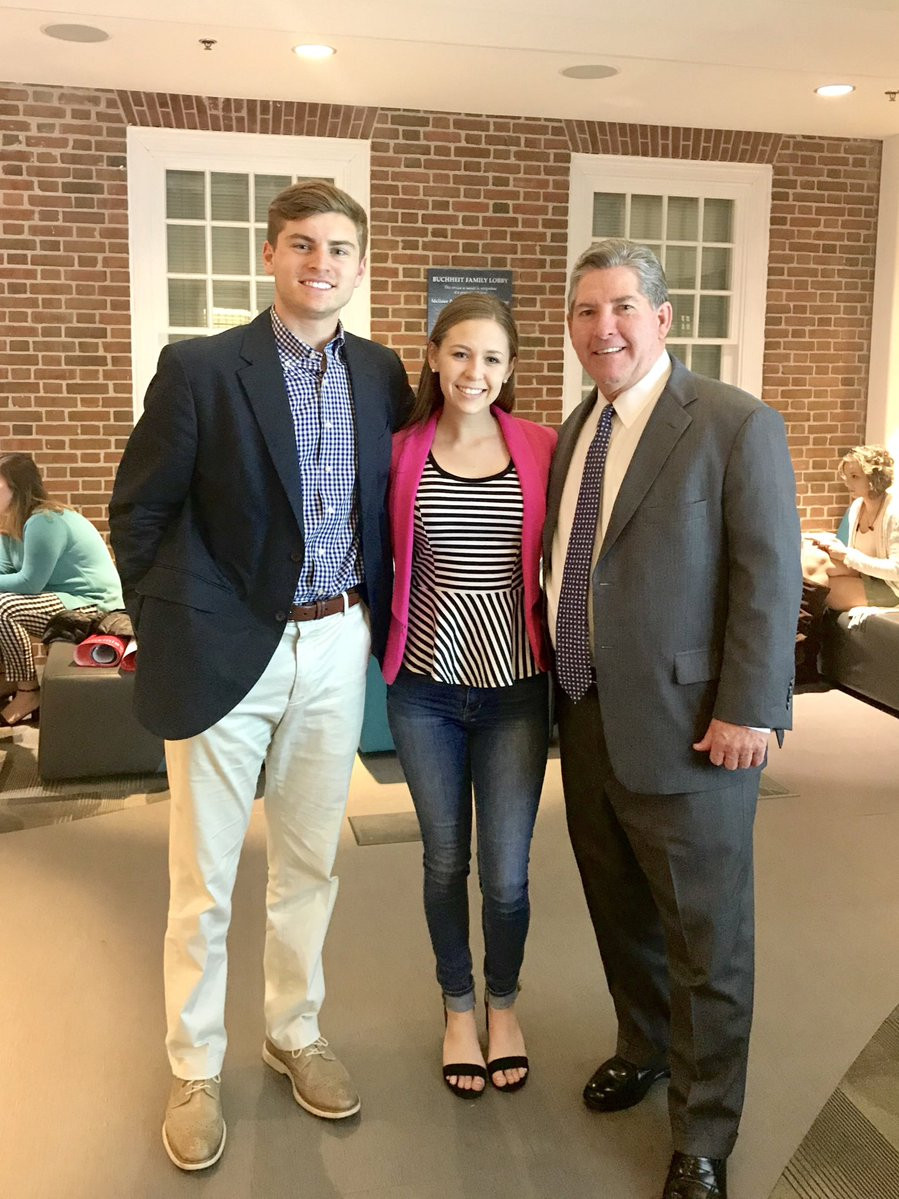 That mentor was NC State's head basketball coach and athletic director, Jim Valvano. Tanner said he learned at a young age that he wanted to be an athletic director one day, and he learned from one of the most influential figures in sports.
Tanner was a great recruiter at NC State and was named head baseball coach at 27 years old. He then came to the University of South Carolina in 1997, where he led the team to seven College World Series appearances as head coach.
He said he always ran his baseball team like a business. Tanner said he knew the concessions budget, team costs, travel costs, and how to manage the team's expenses.
Throughout his career, Tanner said he has always valued relationships.
"Life is 90 percent personal," Tanner told students at the University of South Carolina NSMA meeting.
Tanner prides himself in having a good relationship with the local media in Columbia. He said he can have a normal conversation with the media because they have established a good relationship.
He added that there are certain media members in Columbia that he trusts. One of them being Rick Henry of WIS News 10.
He said he can tell Henry "this is off the record," and he knows he will keep it that way. He also knows he can tell him something on a Tuesday, but tell him not to report it until Thursday, and Henry will keep his word. Tanner said he greatly appreciates having these relationships with the media because it makes both of their jobs easier.
"Athletics is a life style, not an hourly job," said Tanner.
Tanner added that he gets to live vicariously through the success of the athletes at the University of South Carolina every day.
"Follow your dreams and remember life is personal," advised Tanner.
-30-
&nbsp « Back