Some Rules Changes Are Actually Good
02.24.2017
This is the latest in a series of columns written by award-winning sports columnists, exclusively for nationalsportsmedia.org.


By George Vecsey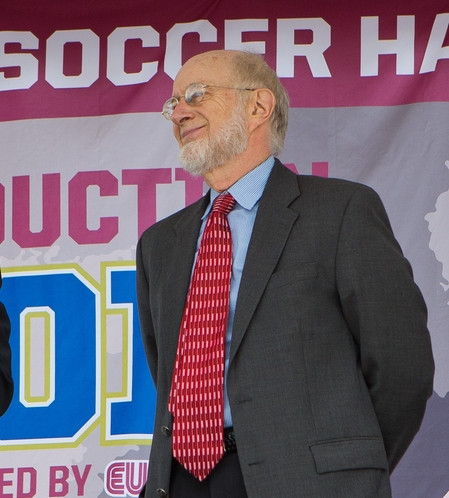 Recently, I found myself sounding like a grumpy old man – imagine that -- railing against two proposed rules changes in sports.
My old bosses at the New York Times let me rant about baseball's minor-league experiment to break tie games – putting a runner on second base to start an extra inning? -- and also soccer's proposed expansion of the World Cup of soccer from 32 to 48 teams.
I hate both ideas. You can find my rant here:
https://www.nytimes.com/2017/02/10/sports/fifa-mlb-world-cup-expansion.html?_r=0
More recently, I don't much care for the new baseball rule going into effect this season to allow managers to signal for an intentional base on balls rather than force the poor stressed pitchers to throw four wide ones. This rule is designed to shorten games – maybe by one minute in one game every two or three days. Big deal. Instead, cut the time between innings. Cut the promotional crapola. Cut the time for reviewing replays. Limits pitching changes by the mad geniuses in the dugout.
Personally, I like the terror in some pitchers' faces when they have to alter their motion. Some of them have phobias about throwing to a base. I say, tough. Making them throw four wide ones is worth it for the one wild pitch per season that allows a runner to scamper home.
Okay. But let's show some sympathy for rule changes that have upgraded a sport.
Let's start with concussion rules in football, after what had to be a deliberate attempt to ignore damage to players' brains. Pro football hired friendly (and not necessarily qualified) medical advisors who sounded to me like the quack doctors I used to run into in Appalachia who "advised" the coal miners: Heck, son, that coal dust will cure the common cold.
Now football is learning how it ruined probably thousands of players' brains. Killed them. Very belatedly football keeps tinkering with rules about the proper way to tackle – as if two superb, gigantic athletes, swerving at full speed, can control the point of impact. But at least some so-called leaders are trying to make football safer. (Abolition might be better; to be continued.)
But let's be clear: some rules changes have transformed their sports.

The best example is the 24-second rule in pro basketball in the 1954-55 season, to keep the superb ball-control experts like Bob Cousy and Dick McGuire and Slater Martin from taking a minute or more to set up a good shot. Dan Biasone, the owner of the Syracuse Nationals (ask your grandfather), proposed a shot clock. Voilà.
That rule change, coupled with the superb black athletes finally coming into the league, created a different sport, dominated by creative, agile, gigantic individuals, free at last, great God almighty, free at last.
Another rule change that made a difference came in soccer in the early 90's, when defenses under pressure relied on a passback to get them out of trouble. The gaudily dressed keepers scooped up a soft pass, cradled it like a babe in arms, and skipped around the goal area (accompanied by jeers and whistling from opposing fans) until it was safe to unload the ball.
The 1990 World Cup and the 1992 European championships were so negative (dirty, also) that the rule was changed, forbidding a keeper to pick up a ball that had been intentionally kicked backward by a defender. Obviously, most players adjusted to the new rule, against amplified pressure from forwards swooping in for the kill.
One Sunday morning on the tube I saw Franco Baresi of AC Milan – my favorite defender, all-time, a man of modest size and demeanor but sturdy and dependable – botch a back pass that led to a goal by the opponents. I thought, if the great Baresi can screw up, this is a good rule.
As a result, soccer opened up a bit. This was never more noticeable than in the 2014 World Cup in Brazil when the great Bayern Munich keeper, Manuel Neuer, dribbled the ball out of trouble so regularly that (a) Germany won the World Cup and (b) the supple Neuer often had more touches outside the box than the hapless Brazilian striker Fred had in his game. Neuer is a perfect example of a true footballer, with dribbling and passing skills, courtesy of a rules change.
(Parenthetically, maybe the problem was that Brazil's scoring hope went by the single name Fred; who is afraid of a Fred? What ever happened to Sócrates or Falcão?)
Some rules changes are dictated by one great player – like Jim Brown of Manhasset, L.I., and Syracuse University and the Cleveland Browns. I wrote about him in 1984 when he came home to Long Island for a lacrosse honor. In his day, Brown held the ball in the webbing of his stick, close to his body, and since he was twice as strong and twice as fast as anybody else, Brown could not be separated from the ball until he had fired the projectile at some quaking goalie.

Brown insisted he went by the rules and did not hold the ball directly against his sturdy chest. Maybe yes, maybe no. Later, they changed the rules to force players to keep the arm, stick and ball in motion at all times, giving opponents more of a chance to poke it away. He is generally considered, the greatest American lacrosse player ever.
The rule is unofficially considered the Jim Brown Rule. What greater tribute could there be?
# # #
George Vecsey was a sports columnist for The New York Times from 1982 through 2011. He's reachable at: vecsey@nytimes.com.
&nbsp « Back