Wake Forest Baptist Health Sponsors Awards Weekend Sports Med Summit
07.11.2018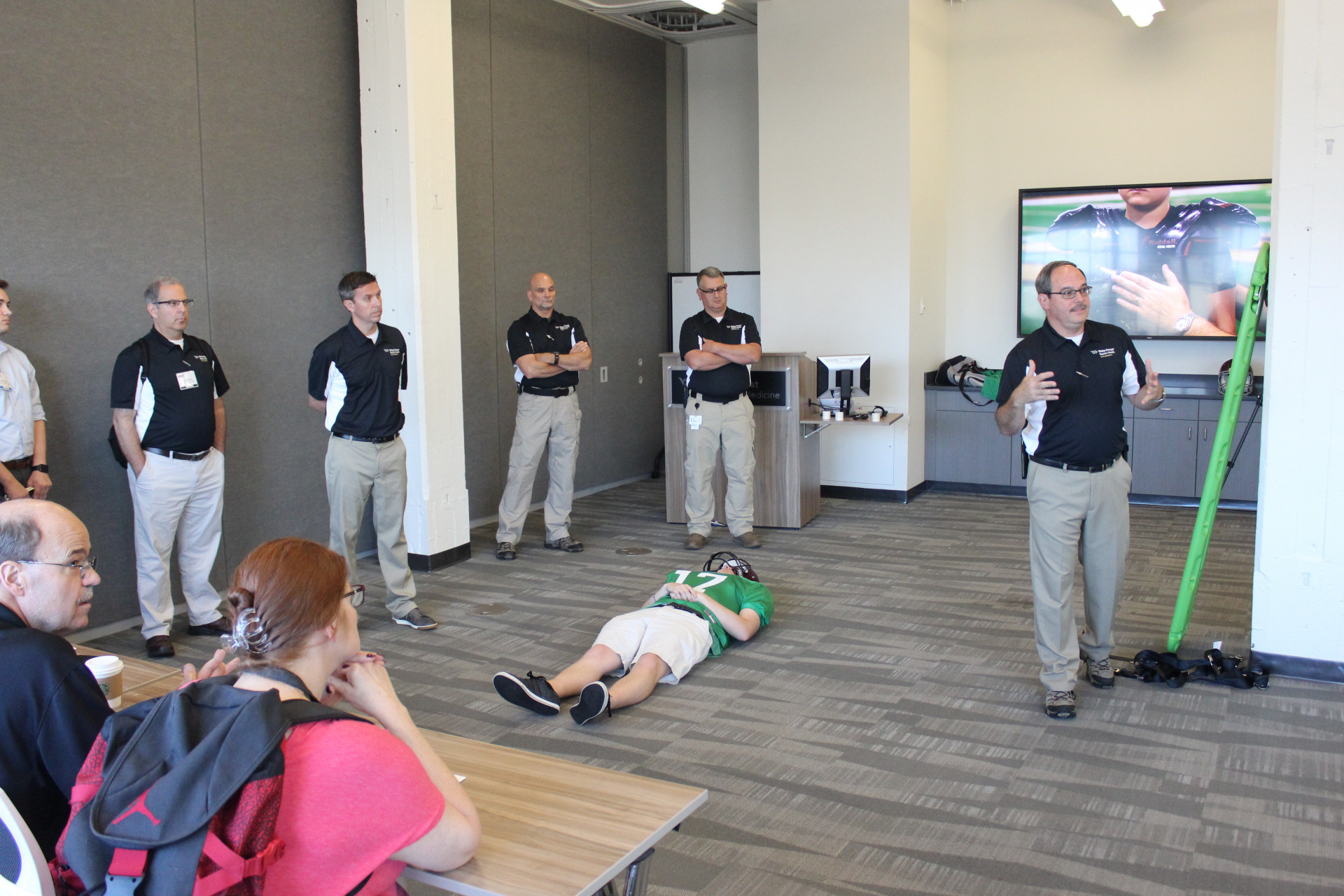 Award-winning sportswriters and sportscasters from across the country participated in the inaugural Wake Forest Baptist Health Sports Medicine Summit as part of the NSMA's 59th Award Weekend on June 23-25.

Attendees participated in a wide variety of interactive seminars on various sports medicine topics, presented by some of the Wake Forest's top professionals in the field, including doctors, surgeons, athletic trainers, EMTs, and equipment professionals. They discussed hot-button issues such as concussion testing, spine boarding, knee injuries, and proper football helmet fitting with some of the NSMA's national and state winners, as well as other sports media in attendance.
"As the NSMA executive director, I found the Sports Medicine Summit very interesting," said the NSMA's Dave Goren. "And as a sideline reporter, I found it extremely helpful. Many times, we speculate about injuries and how sports medicine protocol works. But to actually see that protocol in action, have it explained by professionals in an easy-to-understand manner, and then to participate in hands-on demonstrations was invaluable."
The Summit began with a keynote address from Kids & Pros executive director and former Atlanta Falcon linebacker Buddy Curry, who discussed the changing of culture around concussions in football since his time as a player. Wake Forest School of Medicine professor Dr. Joel Stitzel followed with a presentation on his research into Youth Sports Safety, specifically subconcussive head impacts in youth football.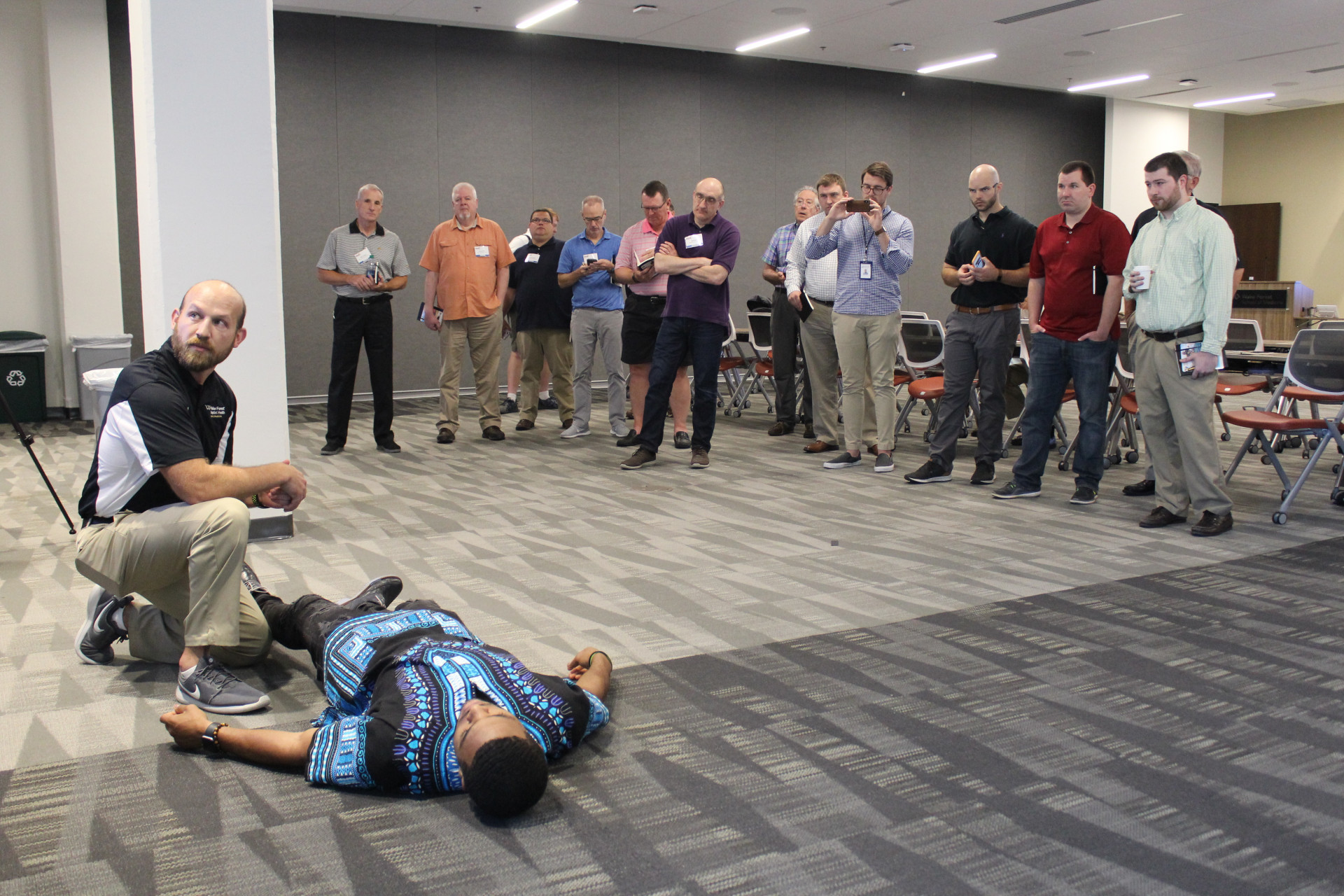 Attendees then broke off into the seminar portion of summit. Wake Forest orthopedic surgeon Dr. John Hubbard and assistant athletic trainer Niles Fleet led a presentation on knee injuries, their causes, and the differences between the wide variety of knee braces football players use. Wake Forest athletic trainer Greg Collins and Dr. Chris Miles led a session on concussion protocol, including demonstrations of the various baseline tests doctors and athletic trainers perform on athletes.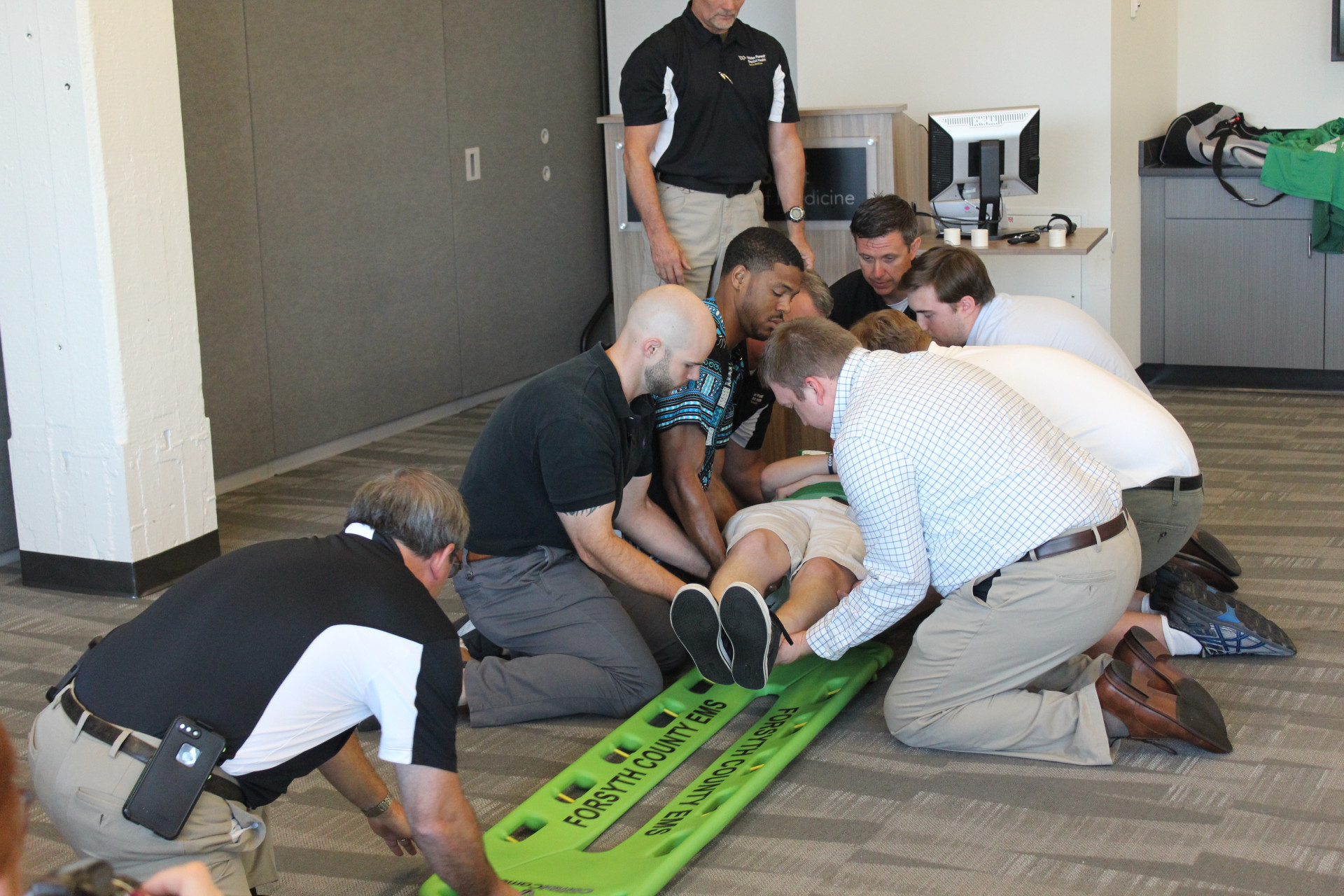 In the second pair of sessions, attendees got a taste of the hands-on work that goes on in sports medicine. Wake Forest football EMT Jeff Hinshaw led a spine boarding demonstration with local community first responders, teaching attendees about the procedures that take place on a field when a player has a potential spine injury. Wake Forest equipment manager Brian Daniels led a demonstration on proper helmet fitting, and the process he takes with his student-athletes to ensure their helmets fit properly when they go on the field.
For more information about the topics covered in the seminar, as well as any other sports medicine issues, you can contact Wake Forest Baptist Health Sports Medicine through their website: https://www.wakehealth.edu/Sports-Medicine/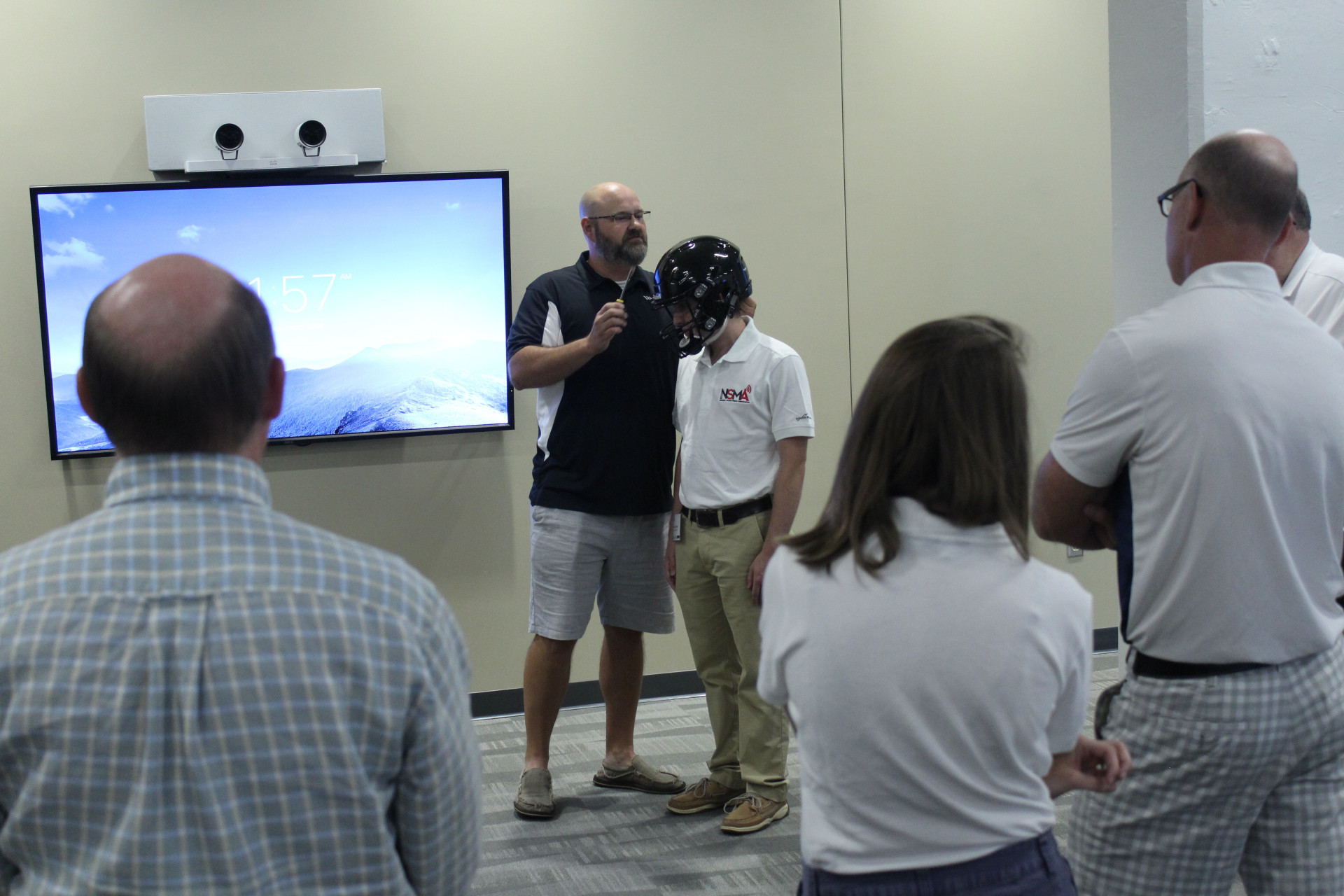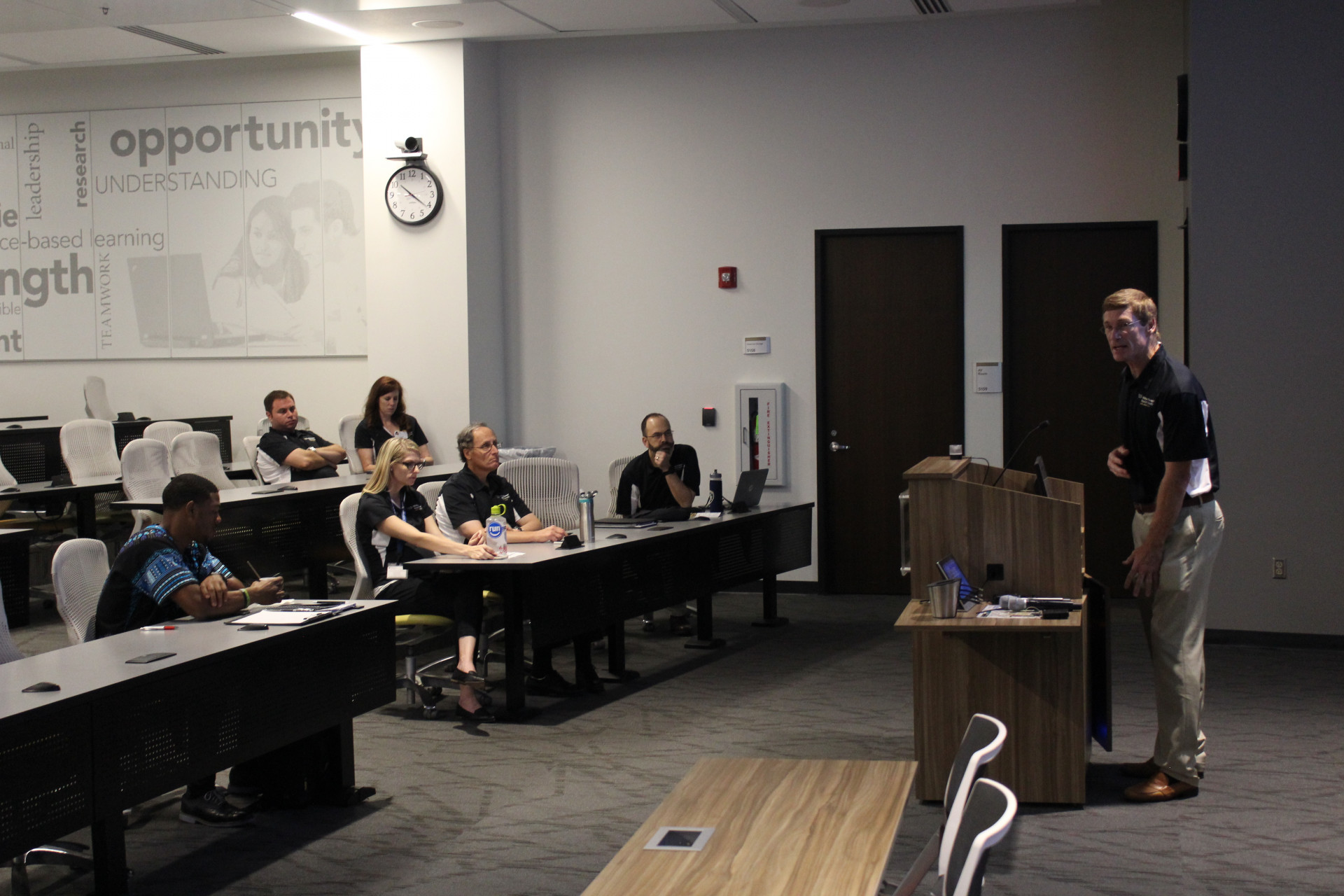 &nbsp « Back